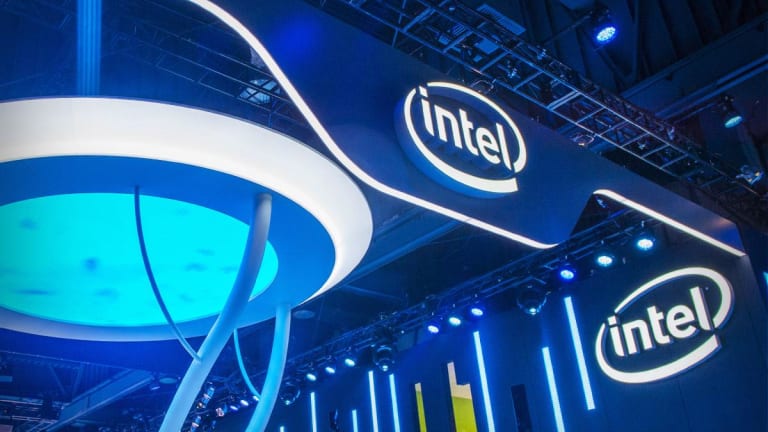 Intel Is Facing a Near Perfect Storm of Short-Term Challenges
Inventory corrections, CPU shortages, tougher competition and soft Chinese and enterprise demand all appear to be weighing on Intel. But figuring out how much each factor is to blame is not easy.
Intel's (INTC) - Get Intel Corporation Reportsoft Q2 and full-year guidance suggests the chip giant is facing a host of near-term pressures. These include both industry-wide issues such as chip inventory corrections and weak end-market demand, as well as company-specific issues such as supply constraints and tougher competition.
At the same time, figuring out how much blame to assign each culprit remains quite difficult.
Intel's Results and Guidance
On Thursday afternoon, Intel reported Q1 revenue of $16.06 billion (roughly flat annually) and non-GAAP EPS of $0.89. Revenue slightly beat a consensus analyst estimate of $16.03 billion; EPS, boosted by $2.5 billion worth of stock buybacks, beat a consensus of $0.87.
However, the chip giant also guided for Q2 revenue of $15.6 billion (down 8% annually) and EPS of $0.89, below consensus estimates of $16.86 billion and $1.01. And it's now guiding for full-year revenue of $69 billion (down 3%) and EPS of $4.35; that's below prior guidance of $71.5 billion and $4.60.
Intel says its new full-year guidance assumes its Client Computing Group (CCG), which covers sales of chips meant for PCs and mobile devices, will see its revenue drop by a low-single digit percentage. The Data Center Group (DCG), which covers sales of server CPUs and other data center products, is expected to see revenue drop by a mid-single digit percentage, and its flash memory business is also expected to see a sales decline.
However, Intel's full-year outlook still implies a meaningful second-half sales pickup -- particularly for DCG, whose sales fell 6% annually in Q1 and are expected to be down about 12% in Q2."
As of the time of this article, Intel's shares are down 10.2% in Friday trading to $51.76, after having gone into earnings up 23% on the year amid a strong chip stock rally.
Nvidia (NVDA) - Get NVIDIA Corporation Report is down 5.5%, as worries about Intel's DCG results and guidance overshadow more upbeat comments about gaming PC demand. However, AMD (AMD) - Get Advanced Micro Devices Inc. Report is nearly unchanged ahead of a Q1 report due on Tuesday afternoon, as markets balance concerns about Intel's demand outlook with expectations of share gains. Dell Technologies (DELL) - Get Dell Technologies Inc. Class C Report and HP Enterprise (HPE) - Get Hewlett Packard Enterprise Company Report , two of Intel's biggest customers, are down 3.2% and 2.2%, respectively.
Nvidia is a holding in Jim Cramer's Action Alerts PLUS member club. Want to be alerted before Jim Cramer buys or sells NVDA? Learn more now.
Inventory Corrections, China and PC CPU Shortages
Like Nvidia, Micron (MU) - Get Micron Technology Inc. Report and many other chip suppliers, Intel reports seeing weaker demand from cloud giants as they digest the hardware capacity they built up during a major 2017/2018 capital spending surge. DCG's sales to cloud service providers rose just 5% annually in Q1, after having grown 24% in Q4 and 50% in Q3.
However, Intel also says it's seeing inventory corrections among DCG's enterprise and telecom customers. The segment's enterprise and government-related sales fell 21% in Q1, after having dropped just 5% in Q4. Sales involving telecom service providers fell 4%, after having grown 12% in Q4.
Worsening Chinese demand pressures are also said to be a headwind. A number of chip suppliers, from companies servicing automotive and industrial clients to ones servicing smartphone OEMs, have also reported seeing soft Chinese demand.
Then there's the matter of the PC CPU shortages that emerged during the second half of 2018, and still persist. While Intel's CCG revenue rose 4%, this was only due to a 26% increase in modem and "adjacencies" revenue (driven by higher iPhone modem sales) and higher PC CPU average selling prices (ASPs). PC CPU volumes fell 7%.
With research firms IDC and Gartner estimating 3% and 4.5% drops, respectively, for PC shipments in Q1, Intel's numbers suggest AMD gained some low-end PC CPU share, as Intel prioritizes sales of costlier CPUs (for example, chips meant for gaming PCs and business systems) while supply constraints continue.
Weak Enterprise Demand, Tougher Competition and More Aggressive Pricing
While inventory corrections and soft Chinese demand do appear to be weighing on DCG's sales to enterprise and government clients, broader demand weakness could also be an issue, given the size of the Q1 decline as well as the long-term impact that cloud infrastructure adoption is having on traditional enterprise server demand. Intel itself has cautioned in the past that while it expects server CPU sales to cloud and telecom service providers to grow over the long run, it's not expecting long-term growth for its enterprise server CPU business.
Stiffening competition also likely has something to do with Intel's outlook. AMD's Ryzen PC CPUs and Epyc server CPUs have gained some share over the last two years, and AMD is prepping mid-2019 launches for desktop and server CPUs made using Taiwan Semiconductor's (TSM) - Get Taiwan Semiconductor Manufacturing Company Ltd. Report advanced 7-nanometer (7nm) manufacturing process. With Intel having seen major delays for a 10nm process node that's seen as competitive with TSMC's 7nm node -- 10nm PC CPUs will only begin arriving in volume in late 2019, and 10nm server CPUs aren't due until 2020 -- AMD has a clear opportunity to gain ground.
In addition to AMD, Intel's DCG unit is battling against IBM's (IBM) - Get International Business Machines Corporation Report Power server unit, which relies on proprietary CPUs, has been seeing a measure of sales growth. And -- though Intel's software ecosystem remains a big advantage in this fight -- it's also competing against ARM-architecture CPUs such as Marvell Technology's (MRVL) - Get Marvell Technology Inc. Report ThunderX line and Amazon Web Services' (AWS) recently-announced Graviton CPUs.
Intel has admitted it expects to see a tougher competitive environment for both PC and server CPUs as 2019 progresses, and has indicated it will take pricing actions to protect its market share. The prices announced for the company's latest Xeon server CPUs (codenamed Cascade Lake) certainly point to a more aggressive pricing stance.
The Big Picture
While assessing how much each particular factor is to blame is difficult, Intel is arguably facing something close to a perfect storm of inventory corrections, end-market demand pressures, PC CPU supply constraints and competitive headwinds in the near-term.
Things should improve in some respects during the second half of the year -- inventory corrections should wind down, Chinese demand might improve as stimulus efforts kick in, 5G-related investments should boost telecom server demand and cloud capital spending is (given how committed U.S. and Chinese cloud giants are to making big long-term investments in their data center infrastructures) likely to pick up. And in 2020, the company's 10nm launches should help its cause.
On the other hand, Intel will be facing a tougher competitive environment as AMD's 7nm offerings ramp, and it's quite possible that enterprise server demand will remain pressured for some time. In addition, Intel is dealing with a somewhat sluggish PC market (nothing new here), weak flash memory pricing and share losses for its Programmable Solutions Group (PSG) to Xilinx (XLNX) - Get Xilinx Inc. Report .
Given all of this, it's understandable that Wall Street has reacted harshly to Intel's numbers, following a 20%-plus run-up in 2019. It's also understandable that the numbers have yielded some selling in names such as Nvidia, Dell and HPE.
However, Nvidia's selloff is arguably excessive given the strength that Intel continues seeing for PC gaming, as well as its strong exposure to cloud AI and enterprise high-performance computing (HPC) markets that probably won't remain pressured for too long.