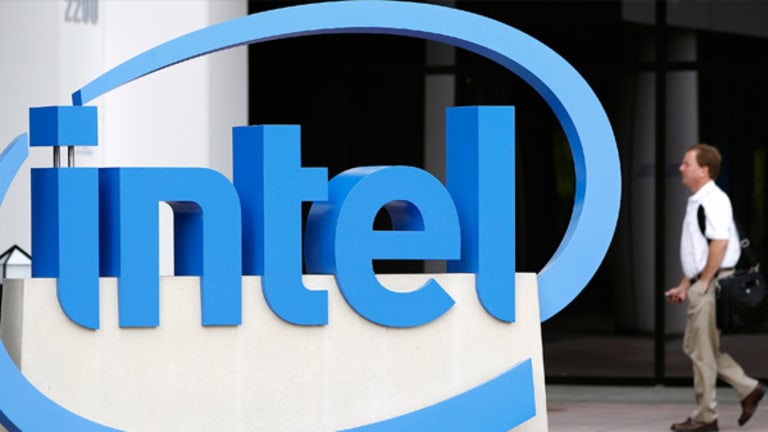 Intel Missed Mobile Worse Than Facebook Did
You expect delays, rookie mistakes, bombast from HP and Facebook but not from Intel.
NEW YORK (TheStreet) -- You'll recognize a theme in a recent article I wrote on Hewlett Packard (HPQ) - Get HP Inc. (HPQ) Report as well as one this morning on Netflix (NFLX) - Get Netflix, Inc. (NFLX) Report.
The young inexperienced CEO at
Facebook
(FB) - Get Facebook, Inc. Class A Report
, Mark Zuckerberg, has plenty to offer older, apparently more seasoned veterans such as Meg Whitman and Reed Hastings.
He can certainly teach Whitman a thing or two about shooting straight in public and not coming off drier and less inspiring than a politician.
As for Hastings, young buck Zuck could help him not be quite so stubborn. It's one thing to adhere to your mission; it's completely another to be so rigid with your model that you're unwilling to make minor tweaks to it.
I haven't quite determined the lesson Zuckerberg can teach
Intel
(INTC) - Get Intel Corporation (INTC) Report
, but I have to assume he has some wise nugget -- a nickel's worth of free advice from his old dorm room -- to pass on regarding mobile troubles.
I have serious respect for Intel. I have been long the stock several times over the years, most recently bailing just before it imploded. It hurts to be bearish, but there's really no other choice.
Facebook's miss on mobile pales in comparison to Intel's.
Granted, in one way we're talking about two different things; however, I'm not sure that matters.
Facebook was slow on the uptake vis-a-vis user migration from desktop to mobile.
Twitter
,
Pandora
(P)
and venture-backed newbies such as
Kabam
saw it coming, beating Facebook to the punch. That's bad, but it's not even close to the end of the world.
Facebook has the pieces in place to recover rapidly. It has a massive user base that is
on
mobile and, as Zuckerberg adjusts on the fly, he and COO Sheryl Sandberg have obviously stepped up monetization plans.
Wanting
,
Collecting
,
Promoting
and
Buying
probably were not supposed to follow up
Liking
quite so quickly, but Facebook had to make the move.
It takes one look at
mobile ad revenue projections to realize that, by 2013, only
Google
(GOOG) - Get Alphabet Inc. Class C Report
, and maybe Twitter, will separate Facebook from being the king of mobile revenue.
For different reasons, this dynamic applies to Intel. What's sad is that Intel did not have to dig quite as deep as Facebook to see the future. Smartphone adoption took off like a rocket.
That much became obvious shortly after Steve Jobs wowed an audience with
Apple's
(AAPL) - Get Apple Inc. (AAPL) Report
original iPhone.
I riff understatedly (yes, that's a word) when I say Intel missed the train. The whole affair has been nothing short of pathetic. You expect delays, rookie mistakes and bombast from HP, Facebook and Steve Ballmer at
Microsoft
(MSFT) - Get Microsoft Corporation (MSFT) Report
, but not from Intel.
CEO Paul Otellini has said that his company needs to produce such "compelling" silicon that, as Apple makes decisions, it would not be able to "ignore" Intel. That's from the firm's
investor day
back in May. Yes, May.
We won't know until 2013 if Intel can compete in the mobile space with companies such as
Qualcomm
(QCOM) - Get QUALCOMM Incorporated Report
,
Broadcom
undefined
and a whole host of others.
If Intel can't become a mobile player and the company loses any or all of its Macbook business, it will be stuck latched onto Windows 8 and the PC market. As such, Microsoft might be creating
a town full of tech losers
that, shockingly, could include Intel.
On Friday, Eric Savitz of
relayed a note from FBR Capital analyst Craig Berger.
Berger cut estimates on INTC, in part, because
of poor initial feedback for Win8 devices, with any inventory overhangs likely muting the Win8 launch. While PC chip stocks are already low, there seem to be no identifiable catalysts in place for some time to come ...
As Facebook quickly and credibly salvages its mobile missteps, Intel might end up associated with a massive series of inventory write downs in 2013. I'm not sure its reputation, various hobbies and what's turning into a massive yield (4%, as of this writing,) can keep INTC above $20 without some magic happening ASAP.
Investors have been burnt one too many times by companies who lost their way and became value traps.
At the time of publication the author was long FB and P
.
This article is commentary by an independent contributor, separate from TheStreet's regular news coverage.
Rocco Pendola is a private investor with nearly 20 years experience in various forms of media, ranging from radio to print. His work has appeared in academic journals as well as dozens of online and offline publications. He uses his broad experience to help inform his coverage of the stock market, primarily in the technology, Internet and new media spaces. He has taken a long-term approach to investing, focusing on dividend-paying stocks, since he opened his first account as a teenager. Pendola, 37, is based in Santa Monica, Calif., where he lives with his wife and child.