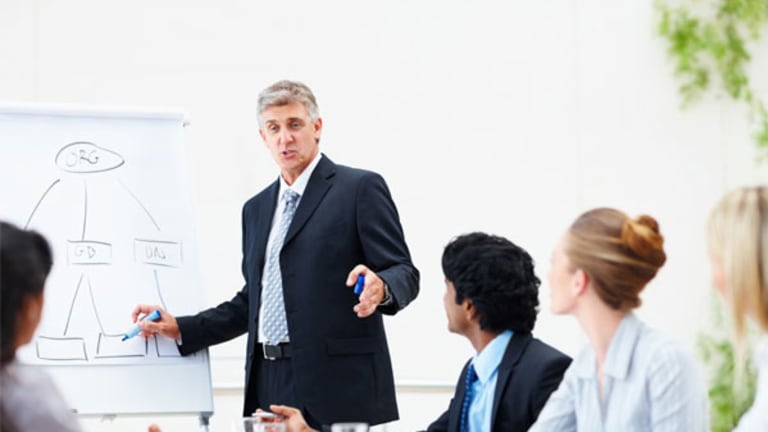 Intel Heading Back to Teens After Dead Cat Bounce
The mobile miss, the no-growth PC market and old guard arrogance -- it all adds up to zero future for INTC.
NEW YORK (TheStreet) -- Maybe I'll stop getting flack for ripping Intel (INTC) - Get Intel Corporation (INTC) Report now. TheStreet's Chris Ciaccia has the meat and potatoes from yesterday's report. Let me tell you what it all means.
And look, Mother, no hands and no numbers either. Because you do not need numbers to tell Intel's story. Sometimes they get in the way.
Now more than ever, you have to be careful betting against what the market gives you, even if you think it's inane.
Consider
Apple
(AAPL) - Get Apple Inc. (AAPL) Report
. We can talk about how great Apple is all day, but, in this moment,
it's a crappy long-term play -- for most investors -- even if it starts going up a bit more consistently
. If it was my money, I would look elsewhere. Save yourself the anxiety.
While the circumstances might not be the same, the end result is with Intel. Don't just look elsewhere. Keep the bleep away. This thing is headed back to the teens.
On Dec. 5, I published
Sell Intel Now: It's In The Teens
. Of course, the stock, as of yesterday's close, returned about 14.3% from that point.
I got ripped by a few cats on
for that seemingly "bad" call. That's fine with me. I don't write these articles for traders. And I sure as heck don't write them for people who refuse to take the time to consider what I actually said:
Run away from INTC. The teens are here -- and with the exception of a dead cat bounce on some hollow whiff of optimism -- they're not going away anytime soon.
... with the exception of a dead cat bounce on some hollow whiff of optimism
. Not sure where I went wrong.
Some folks make nice livings trading dead cat bounces and all sorts of market moves. I'll be on
CNBC's
"Fast Money" next Tuesday; the daily panel on that show -- they can trade! Like my buddy and
TheStreet Real Money Pro
contributor
Robert Weinstein
, this small subsection of stock market society can move in and out -- long and short -- nimbly. Most folks simply cannot do that; therefore, if you tap into one too many dead cat bounces, you're bound to get burned.
Brag about making 14% on INTC, but, yeah, you're not telling anybody about all of the losses you racked up mistiming other dogs and so-called "value stocks."
Intel is a soon-to-be-sheared sheep in
Research in Motion
(RIMM)
clothing.
As it was obvious that RIM was dying, a few dozen tortured bulls touted "security" as the company's savior. There was no way the enterprise would flee to iOS and Android because (A) they're not as "secure" as Blackberry and (B) BYOD (bring your own device) would not fly with IT departments. IT departments don't make real decisions; consumers and visionaries do.
Forget about an Intel side business or corporate servers or their
really, we really do have them, you just wait
mobile plans. That's denial talking. Tablets and Macs killed any thought of PC growth. It's over. Finished. And there's no way in the world Intel can just say we're sorry we wasted a few years, now be quiet and buy our latest "innovation."
Intel missed mobile worse than Facebook (FB) - Get Facebook, Inc. Class A Report did
. And the big difference is that Facebook was able to swiftly change course. It has a massive, pliable user base; whereas Intel can't just pick up its chips and move them to the next table. It doesn't work that way.
Intel has no future in the space because it has no future in mobile and the PC will never again offer a meaningful growth opportunity. Imagine if you had to count on partnerships with the likes of
Microsoft
(MSFT) - Get Microsoft Corporation (MSFT) Report
and
Hewlett Packard
(HPQ) - Get HP Inc. (HPQ) Report
to bail yourself out of a jam.
And the notion that Intel can beat Apple or Microsoft in the living room
reeks of an unfortunate old-guard arrogance
. That's a large part of what did, and will keep doing, Intel in.
--Written by Rocco Pendola in Santa Monica, Calif.
Rocco Pendola is
TheStreet's
Director of Social Media. Pendola's daily contributions to
TheStreet
frequently appear on
CNBC
and at various top online properties, such as
Forbes
.