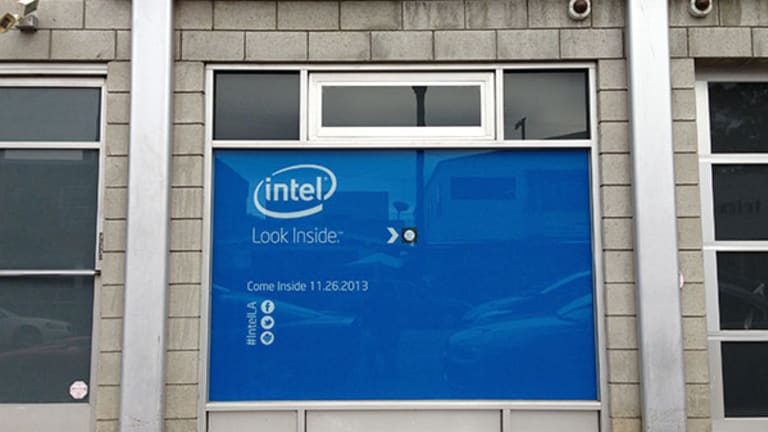 Intel Has Become an Embarrassment
If Intel thinks wearables are the next big thing, everybody else should run away.
If Intel thinks wearables are the next big thing, everybody else should run away.
NEW YORK (TheStreet) -- I had to chuckle at a line from a story we published Tuesday here at TheStreet about the apparent coup Intel (INTC) - Get Report scored when it acquired smart watch maker Basis Science:
At this year's Consumer Electronics Show, Intel was touting wearable computing devices as the next big thing.
That might be true and all, but how can anybody far enough away from the turnip truck take anything Intel says about "the next big thing" seriously?
Here's a company that pathetically missed mobile and still can't find its way. It then invested millions in ultrabooks, which, relative to where they need to be, have been an epic fail. And, of course, Intel gave up on the failed Intel Media -- something I, admittedly, was excited about for a time -- and sold the scraps to Verizon (VZ) - Get Report.
And now we're supposed to mindlessly believe that A) Intel won some self-proclaimed battle with Apple (AAPL) - Get Report and Google (GOOG) - Get Report -- companies that actually have a clue -- for Basis and B) It can see the future through its miserable recent past.
Intel's poking in the dark. And, while it sometimes comes up with promising ideas, it's spewing boardroom brainstorms at the wall in a desperate attempt to unhitch itself from the dying PC bandwagon.
Simply embarrassing, especially when it comes from a Silicon Valley institution such as Intel.
Personally, I think smartwatches and wearables will end up the next big dud. I'll write more on that at another time. But here's what is salient here -- if wearables do flop, it's really not that big of a deal to Apple, Google, Samsung and even, though to a lesser extent, Microsoft (MSFT) - Get Report. These companies should consider running away from the market, simply because Intel believes there's a future in it.  
Though I'm not convinced Apple will, these names can afford to dabble in the space. Take a chance. They truly have nothing to lose. Relatively speaking, they can recover with little more than a quick dust off after a headfirst slide. However, we're approaching a point, if we're not already there, where you cannot say the same for Intel.
The more Intel loses, the less it can afford to lose. If anybody wins at wearables it's not going to be Intel, a company with zero brand cachet with consumers and a legacy that will completely expire if Apple ever takes over the chip slot on its Macbooks.   
--Written by Rocco Pendola in Santa Monica, Calif.
Disclosure: TheStreet's editorial policy prohibits staff editors, reporters and analysts from holding positions in any individual stocks. Rocco Pendola is a columnist for
TheStreet
. Whenever possible, Pendola uses hockey, Springsteen or Southern California references in his work. He lives in Santa Monica.