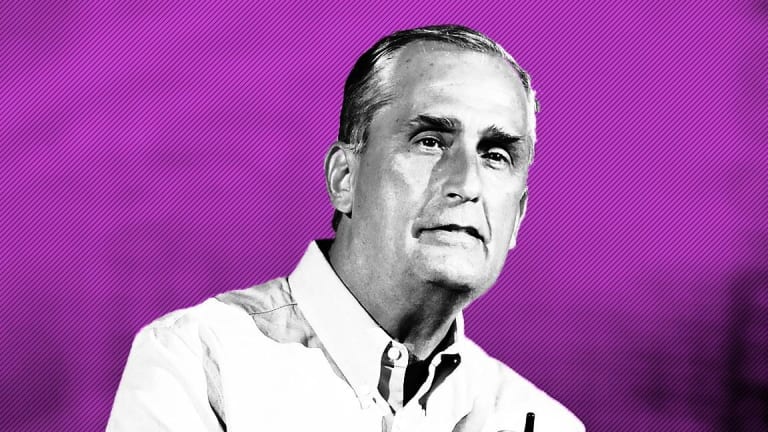 Intel CEO Brian Krzanich's Ouster Proves CEOs Aren't Above the Rules
Krzanich is out after a consensual relationship with an Intel employee. Shouldn't he know the rules?
Krzanich is out after a consensual relationship with an Intel employee. Shouldn't he know the rules?
These days, the CEO should know better.
Or maybe not, if now former Intel Corp. (INTC) - Get Report Chief Executive Officer Brian Krzanich serves as an example. The CEO stepped aside from Intel this week after copping to a past consensual relationship with an Intel employee. Intel has long had a no-fraternization policy between employees. 
Intel shares were hit by the news on Thursday, falling as much as about 4% at session lows. Investors were right to voice their disappointment by submitting sell orders.
"One of the first, if not the first, way investors and consumers judge businesses is by the quality of their management. A CEO who has fallen from grace and made poor personal choices erodes the credibility of the company, especially a public company," said Scott Sobel, SVP of crisis and litigation communications at kglobal. "And a loss in confidence translates into falling stocks, business orders, consumer support and other key measurables."
It's not to say that pursuing a romantic relationship in the workplace is terrible, so long as it is within a company's rules. After all, a 2015 study from Mic found that more people met their significant other at work than they did online. But when that relationship breaches a company's standards and rules, it becomes inappropriate and a risk to investors (especially when it involves the CEO).
"Often CEOs feel they're impervious to their own workplace policies, particularly around dating," said Jonathan Alpert, a Manhattan psychotherapist who has worked with C-level executives. "Their mentality might be that they're above the law, so to speak."
"Never underestimate the power of sex," said Dr. Gilda Carle, a relationship expert and corporate performance coach. "It's happened from companies to the White House and throughout history. The rules against fraternization are in place because of the skewed judgment that occurs when sex colors the bottom line," Carle said.
Krzanich isn't the only high-profile CEO to feel as though they were above the rules. 
Will the situation at Intel mark the end of the big-name CEO getting caught red-handed? Only time will tell. But any CEO should realize today's environment means more eyes on the actions of the C-suite than ever before. So, act accordingly. 
"The reality, in the day and age of the #MeToo movement is that they are actually held to a higher standard. And companies more than ever have a zero tolerance policy, even with the people at the top," Alpert said. "Examples are being made out of top brass."