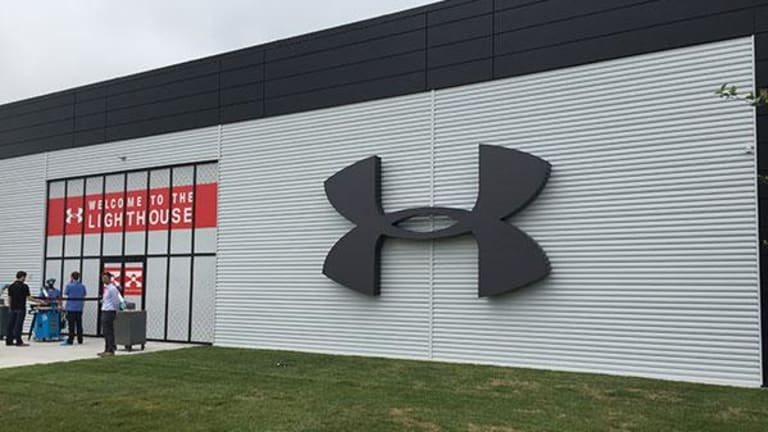 Inside the Mind-Blowing Facility That Will Shape Under Armour's Future
The red-hot athletic brand wants to shake up how it makes and ships its clothing and footwear.
Under Armour (UA) - Get Under Armour, Inc. Class C Report didn't get to where it is today -- a credible long-term threat to much larger Nike (NKE) - Get NIKE, Inc. Class B Report -- by simply following the status quo in product development.
Keeping that in mind goes a long way in helping to explain Under Armour's new 35,000-square-foot product-innovation center dubbed UA Lighthouse. Opened recently in the company's backyard of Baltimore, the facility is decked out with machines, such as 3D printers and body-image scanners, that Under Armour says will help it manufacturer clothes and shoes more efficiently. Scientists on hand will be able to test new manufacturing processes in the facility and then bring the winning ideas to the company's partners in the supply chain.
"We are still making a T-shirt the same way as we did 100 years ago, it's insulting," exclaimed Under Armour Founder and CEO Kevin Plank during a speech at the unveiling of the facility attended by TheStreet. 
Kevin Plank at unveiling of UA Lighthouse. Behind him -- automated cutting machines.
Once the best ideas are up to scale, Under Armour may be able to dramatically speed up its supply chain, freeing up money to invest in product development and improving customer perception in stores by reducing out of stocks. "You have companies that have tried to build their brand by loading up the product into the stores in July -- for example, fleece on the floor in July -- and hoping you have the right colors and sizes to take you through until Black Friday," Under Armour president of product and innovation Kevin Haley told TheStreet. "Once we get this to scale, we are going to be faster and much more efficient -- it's a massive shift in where money is invested, and it's a better business model."
Under Armour finding new ways to save money and better service customers should be music to the ears of investors, who have bid up the company's stock some 303% over the past five years. Shares of Nike have gained 141% during that same time, while the S&P 500 has tacked on about 59%. 
TheStreet toured the facility. Below are the biggest things that stood out.
The building's exterior has the feel of a college sports training facility. 
Visitors are greeted by a video wall that explains Under Armour's mission with the facility. 
All the scientists on hand rock long white lab coats. 
A machine in the advanced manufacturing section.
A robotic system -- instead of a line of humans -- helps make sneaker soles.
Sneaker sole robot in action.
Scientists work on improving garment manufacturing processes. 
An athlete has his body scanned using 3D imaging. Scanning should improve fit and feel.
The athlete's body, scanned.
Keeping with the layout of its new headquarters, Under Armour splashes inspirational messages on the wall.