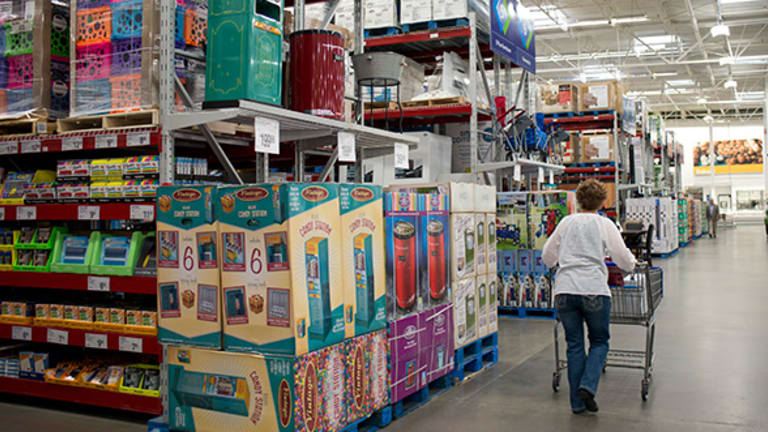 Inside Sam's Club's Attempt to Dethrone Costco as the King of Bulk Shopping
Sam's Club is ramping up its efforts to close the sales gap with warehouse king Costco.
Rosalind Brewer knows the warehouse club chain that bears the first name of Walmart's (WMT) - Get Walmart Inc. Report founder, Sam Walton, should be ringing up better sales growth. 
Brewer, who has been the president and CEO of the 652-store Sam's Club since January 2012, has tried to position the retailer at the forefront of shopping technology. The discounter has offered in-club pickup for online orders going on 10 years. She pointed out that Sam's Club doesn't employ marketers whose job is to try and lure in new members, but rather data scientists that drill down into what consumers really want and attempt to create programs designed to meet their needs. More recently, Sam's Club launched a scan-and-go checkout option for shoppers, sort of similar to the one being piloted at Walmart. A customer picks an item off the shelf, scans it into a Sam's Club app, places it in the over-sized basket and then checks out at a designated register by simply scanning a barcode on the app. 
In late May, Sam's Club debuted a fresher-looking Web site that's easier to navigate and which should help maintain its sales momentum online, which rose an impressive 27% in 2015. And shortly, Sam's Club will begin delivering office supplies in a bid to capitalize on the weakness of Staples (SPLS) and Office Depot (ODP) - Get ODP CORPORATION Report following their failed merger. "Work is moving absolutely in the right direction, and digital is one of our best investments," Brewer told TheStreet during a presentation from inside a Sam's Club in Arkansas ahead of Walmart's annual shareholder meeting last week.  
Yet even as Sam's Club has invested in new services, including digital, results have been lackluster due to tough competition from fellow warehouse club operator Costco (COST) - Get Costco Wholesale Corporation Report and online by way of Amazon (AMZN) - Get Amazon.com, Inc. Report . Overall sales at Sam's Club fell 2.2% in 2015 from the prior year to $56.8 billion. Operating profit dropped 7.9% to $1.8 billion. In the first quarter, sales for Sam's Club rose a meager 1%, while operating profit fell 3.3%. 
When it comes to the 800-pound gorilla in the room, Costco has consistently thumped Sam's Club in terms of same-store sales growth for well more than  two years, according to data reviewed by TheStreet.
Where Sam's Club has prided itself as the digital-friendly warehouse, Costco has kept doing the same thing it has done successfully for years -- it is the price leader and it stocks its stores with surprising items such as expensive diamond rings and top quality sushi. Costco's stores remain no-frills, lacking the techie options found at Sam's Club stores, such as touchscreen kiosks referred to as "endless aisles" that allow a customer to check for products online that aren't in the store. 
Costco is a holding in Jim Cramer's Action Alerts PLUS Charitable Trust Portfolio. Want to be alerted before Cramer buys or sells COST? Learn more now.
At the end of the day, the reason for Sam's Club relative under-performance vs. Costco may just boil down to what's on the shelves.
"Admittedly, better merchandise is our opportunity," said Brewer, who has tasked her team with bringing in the same degree of product excitement and quality that has kept Costco humming along despite the pressure from online shopping. Primarily, that is being done at Sam's Club with a significant increase in the number of private-label merchandise under the Member's Mark moniker, which was Sam's Club first ever private label launched some 15 years ago. The private labels starting to flow into Sam's Club aren't of the inferior quality one envisions when thinking about non-national branded products, but according to various executives TheStreet chatted with at the store, they are higher quality meats and other fresh food that a shopper with annual income of $75,000 to $100,000 would appreciate. 
Added Brewer, "Given our work with private brands, I think you will start to see the gap closure with Costco that we have all been anxiously waiting for."
TheStreet toured the overhauled Arkansas-based Sam's Club, which will be used to test ideas that could be brought to the chain's other 600-plus stores. Below are the biggest changes we noticed. 
1. More Private-Label Products
It's all about the private-labels for Sam's Club.
One thing was abundantly clear walking around the store -- Sam's Club really wants to sell a ton of higher-margin private-label products ranging from fresh fish to strawberries. If Sam's Club could convince shoppers through more in-club demonstrations that its private-label products are superior in quality to many national brands, then it may have a nice competitive advantage to Costco. 
The private-label focus was most obvious in meat, where most of the refrigerated coolers were packed with non-national brand chicken and beef. Even Boar's Head deli meat was replaced by a private-label offering. "I feel pretty confident if you sample our private-label food in a demo, we will have you," said Bryant Harris, senior vice president of fresh food for Sam's Club. 
2. More Product Demos
More free food samples on the way at Sam's Club.
Harris said Sam's Club will invest more money into product demonstrations inside its clubs in a bid to convince people of the quality of its new private-label products. At least at this Sam's Club lab, the increase in the number of demos was fairly obvious -- it felt as if there was one stationed in each major department. 
3. Digital Is Still a Big Focus
Can't get any easier to checkout in a grocery store than scan and go.
Sam's Club's new scan-and-go checkout option is live in 24 clubs. By the start of the holiday season, it will be available in all locations. The company will also continue to roll out its "endless aisle" touchscreen kiosks, which help shoppers look for products on the chain's Web site that may not be in the store. 
4. Adding the Treasure Hunt Component
Tiny homes have become popular in the U.S., believe it or not.
Costco's claim to fame through the years has been the ability of its buyers to put surprising items in the store that get the attention of shoppers and often their cold, hard cash. The element of surprise at Costco has come to be known as the treasure hunt, and it's something Sam's Club wants to tap into in order to raise its cachet and sales. 
The shock factor was on display at this particular Sam's Club. We were greeted by Sam's Club selling two versions of tiny homes (actual home sizes above) priced at about $54,000. At the back of the store, we were hit with fresh crab legs and sushi resting on rows of ice. Leaving the store we bypassed an 85-inch big screen TV for a cool $8,000. 
5. Upgraded Jewelry Assortment
Yes, that is a $125,149, 5-carat diamond ring in the center. Diamond quality is a solid VS2.
Enhancing the jewelry section at Sam's Club was indeed a priority. In fact, it almost resembled a mini Tiffany shop in shop -- the price points for a good portion of the diamonds were mind-blowing, and reflected their improved quality.
According to an exec on the tour, Sam's Club took the average price point of its jewelry offering at the store to $6,000 from $2,000 previously.