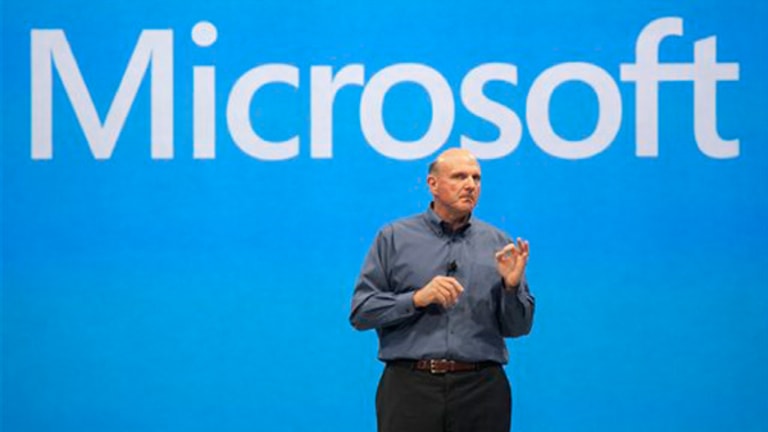 Innovation at Microsoft? Show Us, Don't Tell Us!
We know Microsoft is working on cool products, but can the company bring them to market and create Apple-like demand?
NEW YORK (TheStreet) -- Over at PCWorld, Matt Smith wrote an article about Microsoft (MSFT) - Get Free Report.
If it was a little boy you would pat it on the head, give it a dollar and tell it not to spend it all at one place.
Smith must have interfaced with somebody at Microsoft recently. Nice people, but enough is enough:
Show us, don't tell us
.
One cornerstone of Smith's piece -- and certainly a bullet point fed via spoon by Microsoft -- "Redmond spends more on R&D than
Google
(GOOG) - Get Free Report
and
Apple
(AAPL) - Get Free Report
combined."
Fantastic. Oatmeal raisin or chocolate chip?
Smith editorializes in his next sentence: "Think about that the next time someone tells you Microsoft doesn't have a future." He wrote an excellent public relations piece for the company.
Just as I do not question the coolness or genius of Google's driverless car, I appreciate Microsoft tinkering with futuristic touchscreens, interactive 3-D models and robots that play catch. I love that stuff; however, we already know that Microsoft, somewhere beneath its uninspiring veneer, had some hip in it.
If you kick the tires at all, you know this. Back in June a
Reuters
story about how excited young interns are to work summers at Microsoft made the rounds. Among this set, the company apparently ranks cooler than
Facebook
(FB) - Get Free Report
and almost as desirable as Google.
Given
my love for startup culture, particularly among mature companies
, I can't help but respect the slightest inkling of innovation at Microsoft.
I'm as big, if not a bigger idealist, than the next guy. But at some point the realist lens enters.
As Eric Jackson explained this past week on TheStreet
, outside of Apple, who in tech is really innovating these days? Jackson singles out Facebook:
Facebook innovated by displaying your Facebook email address as your primary one and hiding all others.
Facebook innovated by putting more ads in your news stream.
Jackson's not alone. The lack of innovation coming from tech, particularly Silicon Valley, has people talking. As Francisco Dao illustrates at
, they're not being nice:
From Peter Thiel's lament that "they promised us flying cars but instead we got 140 characters" to Michael Arrington's latest complaint that he's bored with what currently passes for innovation, there is a growing chorus of people voicing their disappointment with Silicon Valley's inability to push the envelope.
Theil's being a bit of a ding-dong there --
Twitter is worthy innovation
-- but I catch his drift. Even Willis would know what he's talking about.
Microsoft has all of this awesome stuff percolating in labs staffed by small teams and pumped-up interns, but what does it have to show for it? What does it bring to market?
The Surface tablet. Where's the innovation?
Is it the keyboard that snaps on and off? Is it the use of what looks and feels like cheap plastic when held next to an iPad or even a Kindle Fire?
It's certainly not in Microsoft's approach to retail,
which is a blatant and embarrassing knock off of Apple's concept
.
There's zero innovation in Microsoft's marketing. It's confusing at best. Watch a Surface tablet commercial. Who is Microsoft going after? Can the company capture whoever these people are with dancing schoolgirls and jelly bean-jumping
you really can't tell if it's a laptop or tablet
devices?
That's the core of Microsoft's problem.
It has all of these cooks in the kitchen. But it has brought nothing other than Xbox -- which is, for all intents and purposes, completely disconnected from the Windows ecosystem -- to the consumer (or the BYOD enterprise) that comes close to iPod, iPhone, iPad or the Mac. Nothing.
Even if it does someday, will Microsoft be able to sell a meaningful number of units at a premium price?
Cute PR pieces on innovation look great, but they're not going to excite investors. All they do is raise more questions that Steve Ballmer's over-confident, just wait-and-see attitude hardly answers.
Remember,
this is still the same guy who laughed at Apple when it released iPhone
. Go to the link. Read the the first page starting at the classic, must-see-again
YouTube
video. The guy hasn't learned a single lesson.
--Written by Rocco Pendola in Santa Monica, Calif.
Rocco Pendola is
TheStreet's
Director of Social Media. Pendola's daily contributions to
TheStreet
frequently appear on
CNBC
and at various top online properties, such as
Forbes
.