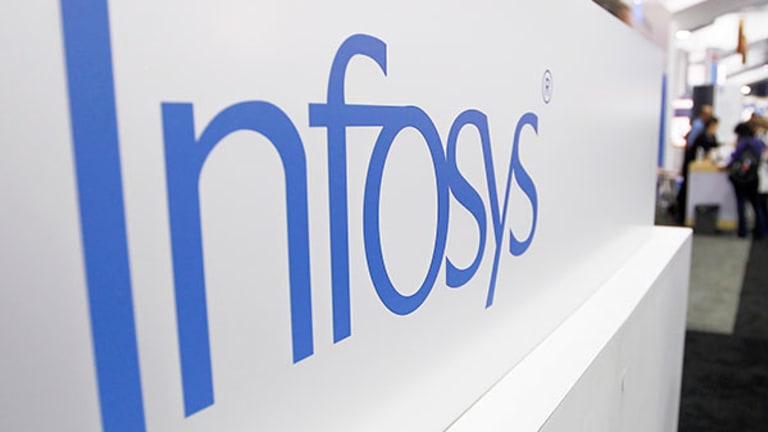 Infosys Shares Likely to Go Higher in the Next Year
The company is projecting healthy gains in revenue and operating profit for its 2017 fiscal year.
Infosys is a compelling buy. The company's share price should continue to rise in the coming months.
The provider of IT services and products finished Thursday trading at $18.98 but should reach $23 a share. Its largest, most recent partnerships and acquisitions have generated new business, and it is projecting healthy gains in revenue and operating profit for its 2017 fiscal year. 
Based on earnings estimates for Infosys's fiscal year ending March 2018, the stock has a price-to-earnings ratio of 17.25.
That is slightly higher than the 16.6 forward P/E for the S&P 500. Infosys's P/E based on a trailing 12-month earnings is 21.5.
Currently, the IT giant has been trading 24% above its 52-week low and 7.3% below its 52-week high. However, the analysis of a 12-month forward P/E ratio indicates that the stock is fairly priced at current levels.
The company's fiscal 2016 top line grew by 9.1% compared to last year in dollars and 13.3% in constant currency terms. Earnings per share were also up by 7% compared to fiscal 2015. The management kept fiscal 2017 revenue guidance at 11.5% to 13.5% in constant currency and 11.8% to 13.8% in dollar terms at March 31 exchange rates.
The company also reported strong cash flows as it managed the volatile currency environment efficiently and addressed employee attrition issues. The company's latest acquisitions, Panaya and Skava, gained traction both as part of large client engagements and standalone deals.
Also, Cummins, a major global manufacturer of diesel engines and related technology, chose Infosys as its partner to execute its Brazilian Oracle upgrade program.
In terms of technical analysis, moving averages are considered a support zone for a stock. The stock has a 20-day and 50-day moving average of $18.85 and $18.83, respectively. That is a tad above its 100-day moving average of $18.2.
To be sure, Infosys chief operating officer, UB Pravin Rao said that owing to weaker spending from the energy and insurance sector, the company might face volatility in the near future. But management kept its fiscal 2017 guidance intact.
Infosys's fiscal 2017 revenue should be $10.546 billion versus $9.501 billion for fiscal 2016. Its operating profit will be $2.637 billion (2016 operating profit was $2.375 billion). These estimates are conservative and assume 10% year-over-year growth in sales, and a margin for earnings before interest and taxes (EBIT) of 25%. 
From 2013 through 2016, Infosys traded at an average price-to-sales ratio of 5. Based on this ratio and on estimated 2017 revenue, the stock price target should be $23. 
This article is commentary by an independent contributor. At the time of publication, the author held no positions in the stocks mentioned.