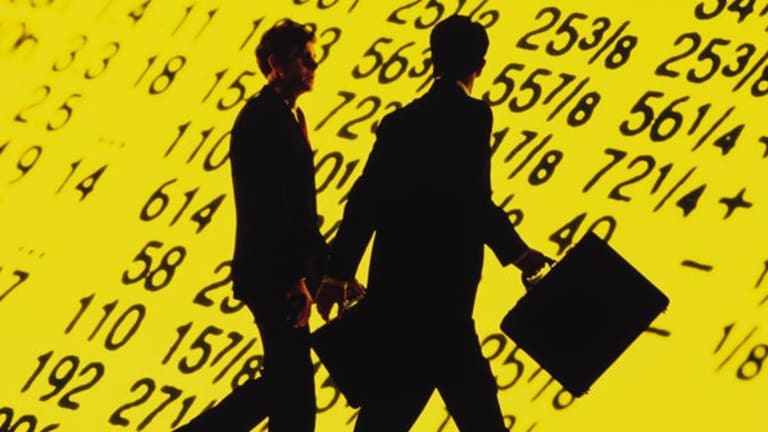 Publish date:
Income Investors Shouldn't Give Up, Despite Stock Market Pressure
Dividend reinvestment plans can be a great tool to accelerate portfolio and income-growth potential.
Dividend reinvestment plans can be a great tool to accelerate portfolio and income-growth potential.
NEW YORK (TheStreet) -- How many investors do you personally know?
Chances are, half of the people you talk to do not have a clue what
 is or think of it as some super risky venture. The majority of the rest of the people have tried to invest or know someone who has, and lost some money. They give up and quit trying to make money from that route.
It is a shame, because the stock market has a proven history of being a very reliable way to build the wealth many people desire, to reach their specific goals. Losing money happens in the stock market and there is no need to quit because of it.
Just like anything in life, you have to practice and learn from your mistakes to become a better investor.
; otherwise, there is not much of a reward if everyone can automatically become a winner.Everyone who sold during the last scary crash and never returned sat on the sidelines during the biggest bull market so far in our lifetime. Those who followed the advice of Warren Buffett and bought undervalued equities greedily, while others were fearful, reaped some very nice profits. Those who invested wisely, made it all back and then some.
Today these smart investors are likely sitting on paper profits, if they do not need to access the money or cash out their nest egg.  Here is a good beginners guide page to stock investing I found online. 
The financial education that recommends taking out 4% a year in retirement does not make much sense.
People are living longer and want to enjoy their time earlier and pursue early retirement. This will cause more years in retirement and outliving life savings.
Another reason some investors don't quite agree with it is because you are selling off assets at unknown levels. You may be selling at the lows after buying at record market highs just like we have been experiencing in this bull market. My personal strategy: I find it much more attractive to collect the dividend income and grow it to a level to adequately cover above and beyond what my expenses could amount to.
Reinvesting dividends through a Dividend Reinvestment Plan, or DRIP, is a major component of the strategy to dollar cost averaging. It is not always desirable to reinvest at record highs or if a particular dividend stock is overvalued, but people like to keep it going because it eventually smoothens itself out by the powerful effects of compounding.
At the same time as you are in the accumulation phase, fresh capital can be used to purchase more shares of a solid company's stock. You will also have the option to automatically add more commission free shares via your DRIP plan. The more shares of a stock you accumulate from these methods the higher the dividend payout will be as long as the rate is at least maintained at its current rate. That way you can keep 100% of your investments and just use the income the portfolio throws to you for an indefinite period of time. Here is an article of why one guy is sticking with his strategy of being overweight U.S. dividend paying equities among other things.
One good place to start off with is this REIT: Realty Income (O) - Get Realty Income Corporation Report.  It has a track record of 529 straight monthly dividends, it is hard to beat. The company is conservative and growing its real estate portfolio.
Tom Lewis, its former CEO, retired. Lewis was a good manager for investors and I have no doubt the new CEO, John Case, will continue the company's stellar performance. Case has more than 20 years of experience in investment banking and inherited many other smart and seasoned employees. 
Some risks to investing in this company would be the possibility of the cost of capital rising when interest rates eventually rise.  As with any stocks, a risk for the short-term trader is that he or she could be caught off guard by an equity offering at unfavorable prices, which may temporarily dilute the shares, causing a drop in share price.  Proceeds of these stock offerings should be used to pay down debt, acquire new properties, or increase funds from operations and adjusted funds from operation -- both are metrics widely used to read REITs. 
There is also no guarantee based on past performance, so diversification is crucial to protecting yourself from a major stock or sector-specific event. You should rely on one company for only a portion of your income needs.  For further research and due diligence, I recommend checking out O's Web site.
There is more than one way to get to the ultimate goal of financial independence and beyond. Not everyone has the same comfort level or pursues the same strategy. That is what makes it a unique avenue. Speculating can be exciting, but it is not recommended when money is on the line that you cannot afford to lose. It takes patience and persistence as well as the ability to do the homework necessary to make sure the facts do not change for the worse with your portfolio investments.
The most successful investors have a long-term view, save diligently and invest regularly.
At the time of publication, the author was long O, although positions may change at any time.
This article is commentary by an independent contributor, separate from TheStreet's regular news coverage.