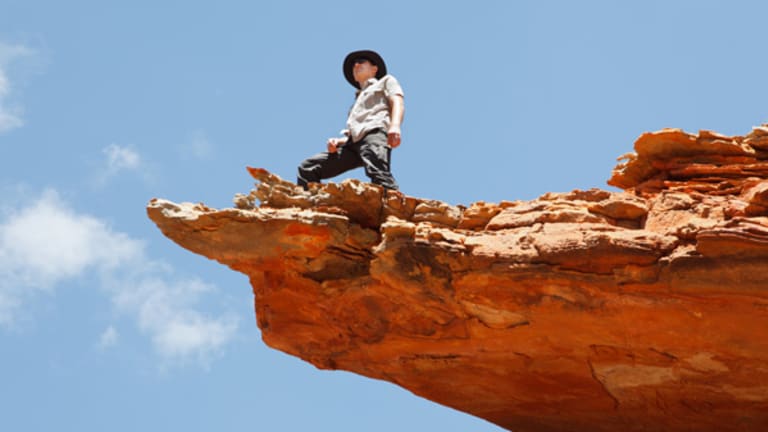 In Today's U.S. Stock Market It's Only Downhill From Here
The stock market on Thursday continued to move higher even as the 1Q GDP number was revised to a -1%.
The stock market on Thursday continued to move higher even as the 1Q GDP number was revised to a -1%.
NEW YORK (TheStreet) -- Emotions continue to run very high in this stock market as we approach the last trading day in May.
Even as first-quarter GDP was revised down to -1.0% from a previous +.1%, the stock market on Thursday continued to move higher. Goldman Sachs had a 1Q GDP target of 3% on Jan. 30. It is pretty clear now that the 10-year bond had it correct as prices moved higher and yields moved lower. Growth is slowing.
The DJIA closed up 65.56 points at 16698.74 and the S&P 500 closed up 10.25 at 1920.03. The Nasdaq was higher by 22.87 at 4247.95 and the Russell 2000 was up 3.39 at 1140.07.
Volume on Thursday was pathetic. So, once again, this is a market that is up on air. Another reason for the slowing volume is equity funds managed just a $678 million inflow, well below the year-to-date average of a $3 billion inflow.
These short hedge funds are the only player in town. They can push this market to extraordinary levels on the upside. I sensed a lot of emotion out there among traders on Thursday. The feeling that many have missed this upside has forced many traders to chase these extreme overbought conditions.
At one point in the last hour of trading I had the sense that some short hedge funds finally capitulated and threw in the towel and covered their short positions. That usually happens at the market highs.
From my perspective, where we go from here is down. I know I have been looking for that downward move the past week. The internal algorithm numbers have shown some extraordinary overbought conditions in the large-cap sector -- overbought conditions I have not seen in over a year, according to my own algo numbers.
When I show a 19-2 ratio of extraordinarily overbought vs. extraordinarily oversold large-cap stocks, I take notice and so should you.
What this all means currently is traders need to be patient and not chase these extraordinary signals. This is a marathon and not a sprint. There will be many more opportunities to buy stocks at much lower prices.
Control those emotions and have a repeatable risk management process that works. If you do not have such a process, feel free to join us at www.strategicstocktrades.com for a free chat every Friday and ask those important risk management questions while viewing my internal screen.
On Thursday, I closed out my long Market Vectors Gold Miners ETF (GDX) - Get Report position for a better than 1% gain. I added to my short positions in EPAM Systems (EPAM) - Get Report and AmerisourceBergen (ABC) - Get Report, as both are flashing a 100, extraordinarily overbought signal.
At the time of publication the author was short EPAM and ABC.
This article represents the opinion of a contributor and not necessarily that of TheStreet or its editorial staff.
>>Read more: Want Yield? Stay Away From Treasury Inflation-Protected Securities