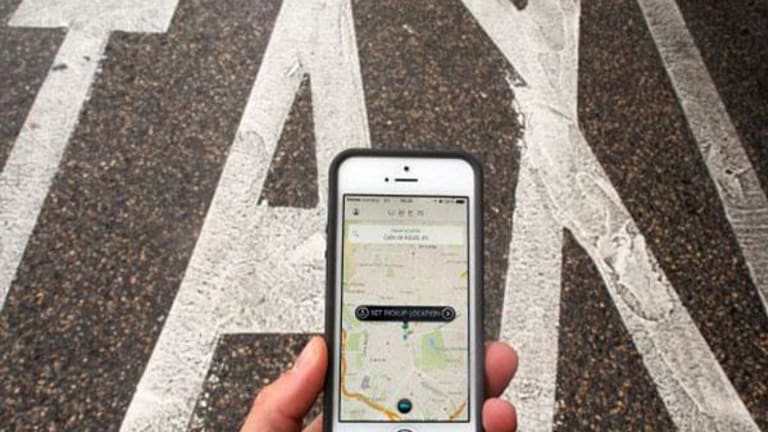 In New York, Chicago and Boston, Taxi Woes Continue, Spelling Trouble for Lenders
The plight of taxi medallion owners and the banks that lent to them continues, and Medallion Financial appears to be under-reserved.
We recommended back in December 2014 that investors sell short shares of of Medallion Financial (MFIN) - Get Report . We predicted that new entrants in the for-hire vehicle industry such as Uber would significantly reduce taxi medallion cash flows and values. In turn, this would lead to deteriorating medallion loan performance, hurting lenders such as Medallion Financial.
New supply in a market dilutes cash flow across a larger number of suppliers, and when the newer entrants are deemed superior to the incumbents on their merits and cost the same or significantly less, the incumbents are going to lose market share. The enormous legacy costs of highly regulated, supply-constrained taxi medallions sold and borrowed against values in the hundreds of thousands of dollars (and more than $1 million in New York City), would prove difficult to sustain, we argued, in the absence of the regulator-protected oligopolies that led to those high prices.
In the two years since we made that forecast, medallion prices have plummeted, along with taxi trips and revenue. At the same time, there has been a spike in delinquencies, defaults and foreclosures on taxi medallion loans. Executives at banks with meaningful exposure were caught flat footed and appear to have been in denial about the risks posed by the emergence of ride hailing.
In early December 2014, Medallion Financial President Andy Murstein told Crain's NY, "We can't understand why the stock is trading down. Some people like to shoot first and ask questions later. They will learn that's a mistake. All we can continue to do is put out impressive numbers, and the stock price will take care of itself."
The stock closed at $8.35 that day, adjusted for dividends, but has recently traded between $3 and $3.60. Medallion Financial shares fell slightly in Friday trading to $3.51 and were changing hands Monday morning around $3.37.
Even as late as August 2016, Murstein told an audience of investors at the KBW Bank Conference, "The business is only off 7% from two years ago to today. It's up from where it was three years ago."
Perhaps Murstein was referring to his own book, but according to Taxi & Limousine Commission data publicly available at the time of those comments, average daily New York City taxi medallion trips and farebox revenue for the six months ending in June 2016 were down 19.8% and 14.9%, respectively, over two years, and down 24.6% and 18.0%, respectively, over three years. The downward trend has continued through at least October.
In reference to borrowers in its Chicago medallion loan book, Signature Bank (SBNY) - Get Report CEO Joseph DiPaulo stated during the second-quarter 2015 earnings conference call "...they're willing and we're willing to work with them and I think the key thing is that it's their livelihood and it's all about cash flow and the cash flow right now is such that [we] will be paid back."
One quarter later Signature Bank executive vice president Eric Howell said, "Approximately $110 million of the portfolio has been refinanced. We worked very closely with the borrowers, so they would receive overall cash flow relief and we would receive amortization. And we're fairly confident they will continue to pay us ... we actually have a contract for sale on seven medallions at that value of around $240,000."
The "contract" for seven medallions transferring at $240,000 per medallion apparently fell through. More importantly, the optimism expressed in 2015 proved ... optimistic. By the third quarter of 2016, Signature Bank wrote down its entire Chicago taxi medallion book to $60,000 per medallion. The rapid breakdown in Chicago medallion values over the last two years was readily predictable, and for those who failed to anticipate it, the demise has been marked. 
New York City
So, what are Signature Bank and Medallion Financial telling investors now? Both argued in third-quarter earnings communications that New York City, the most protected taxi market in the country, has "stabilized." Unfortunately, hollow assurances to this effect in the past have undermined the credibility of the lending insiders. Is there any evidence to support the claim of New York City stabilization?
The TLC recently released September and October data. Taxi trips and farebox continue to decline more than 10% on a year-over-year basis, with the exception of an aberrant month from time to time. In October, trips fell 11.8%, and farebox declined 11.3%. September was one of those aberrant months: Trips declined "only" 9.8% while farebox fell 6.4%.
Comparing sequential patterns to the historical or "normal" seasonal pattern can give us a potential early indicator of stabilization. Such an early warning could make the difference between upside earnings surprises and further disappointments for the most exposed taxi medallion lenders. The problem with this approach is the limited historical data for discerning a "normal" seasonal pattern. The available data from the TLC go back to only 2010, and a fare increase of 17% occurred in September 2012, skewing the data for that year. Meanwhile, Uber began to ramp up its New York presence in 2014, leaving just 3.5 years from which to derive a "normal" pattern.
That said, the table below shows the sequential, seasonal rise in average September/October trips and farebox in New York City from July/August. A normal seasonal uptick between these months was 10%-12% for trips and 12.5%-14% for farebox, from 2010 to 2013. (We excluded 2012 because trips plunged and farebox spiked when a fare increase occurred that September.) Uber began to ramp up its business meaningfully beginning in July 2014. In that year, there was a seasonal increase of 8.7% in trips and 10.2% in farebox from July/August to September/October. 
Sequential Comparisons of New York City Trips and Farebox vs. Recent History
We know baseline trips and farebox are already down significantly (see chart below), but the seasonal uptick continues to come in well below the pre-ride-hailing norm, according to the latest TLC data. Average trips in September/October, which in the past were up 10% or more, were up 5.3% in 2016, slightly worse than the seasonal rise in 2015, and nearly 50% lower than the normal seasonal rise. Farebox only increased 7.4%, the same as in 2015 but significantly less than in the preceding years.
New York City Taxi Medallion Trips and Farebox Trends (Trailing Five-Month Averages)
Source: Taxi & Limousine Commission
Two-month periods can certainly be affected by aberrant noise. But the TLC data through October do not provide any evidence supporting the claim that conditions in New York City have stabilized. That is not good news for the companies lending to holders of taxi medallions.
There is also evidence that conditions in New York City have remained poor into December. ConnectOne Bancorp (CNOB) - Get Reportfiled an 8K on Dec. 13 saying:
"...based upon continued weakness in the New York City taxi medallion market, the Registrant believes that the valuation of its impaired loans secured by New York City corporate medallions will likely substantially decline at December 31, 2016 from the September 30, 2016 valuation ... additional reserves imply a per corporate medallion value range of approximately $500,000 to $550,000."
ConnectOne's mid-December observation of "continued weakness" in New York City taxi markets suggests the apparent continuation of deterioration we observed in TLC data through October has continued into mid-December, although one could parse the language to argue that "continued weakness" is not the same as further declines and thus is consistent with "stabilization."
Medallion Financial suggested in its third-quarter 10Q that corporate taxi medallions "sold for approximately $750,000 as of September 30, 2016," and that appears to be the "fair value" it is using.
The only medallion transfers reported by the TLC for September 2016, however, were eight corporate or mini-fleet pairs, all at $625,000 per medallion and all out of foreclosure. Foreclosure transfers have often not been at arm's length, have involved little or no cash and usually have "priced" at the mortgage value. Hence, Medallion Financial may have trouble defending fair value in New York City at levels significantly greater than the $500,000 to $550,000 range in the fourth quarter of 2016. 
So let's assume the real value of a New York City medallion right now is $500,000, or 33% less than the $750,000 that Medallion Financial appears to be using as fair value. The company had roughly $464 million in loans at the end of the third quarter. If it took the reserves necessary to move down its New York medallion loan exposure by 33%, the resulting hit would be about $153 million, almost 55% of the company's book value.
At the end of the third quarter, $45 million of the $200 million of New York City taxi medallion loans Medallion Financial held at the parent-only level (22%), were designated as follows: "some or all of the securities are non-income producing ... [defined as] loan ... on nonaccrual status, or past due on contractual payments ..." 
(Note: "non-income producing" figures cited do not include Medallion Bank, for which those figures are not available.)
But according to the third-quarter 10Q, Medallion Financial actually increased its estimate of the fair value of the bank in 2016 by $28.6 million, after a $15.5 million write-up in 2015, even though the bank has nearly twice its book value loaned against taxi medallions.
Boston
Recently obtained data on trips and farebox in Boston show that this market is faring even worse than New York City. The Boston Police Department so far has provided data through February 2016. But the picture is clear, with the five-month moving averages of trips and farebox down 42% and 37%, respectively, over the past three years.
Boston Taxi Medallion Trips and Farebox Trends (Trailing Five-Month averages)
Medallion Financial has another $30 million of taxi medallion loans in Boston and Cambridge, Mass.
According to Medallion Financial's third-quarter 10Q, for $15 million of the Boston and Cambridge loan portfolio (53%), "some or all of the securities are non-income producing ... [defined as] loan ... on nonaccrual status, or past due on contractual payments ..."
Chicago
Chicago is worse off than any major city. The city publishes medallion sales data monthly and an ongoing partial list of medallions in foreclosure status. These data show peak prices of $375,000 per medallion in April 2014 have fallen to a median level in 2016 of $60,000, and our proxy for foreclosure activity in the city has gone from 22 to over 300 in the same time frame.
Farebox and trip data are not available from the city, but Medallion Financial reports lease income on 159 owned Chicago medallions, showing a decline from $431,000 in the third quarter of 2014 to just $53,000 in the third quarter of 2016, a nearly 90% decline in two years. But Medallion Financial continues to carry these medallions at $120,000 each, and presumably values the collateral for Chicago medallion loans at the same level.
Medallion Financial's carrying value of owned medallions is $19 million, Chicago medallion loans are carried at $39 million. That last number is for the parent company only. Total Chicago medallions including Medallion Bank showed showed book value of $93 million entering 2016. As of the third-quarter 10Q, for almost $15 million (43%) of the portfolio, "some or all of the securities are non-income producing ... [defined as] loan ... on nonaccrual status, or past due on contractual payments ..." 
Ratio of Nonperforming Loans and Un-Reserved Owned Medallion Writedowns to Equity
Note: Ratio equal to (total delinquencies + troubled debt restructured + estimated write-downs currently required on owned Chicago medallions) / book equity adjusted for estimated write-downs currently required.
Sources: SEC filings, NCUA and FDIC Call Reports.
Montauk Credit Union was seized by regulators in September 2015 owing to deteriorating taxi medallion performance, and Melrose Credit Union likely has regulators pressuring it over capital adequacy concerns. ConnectOne and Signature Bank have both begun coming to terms with the reality of the situation as evidenced by significant writedowns.
Medallion Financial cut its dividend by 80% less than a year after asserting the chances of such a cut were "slim to none." It has $173 million of debt due within 12 months and recently reported that one of its controlled subsidiaries (Medallion Funding) defaulted on medallion-based loans and is being sued (index number 655635/2016) by Metropolitan Commercial Bank.
Also, Medallion Financial paid 9% interest on a $33 million corporate bond offering that has been crushed since issuance, ended dividend payments from its wholly owned industrial bank as the latter was backed up against its minimum leverage ratio, and has been selling assets.
The backdrop to all these liquidity challenges is the company still having in excess of twice its book value tied up in taxi medallion loans and appearing to be under-reserved against losses. Unfortunately, hope is not a strategy, and it still doesn't look like market relief is in sight in New York City, while major markets like Boston and Chicago are on life support.
This article is commentary by an independent contributor. At the time of publication, the author held no positions in the stocks mentioned.