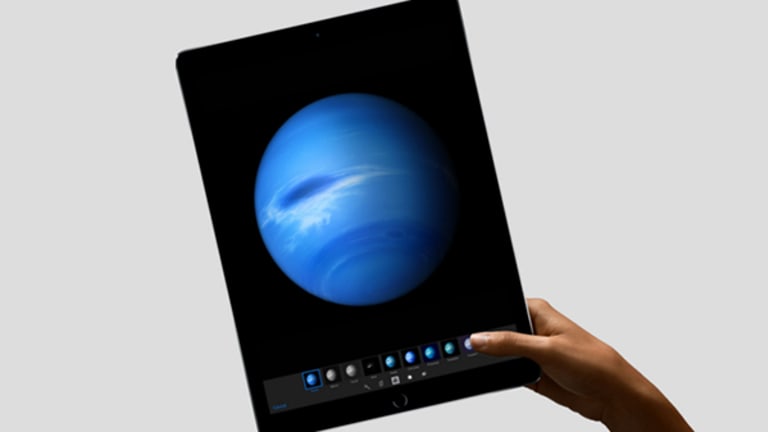 Publish date:
Here's Why Apple Could Rally 30% in 2016 -- Plus Jim Cramer's View
It's easy to underestimate Apple's upside right now. Here's why the stock is actually head higher -- much higher.
It's easy to underestimate Apple's upside right now. Here's why the stock is actually head higher -- much higher.
Updated with post-earnings data and additional comments from Jim Cramer.
All eyes are on Apple (AAPL) - Get Report   today. The technology giant reported its first quarter numbers after the bell Tuesday evening, forecasting the firm's first sales decline in more than a decade. Shares are correcting 5.6% this afternoon on huge volumes as a result.
It's so easy to underestimate Apple's upside right now.
Apple is already the biggest company in the world. How much bigger can it get? It already sold more than 48 million iPhones a quarter ago. How many more can it sell? It's already back up at a triple-digit share price after its split in 2014. How much higher can shares move in 2016?
Well, quite a bit higher, in fact.
As I'll show you, investors are leaving a pile of cash on the table with the Apple trade -- and that could spur a 30% rally in this Cupertino, Calif.-based tech titan over the course of the coming year.
Before I get to the reasons that Apple is primed for upside here, we should get a couple of things straight. First of all, this isn't some "unbiased" article about Apple. I'm no journalist. In my day job, I'm an investment professional: I pick stocks, and I own a position in Apple. So yes, I'm absolutely talking my book right now.
But that doesn't make what I'm about to say any less true.
Likewise, if you're looking for a premonition of what Apple's earnings are going look like for the next quarter or two or an artist's rendering of what the next iPhone is going to look like, prepare to be disappointed. Frankly, I don't particularly care about either of those things very much. I realize that sounds like an odd thing to say -- but it's because neither of them is particularly important for Apple to see a 30% rally in 2016.
That's how glaring of an opportunity this is.
I'm not the only one who sees opportunity here. TheStreet's Jim Cramer owns Apple for his Action Alerts PLUS charitable trust portfolio.
"All in all, we acknowledge the near-term is concerning but are confident in the long-term, and view weakness in shares, which may extend beyond next quarter, as an opportunity for long-term investors," Cramer and portfolio co-manager Jack Mohr wrote today for Action Alerts PLUS. "We believe the suggestion that the company's growth days are over is narrow-minded at best and ignorant at worst. Catalysts are abundant, in our view."
Exclusive Look Inside: You see Jim Cramer on TV. Now, see where he invests his money and why Apple is a core holding of his multi-million dollar portfolio. 
Want to be alerted before Jim Cramer buys or sells AAPL? Learn more now.
I should also add that this isn't the first time I've written an article like this about Apple.
The first time was back in September 2013, shortly after I first started buying shares. I wrote a few follow-ups in 2014 as well. Since that original article was published, Apple's total returns have added up to 58.5%.
No, I'm not telling you that performance number to toot my own horn. Instead, the reason that 58.5% is important is because Apple's current technical and fundamental picture is incredibly similar to the one I talked about back in 2013.
And I anticipate that shares of Apple will react in kind in the months ahead. Here's why.
Unloved and Under-Owned
Nobody likes Apple right now.
That's not totally surprising. In the last 12 months, shares have shed about 13.8% on a price basis, noticeably underperforming the S&P over that same timeframe. The thing is, the rout in shares of Apple hasn't been driven by deteriorating fundamentals. This company has actually been postingrecord numbers in the last four quarters.
But a very tangible result of that underperformance is that Apple is under-owned in the institutional world. Research released this month by Bank of America Merrill Lynch shows that while most long-only hedge funds do own shares of Apple, position sizes are only 62% of what they should be if weightings matched the S&P 500.
The only other major tech stock that's more underweight among institutions than Apple right now is IBM (IBM) - Get Report , a stock that's lost 17% of total revenue and 40% of its share price in the last two years.
In other words, funds are acting like Apple is falling apart.
Wall Street also serially underestimates Apple's performance. The firm has beaten analyst earnings expectations every single quarter since fall 2012. On average, Apple earns a nearly 20% higher profit than analysts guessed. That's a huge disconnect between how Wall Street thinks Apple is performing and how the stock really is performing. In the science world, there's a word for the phenomenon of actual results consistently falling on the same side of estimates: It's bias.
Even this week's earnings call is hugely better than Wall Street is giving Apple credit for.
All of the headlines are centered around Apple's woes and challenges; none of them talk about the fact that Apple actually generated record sales in the first quarter. None lead with the fact that this past quarter was the most profitable in company history, with $18.4 billion in earnings. Or the fact that Apple produced $27.5 billion in operating cash flows during the quarter.
That record performance for the first quarter came in spite of the fact that a strong dollar hugely understated the strength of Apple's international business, which accounted for 61% of sales during the quarter.
The good news is that the bearish bias in Apple right now presents a potentially big upside opportunity in Apple in 2016.
An Absurdly Cheap Stock
Not much is cheap in this market. But Apple certainly is.
As I write, Apple trades for about $95 per share. This is for a company that earned $9.46 in profits in the trailing four quarters. It's not exactly tricky math to figure out that this stock trades for about 10.8 times earnings right now. For a little comparison, the average stock in the S&P 500 trades for about 17 times earnings right now.
But that's not exactly a fair comparison. It's not fair because Apple also happens to have almost $215 billion in cash and investments stuffed into its balance sheet. Take out the firm's debt load, and we're looking at an utterly massive $152.8 billion cash cushion.
That's enough to pay for just over a quarter of Apple's current market capitalization right now. And it means that Apple's ex-cash price-to-earnings ratio is just 7.26.
Even if we make the ridiculously conservative assumption that Apple never grows again, it will still earn enough cash to pay investors back for their original stock purchase in fewer than eight years.
To put all of that into perspective, Apple's share price could literally double tomorrow, rocketing its market capitalization to more than $1 trillion -- and Apple would still trade for almost a 15% discount to the average S&P 500 component once cash is factored in.
I know, you might be thinking, "But wait, most of Apple's cash is held overseas where it can't be used."
It's true that a huge chunk of Apple's cash is abroad right now -- and that it would take a huge tax rate to repatriate that cash. In fact, that's the reason that Apple has resorted to taking on debt for its dividend and share buyback program. At current interest rates, it's actually cheaper to borrow money than to take the tax hit by bringing its own cash home.
(As an aside, Apple has been returning significant capital to shareholders -- more than $9 billion this past alone.)
But the impact of bringing that money home isn't as big as most investors believe. At the end of fiscal 2015, Apple estimated that it would cost $30 billion to repatriate all of the cash that it doesn't need for its overseas businesses. Even assuming that worst-case scenario for taxes (which, frankly, would never happen), we're still left with more than $120 billion in cash, or about 20% of Apple's outstanding market value.
Even ignoring that record cash position for a second, Apple trades at a historically low valuation. The last time Apple's P/E was this low was the fall of 2013. Before that, you've got to rewind back to the market crisis of 2001. Shares handed investors some pretty stellar returns in the years that followed both of those events.
As I write, Apple's P/E ratio is 1.6 standard deviations below its five-year historical average. It's so cheap that it's a statistical anomaly.
The last time Apple traded for such a small multiple of its free cash flows was December of 2008. Shares more than tripled in the two years that followed.
The last time Apple traded for such a small multiple of sales? You guessed it, 2013 again.
I think you get the point. Shares are woefully mispriced here.
Oh Yeah, the Business
You'll probably notice that I haven't really talked about Apple's business at all yet.
I haven't talked about the fact that Apple sold a record number of iPhones during the fourth quarter or that it earns an estimated 94% of the entire smartphone industry's profits despite only selling about 15% of all phones, according to research done by Canaccord Genuity.
I haven't talked about Apple's Macintosh sales growth, its industry-leading customer satisfaction stats or the fact that it's the only PC maker that actually generates meaningful profitability anymore.
I haven't talked about any of that stuff because, frankly, Apple is so cheap right now that none of it really matters today. Even if the bears are somehow right, and Apple never again sees a better quarter than the record-breaking first quarter that the firm reported yesterday, shares are still absurdly priced.
Sure, I realize that it's hard to fathom an utterly huge stock like Apple getting 30% bigger than it is now. But we saw that same argument a couple of years ago.
Even a weak market year such as 2015 was splattered with examples of other huge companies like Amazon.com (AMZN) - Get Report , Starbucks (SBUX) - Get Report  and Alphabet (GOOGL) - Get Report that made much bigger percentage moves. A 30% upside from Apple in 2016 isn't just possible -- it's probably conservative, based on the previously mentioned 58.5% in total returns that Apple paid us the last time shares looked this cheap.
The bottom line is that this is the cheapest Apple has looked since 2013. And so, for the first time since September 2013, I've been adding onto my position in this stock this month.
I'll be the first to tell you that I don't know what Apple's sales are going to look like next quarter or next year. My crystal ball is in the shop. I'm not interested in guessing, either. But regardless of how the numbers end up, Apple is the biggest long-term bargain hidden in plain sight right now.
Disclosure: This article is commentary by an independent contributor. At the time of publication, the author was long AAPL.