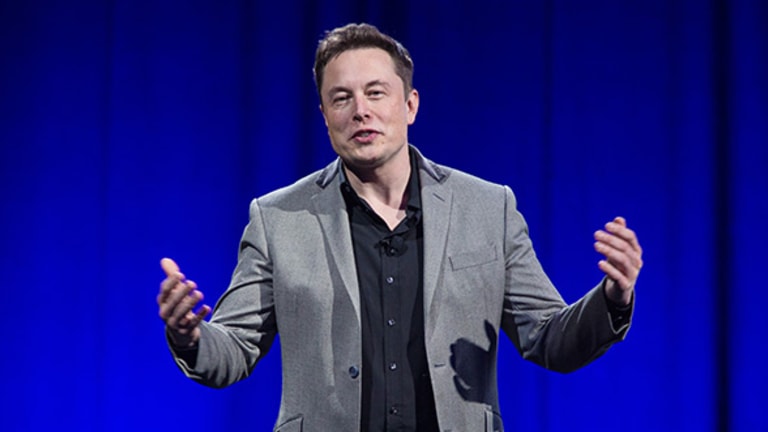 Tesla Reveals Gigafactory Woes, Possible SEC Probe in Latest After-Hours News Dump
The electric car company filed its full 10-Q on Friday evening after markets closed.
The electric car company filed its full 10-Q on Friday evening after markets closed.
Almost exactly a month after revealing disappointing car delivery numbers during the Fourth of July weekend, Tesla (TSLA) - Get Report revealed in a Friday night news dump that is much-touted Gigafactory is taking longer and costing more than expected.
The electric car company filed its 10-Q on Friday, two days after reporting disappointing second-quarter earnings. In the filing, Tesla revealed that it spent $117.4 million on the Gigafactory in the first six months of 2016 and expects that total to reach $520 million by the end of the year.
"Given the size and complexity of this undertaking, the cost of building and operating the Gigafactory could exceed our current expectations and the Gigafactory may take longer to bring online than we anticipate," the company said.
Tesla previously warned that the Gigafactory might require a "modest" capital raise. 
The Nevada-based battery behemoth had its official grand opening to much fanfare last week. As of June 30, Tesla has incurred about $431 million in costs for the Gigafactory.
Tesla began building the Gigafactory, a lithium-ion battery factory, in 2014. Musk is fond of saying the facility, once completed, will be able to hold nearly 100 Boeing 747 jets or 50 billion hamsters. There's a lot riding on the Gigafactory; increasing production is crucial to Tesla's success, particularly its $35,000 mass-market Model 3 vehicle.
Tesla also said that during the current quarter it would "could require further outlays of cash" to repay the principle on $411 million in convertible notes, admitting such an action would "be using substantial amounts of cash."
The filing also hinted at yet another capital raise: "During the quarter ended June 30, 2016, we reached our funding limit with a banking partner where we received cash for the full price of the vehicles, which could adversely impact our liquidity and cash position. We anticipate adding new partners in the coming months. When market conditions are favorable, we may evaluate alternatives to pursue liquidity options to fund capital intensive initiatives."
Lastly, the 10-Q contained a new addition that seems to confirm a rumored Securities and Exchange Commission investigation: "From time to time, we have received requests for information from regulators and governmental authorities, such as the National Highway Traffic Safety Administration, the National Transportation Safety Board and the Securities and Exchange Commission." Tesla has not previously alluded to potential SEC investigations in such filings.
Rumors swirled that the SEC was investigating Tesla last month after a driver died while using its autopilot function. While Tesla said it immediately reported the crash to the National Highway Traffic Safety Administration, it failed to immediately report the crash to the SEC, in possible violation of securities law requiring the company to disclose material events.
Tesla CEO Elon Musk vociferously defended the nondisclosure on Twitter in an attack on an editor at Fortune magazine.
"Yes, it was material to you -- BS article increased your advertising revenue. Just wasn't material to TSLA, as shown by market," he wrote to Fortune's Alan Murray on July 5. "If you care about auto deaths as material to stock prices, why no articles about 1M+/year deaths from other auto companies?"
The filing broke little ground, but does reinforce some of the risks associated with the company as it attempts to ramp up production and compete against a new wave of electric vehicles coming from the likes of BMW, Mercedes-Benz and General Motors (GM) - Get Report . Cash could become an even bigger concern for Tesla assuming it closes its planned $2.6 billion deal for SolarCity (SCTY) , which like Tesla is currently losing money and is highly indebted.
The two companies' combined cash needs in the years to come would almost certainly necessitate additional funding rounds, likely before the first half of 2017.