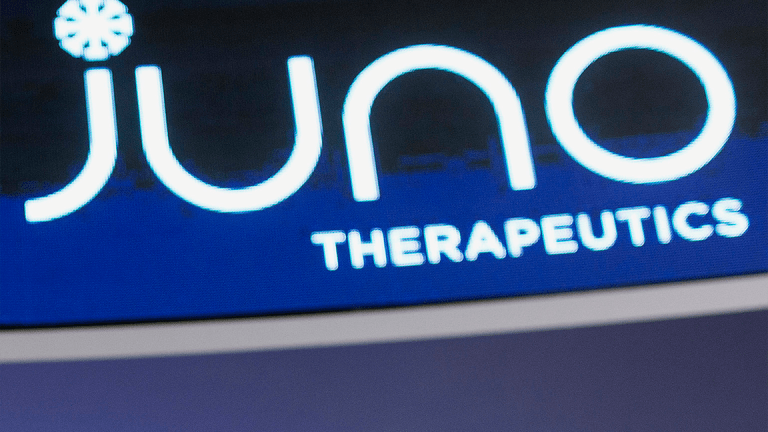 Immunotherapy M&A In Focus as Celgene Buys Juno; Good, Bad of Activism--ICYMI
Here's what you need to know now for Monday, Jan. 22.
Busy day on Wall Street as Merger Monday was upon us, the government was hard at work trying to get back to work and earnings continued to flow in.
Among the biggest stories of the day was the wave of pharma mergers that swept Wall Street. While Sanofi's (SNY)  $11.6 billion offer for Massachusetts-based Bioverativ, a maker of hemophilia treatments, looks like a simple play to refill the pipeline, Celgene's (CELG)  $9 billion bid from Juno Therapeutics (JUNO) looks to be more of a trend story.
The merger sent shockwaves through the immunotherapy space, as shares of Boston-based Ziopharm Oncology (ZIOP)  , San Diego-based Fate Therapeutics (FATE)  , Houston-based Bellicum Pharmaceuticals (BLCM)  , U.K.-based Adaptimmune Therapeutics (ADAP)  and France-based Cellectis (CLLS)  were all higher. Speculation is that these companies may also find themselves in the crosshairs of an acquisition, and with all signs pointing to Celgene closing its Juno bid by the end of the first quarter, others in the field don't seem like a bad bet.
Not to be outdone by macro issues, Carl Icahn made headlines this morning as the former special adviser to the Trump presidency said he had teamed up with Xerox's (XRX)  third-largest shareholder, Darwin Deason, to target the document technology company and its opaque joint venture with Japan's Fujifilm. The move comes as the billionaire raider hopes to install a minority slate of director candidates and shake up the business.
We've been talking a lot about activism and politics this year, as well as corporate responsibility and how a lack of responsibility can lead to shareholder revolts.
But one thing we may be overlooking in all of this is that politics or a perceived view of lack of corporate responsibility doesn't always mean a declining share price.
Real Money's Chris Versace points to tobacco company Altria (MO)  , which has seen shares soar more than 100% over the last five years despite continued public outcry over the dangers of tobacco use. Altria isn't alone in a group of stocks that have had their fair share of public relations issues and have ticked up despite them.
Management at pharmaceutical company Mylan (MYL)  have enjoyed a 22% rise over the last year, beating the 13.7% price move in the S&P 500 over the same period. That's despite lawsuits from far and wide documenting Mylan's blatant price gouging of its EpiPen auto injector.
This is an excerpt from "In Case You Missed It," a daily newsletter brought to you by TheStreet. Sign up here.
Photo of the day: Better than a box of chocolates
Nike (NKE) is always at the forefront of innovation and today it was revealed that that innovation may pay big dividends for the company in the coming quarters. New manufacturing processes, including Nike's popular Flyknit, waterless dyeing 3D printing and new Flyleather will "redefine product design" said Macquarie analysts recently. The company will save on wasted material costs -- as the new processes will eliminate waste -- and is also hoping that the new designs and materials can help the company save on shipping as well. Flyleather is 40% lighter and five times more durable than traditional leather. The new material, which was created with U.K.-based partner E-Leather, could translate into a "win" for the transportation aspect of getting Nike shoes to market, as lighter loads translate to smaller fuel costs, analysts wrote. Imagine if Jenny (Robin Wright's character in "Forrest Gump") had given Forrest (Tom Hanks) a pair of Flyleather Cortez instead of the traditional leather shoes pictured above? Maybe Forest would still be runnin'. Read More
Read more from "In Case You Missed It." Sign up here.
More of What's Trending on TheStreet: