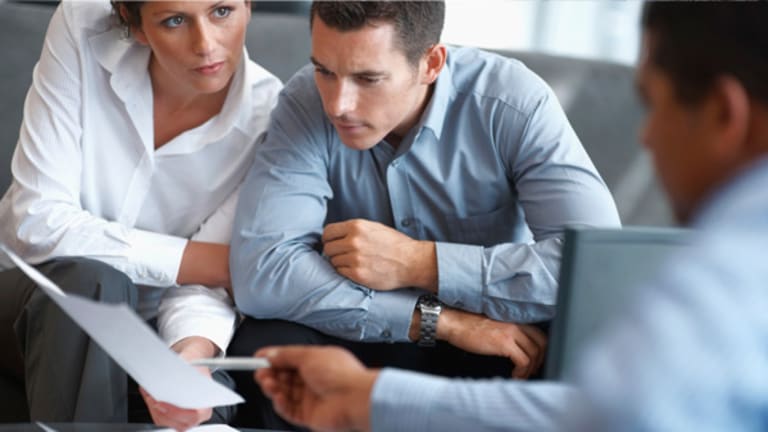 NEW YORK (TheStreet) -- Don't hate this rally!You'll finish down if you wait for an up market to invest.
I concur. Long-term investors who try to time the market or invest on the basis of sentiment tend to do more harm than good.
Generally speaking,
buy, hold, reinvest dividends and buy more
makes perfect sense for most long-term portfolios. This approach, however, can ignore time, circumstance and the personal component of investing.
Investment advisors often attach model portfolios to different types of clients; If you're 37, married, live in a two-income household and have a young child, follow this strategy.
How many pros actually sit down with clients and discuss unique goals and the practical ramifications of a customer's financial reality?
If you're dealing with folks in the sub-$1 million category, quantity matters so you churn and burn model portfolios. Few people ever question the advice.
Smart investors should.
I relay details of my own personal situation to help illustrate the notion that nuance exists in personal finance. When we share personal experiences we help others, even though we're not necessarily telling them what to do. If nothing else, my willingness to disclose might lead a few readers to assess their own unique circumstances and find my thought process useful in informing their own process.
Why I'm Transitioning to 80% Cash
I'm the 37-year old guy, married with a young child in a two-income household.
As much as I believe in the power of stock investing, particularly dividend-paying growth stocks, I did some near- and long-term planning and came to somewhat atypical conclusions.
First, I thought about my primary goals, objectives and concerns. The things that keep me up at night, in no particular order, are:
I want the ability to retire and work only as much as I desire ASAP.
Put the kid through college.
Cut expenses as much as possible; reduce fixed expenses, but have the ability to live a similar quality of life in retirement; travel; work sparingly.
No debt and no rent or mortgage payments.
Given my relatively expensive choice of residence -- Santa Monica, Calif. -- all four points, particularly the last, present considerable challenges.
Here are some points to consider -- they are the same ones I considered as I came to my decision to move to cash. Each hinges on present and positive variables remaining constant.
We pay about $2,000 a month in rent -- a relative bargain given our location.
In less than a year, we will have, with the exception of pesky student loans (I got burned by the private student loan scheme), no debt. Even our one car will be paid off.
We have seen considerable monthly cash flow over the last two years.
We have a more-than-ample emergency fund.
Then I asked the following questions:
Do I really want a housing payment in retirement? Would I feel comfortable having a monthly commitment of thousands of dollars per month in my 50s, 60s, 70s and onward? Do I want to work to reduce and eventually eliminate a housing payment going forward?
Having no housing payment boils down to an objective. If I reach it, I have a fighting chance of achieving the remaining goals I listed earlier.
After seemingly endless thought, I came to the conclusion that I should deploy my monthly cash in two ways: Eradicate all debt (but allow the low-interest rate student loans to persist) and unwind 80% of my stock portfolio into a cash position. By doing this, I increase my rate of savings by roughly 50% each month.
I give up the potential for the return that equities can produce, but I also eliminate risks, such as frustrating, even if temporary, on-paper losses and long recovery periods after, say, a dive off of the fiscal cliff.
With ample cash flow and the need for a large sum money within two years to cover a down payment on an income property, I see no sense in taking on any risk whatsoever.
In fact, in a situation where monthly cash flow comes in at several times monthly expenses, I'm not sure it ever makes sense to take on more than minimal risk. Cash flow provides safety and less anxious nights, and you do not have to give up much in the process.
Simply put, if you can achieve your goals and objectives within a reasonable amount of time, why shouldn't you do it primarily with cash? That's an open question, but I think it's one that more people should ask.
In recent weeks, I exited positions in
BCE Inc.
,
Intel
(INTC) - Get Intel Corporation (INTC) Report
and
Time Warner
(TWX)
. By the end of the year, I will have taken profits in
Rogers Communications
(RCI) - Get Rogers Communications Inc. Class B Report
and
Microsoft
(MSFT) - Get Microsoft Corporation (MSFT) Report
.
I will continue to hold a handful of speculative positions for the long-term, particularly
Facebook
(FB) - Get Facebook, Inc. Class A Report
,
Pandora
(P)
and, if Mark Pincus steps up sometime soon,
Zynga
(ZNGA) - Get Zynga Inc. Class A Report
.
My approach does not apply in every situation. And, even if we share circumstances, you might opt to go in a completely different direction.
I do think, however, that my experience warrants consideration from several standpoints. I end with a series of brainstormed questions that sum up a main perspective to consider:
Should you direct all of your cash towards getting rich? Or are you better served trimming risk, potentially at the expense of profit, and using your cash to reach realistic goals and objectives within a reasonable time frame? Can considerable cash flow decrease the emphasis on investing, making savings the primary strategy in the near-term and, quite possibly, the long-term?
At the time of publication, the author was long FB, MSFT, RCI, P and ZNGA
.
This article is commentary by an independent contributor, separate from TheStreet's regular news coverage.
Rocco Pendola is a private investor with nearly 20 years experience in various forms of media, ranging from radio to print. His work has appeared in academic journals as well as dozens of online and offline publications. He uses his broad experience to help inform his coverage of the stock market, primarily in the technology, Internet and new media spaces. He has taken a long-term approach to investing, focusing on dividend-paying stocks, since he opened his first account as a teenager. Pendola, 37, is based in Santa Monica, Calif., where he lives with his wife and child.