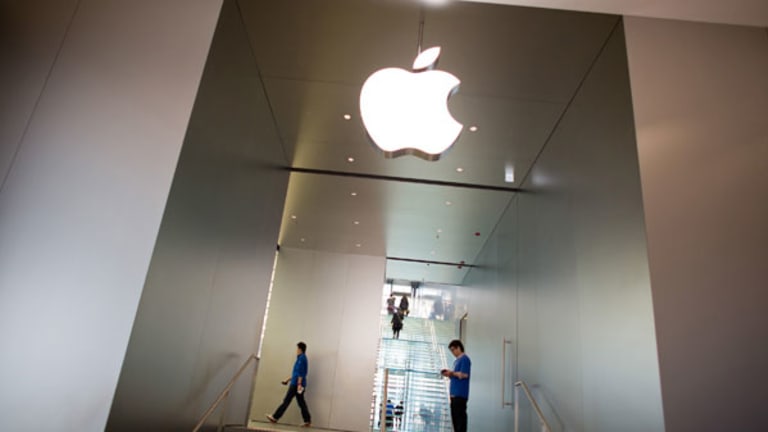 I'm Excited for iRadio, but AAPL Investors Should Not Be
Consumers and the music industry will enjoy more upside from iRadio than Apple shareholders.
NEW YORK (TheStreet) -- As an unabashed Pandora (P) bull, I'm excited to see Apple's (AAPL) - Get Apple Inc. ReportiRadio appear to be so close to reality.
That said, I consider the development from several perspectives.
First,
TheStreet has known this was going to happen for a while
. Late last year, an incredibly reliable source told me "it's only a matter of time" before Apple enters Internet radio. In April of this year, media outlets ran around confirming the rumor as if it was news.
So, yeah, not much of a surprise that it's going to happen.
Also see: How Apple's iRadio Could Pose a Problem for Pandora >>
That said, I still don't quite understand why. Scratch that. I understand why. I just don't think it makes sense in the grand scheme of things.
On the bright side, it's -- most likely -- fantastic news for consumers.
If Apple has a weakness, it's software. While iOS and OS X are both best of breed, it's the affiliated software and service platforms that leave a bit to be desired. Some are way more mediocre than they should be (e.g.,
iTunes
). Others, such as
Ping
, flat out failed despite considerable fanfare from Apple ahead of launch.
But I hold out hope Apple will hit a home run with iRadio (though I hope they fool us and call it something else). Even if it's not great, I don't expect it to go the way of Ping.
iRadio will make the Internet radio space richer, providing consumers with even more choice in an already eclectic space. Ironically,
it might help Pandora's bottom line
. And, although it could sting Pandora a little, Apple's entry could help
in
the music royalty war that's currently raging
.
Also see: Pandora Did Not Kill iRadio Star >>
It's also a win for the music industry. Forget about royalties -- though Apple will pay more per song than Pandora -- and focus on promotion.
Pandora already drives music sales on iTunes. Reportedly, that will be a phenomenon Apple hopes to extend with iRadio. The music industry needs this as
services such as Rdio deemphasize music purchases
, even if unintentionally. Assuming Apple immediately becomes the No. 1 or No. 2 Internet radio player, the labels will welcome having the top two services focused on personalization and discovery, on the basis of listener tastes, which leads to more record sales on iTunes.
But, when you consider the not-so-bright-side, the magnitude of this success likely will not measure up to the Apple wins we have become accustomed to. Internet radio and the attendant mobile ad revenue and music sales are small potatoes for Apple.
According to
, Apple will generate roughly $213 million in mobile advertising revenue, via its
iAd
network, in 2013. The firm estimates Pandora's mobile sales at $372 million, just ahead of
Twitter
and a ways behind No. 2
Facebook
(FB) - Get Meta Platforms Inc. Class A Report
and No. 1
Google
(NFLX) - Get Netflix, Inc. Report
.
Apple recorded record revenue of $2.4 billion from iTunes in the most recent quarter. Although CFO Peter Oppenheimer noted that all iTunes-related sales streams (apps, music, movies, etc.) hit all-time highs, we do not know how much music contributes to the total. In any event, it definitely accounted for less than 5.5% -- probably much less -- of Apple's $43.6 billion in revenue for the quarter. Hardware sales (iPhone, iPad, iPod, Mac), meantime, comprise roughly 87% of the whole.
Also see: Can Apps Create Jobs and Optimize Civic Building? >>
A worthy read in
suggests Apple is getting into music streaming simply because everybody else is already there. While streaming will only "increase sales 'marginally,' if at all," it could help keep existing owners of Apple hardware locked into its ecosystem.
That hypothesis, which makes considerable sense to me, stinks of a company that has lost focus.
To keep customers stuck in its ecosystem, Apple needs to continue to produce excellent hardware. So, when it's upgrade time at your wireless carrier, you don't jump ship to
or Android. Apple still sells units and grows market share not because of its software, but because of its hardware. That's where Tim Cook should focus, not on a side business that will remain a side business even if it doubles or triples in size.
This is not to say that success in streaming or mobile advertising of this magnitude would not be impressive. Even for a world beater like Apple, it would be. It's just to say that Apple has a history of saying "no" more than it says "yes," even to good ideas. Steve Jobs always told us it was sometimes difficult to say no, but Apple was better off for it.
I agree. Which is one reason why consumers and the music industry will enjoy more upside from iRadio than AAPL investors. This
is absolutely not
the next big thing.
--
Written by Rocco Pendola in Santa Monica, Calif.
Rocco Pendola is
TheStreet's
Director of Social Media. Pendola's daily contributions to
TheStreet
frequently appear on
CNBC
and at various top online properties, such as
Forbes
.