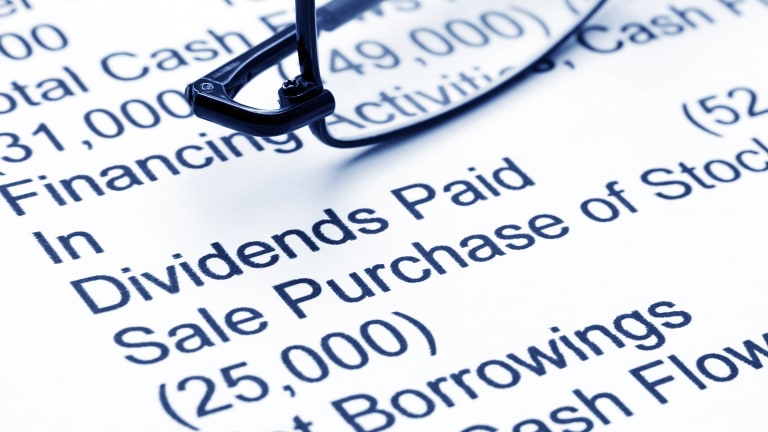 Publish date:
Illinois Tool Works and U.S. Bancorp -- Buy These Ex-Dividend Stocks Now
Whether in bear or bull markets, the "dividend capture" strategy can be a lucrative one.
Whether in bear or bull markets, the "dividend capture" strategy can be a lucrative one.
NEW YORK (TheStreet) -- Investors who buy Illinois Tool Works (ITW) - Get Report and U.S. Bancorp (USB) - Get Report for the payoff -- both are scheduled to go ex-dividend June 26 -- are protected from the risk of that strategy by the stocks' upside potential and relative cheapness.
To qualify for a dividend check, investors must own shares of either company prior to June 30. Illinois Tool Works, a manufacturer of diversified industrial products and equipment, is scheduled to pay its dividend on July 7, while shareholders can expect a check from U.S. Bancorp the following week, on July 15.
Both companies trade on a relatively cheap valuation, with an average price-to-earnings ratio of 16, compared to the S&P 500 (SPX) , which trades at a P/E of 21. That lessens the risk for investors who buy these shares solely for the dividend, a strategy known as dividend capture.
That strategy consists of buying stocks for the sole purpose of collecting the announced quarterly dividend and then selling the shares within days after the dividend cash payment has been paid by the company. Whether in bear or bull markets, dividend capture can be lucrative. But it also requires pinpoint timing.
Let's take a look at the merits of both companies, starting with Illinois Tool Works.
Illinois Tool Works, whose shares are down about 1% on the year and have lost more than 2% in the past six months, is an attractive play here. The Illinois-based company pays a 48.5-cent quarterly dividend that yields 2.1% annually. Since 2010, Illinois Tool has raised its dividend payout by more than 56%. The most recent hike was an increase of more than 15% from 42 cents per share. And there is nothing to suggest that the company won't raise it again next year.
Why is the stock struggling? Much of Illinois Tool's challenges can be attributed to the strong U.S. dollar that has devalued the company's overseas sales, thus pressuring its profits. Nonetheless, buoyed by divestments of poor-performing assets such as its decorative surfaces business in 2012, the company has beaten Wall Street's average earnings estimates for 12 straight quarters.
With the company in the middle of a five-year strategic restructuring plan aimed at growing long-term revenue and profits, patience is still the best play with Illinois Tool. Earnings are projected to grow at a decent annual rate of more than 9%. Better still, these projections don't factor the potential value Illinois Tool can create once its five-year plan takes shape.
For similar reasons, Minnesota-based U.S. Bancorp deserves consideration -- whether just for its dividend or as a long-term play. With the stock down almost 1% so far in 2015 and up just 3% in the past 12 months, there's an opportunity here for investors willing to take a chance on U.S. Bancorp, which has been one of the more generous dividend payers in the banking sector. The bank has raised its quarterly payout some 410% in the past five years, from 5 cents a share in 2010 to current levels of 25.5 cents a share.
Like the rest of the banking sector, U.S. Bancorp has struggled in the low interest-rate environment that has pressured its revenue and its ability to increase fees. But USB is working to better diversify its revenue between traditional borrowing and its lending business. That, and the prospect of higher commercial and consumer loans, makes the stock even more attractive, especially at a time when most experts expect the Fed to raise interest rates sooner rather than later.
Not only is U.S. Bancorp stock cheap, trading at just 14 times earnings, the bank's quarterly dividend yields a solid 2.2% annually. Better still, if the shares traded on par with the rest of the market at a P/E of 21, they would be valued 45% higher at around $64 today, not $45. That's based on 2014 earnings of $3.08 a share. So in this case, whether just for the dividend capture or as a long-term hold, there is minimal risk with U.S. Bancorp.
This article is commentary by an independent contributor. At the time of publication, the author held no shares in any of the stocks mentioned.