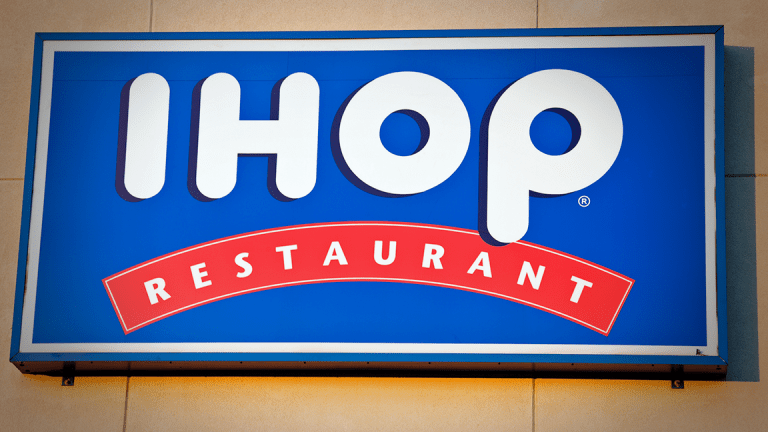 IHOP Is Changing Its Name After 60 Years to IHOb. Huh?
IHOP is hinting that it will change its name to IHOb. What's up with that?
IHOP is hinting that it will change its name to IHOb. What's up with that?
IHOP is dropping the 'P' and changing it into a 'b.'
The company has been coy about exactly what it plans to do, but it has set June 11 as the date it will make the change. 
The cry for attention from IHOP, which is owned by Dine Brands Global Inc. (DIN) - Get Report , isn't unprecedented but the results of consumer brands changing their monikers have a mixed track record of success. A company or product name can be one of the "most valuable assets a company possesses," according to a Nielsen study. 
Here are some high profile examples of consumer moniker rebranding. 
AOL - America Online was one of the earliest internet service providers, offering regular Americans access to the internet on a mass scale for the first time in the mid-90's. However, the company started off its life in 1985 under the less catchy name Quantum Computer Services. AOL is easier to say and a better name. 
Google (GOOGL) - Get Report - started off its life as BackRub in 1996. Thankfully for Larry Page and Serge Brin, it took just two years for the company to rebrand itself as Google, turning a terrible name into a name that would eventually become a verb synonymous with searching the internet. 
IBM (IBM) - Get Report - IBM, or Big Blue as old heads refer to it, has been around since 1924 when it was named Computing Tabulating Recording Corp. That mouthful was shortened to International Business Machines and then abbreviated to IBM, which is what everyone now refers to the tech company as. 
PepsiCo (PEP) - Get Report - was founded 125 years ago in 1893 under the name Brad's Drink after its founder, a young pharmacist from North Carolina named Caleb Bradham. Bradham rebranded his drink as "Pepsi-Cola" in 1898 and more than 100 years later the name has stuck. 
Yahoo! - was originally called Jerry's Guide to the World Wide Web after co-founder Jerry Yang, who, along with his partner David Filo, was a Ph.D. student at Stanford when the site was launched. Proving a terrible name can't keep a good idea down, JGWWW was able to shed its old moniker and thrive under the much more fun name of Yahoo!.