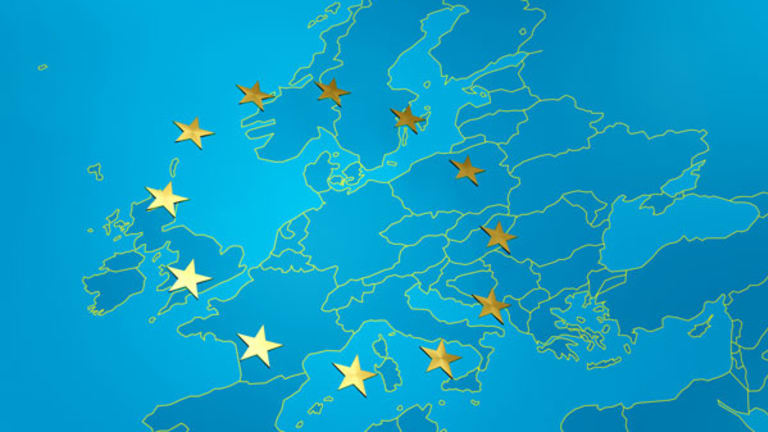 Ignore the European Central Bank
Stock market investors have been overly focused -- and overly worried about -- the European Central Bank. Here's why.
NEW YORK (
) -- What a difference a year makes: Twelve months ago, investors believed the eurozone was on the brink of collapse, and they seemed desperate for the European Central Bank to save the union by purchasing massive amounts of debt of the so-called PIIGS (Portugal, Italy, Ireland, Greece and Spain).
Fast forward to today: The European Central Bank hasn't bought a single bond through its Outright Monetary Transactions program, yet the union is holding together, yields are down, and, as Thursday's manufacturing PMI data show, the economy is stabilizing.
All proof, in our view, that investors' long-running eurozone collapse fears were overwrought. And sentiment is still too dour.
Investors are hyperfocused on the bank's decision to forego a rate cut on Thursday, suggesting they're still looking to the bank for salvation and ignoring the many signs of fundamental improvement. That's bullish for stocks globally.
Fact: Whether the European Central Bank keeps its benchmark rate at 0.5% or cuts it to 0.25% means zippo for the eurozone's economy.
As the bank's President Mario Draghi has long said, the bank's transmission mechanism is broken: A rate cut in Frankfurt won't impact borrowing costs and credit availability in Spain and Italy. It simply can't stimulate the areas investors believe need stimulating. Focus on European Central Bank policy is misplaced; it blinds investors to economic reality.
And reality isn't fabulous, but it still exceeds investors' expectations. Take the Manufacturing PMI, which hit 50.3 in July -- 0.2 percentage point higher than the initial estimate and the first expansionary reading since July 2011. Now, on its own, this singular data point says nothing about the eurozone's future growth. Monthly data are variable, and manufacturing isn't a leading economic indicator.
But the recent trend speaks volumes. Manufacturing edged higher but stayed choppy for several months after its July 2012 bottom, but we've now seen four consecutive months of improvement.
The composite services and manufacturing gauge, which better reflects the broader eurozone economy, tells a similar story. It, too, moved into expansionary territory in July, logging its fourth straight monthly improvement. All without an assist from the ECB.
PIIGS yields also remain stable -- again, without direct central bank intervention. Spanish and Italian yields ticked higher when Portugal's government nearly fell apart in early July, but they've stabilized since, helping Italy and Spain continue muddling through.
Yet investors still fear either or both of these nations will need a full bailout. They see rising debt-to-GDP as automatically bearish, ignoring what really matters: that both nations can continue getting needed financing on primary markets at affordable-ish rates.
Global investors should see this and feel some relief. Not only is the eurozone increasingly unlikely to collapse or pull the entire world into recession, but it's becoming a more stable end market for firms globally.
That's positive for corporate revenues worldwide -- and for stocks. This fundamental tailwind should be joined by a sentiment tailwind as investors realize their continued fears over Spain and Italy are overwrought.
This won't happen overnight. But over time, as more investors realize the eurozone won't have to spend tens of billions to euros to bail out two of its largest economies, and as they take more notice of the economic recovery, stocks should get a lift.
This article is commentary by an independent contributor, separate from TheStreet's regular news coverage.
This article constitutes the views, opinions, analyses and commentary of Fisher Investments as of August 2013 and should not be regarded as personal investment advice. No assurances are made Fisher Investments will continue to hold these views, which may change at any time without notice. In addition, no assurances are made regarding the accuracy of any forecast made herein. Past performance is no guarantee of future results. A risk of loss is involved with investments in stock markets.
This commentary comes from an independent investor or market observer as part of TheStreet guest contributor program. The views expressed are those of the author and do not necessarily represent the views of TheStreet or its management.