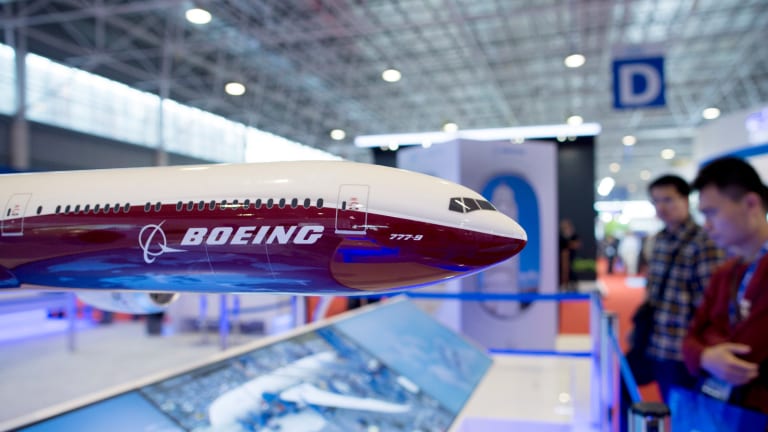 Ignore the Noise: These 8 Large-Cap Stocks Will Soar in 2016
The nattering pessimists on Wall Street are mostly good for one thing: missing opportunities and leaving money on the table. Here are eight blue chips set to breakout this year.
Editor's pick: Originally published Jan. 4.
The market opened the year on a down note -- a dizzying selloff that saw the Dow Jones Industrial Average plummet 470 points before a late-day recovery. But despite these admittedly stomach-turning gyrations, 2016 will continue to present growth opportunities.
Below, I pinpoint eight quality blue chips that are poised for a prosperous 2016, four in technology and four in defense. They're among a group of technologically innovative companies that should thump the market this year.
From a dispassionate view, all of the talk lately of an imminent crash is overwrought and comes from those with a political and ideological axe to grind.
To be sure, the markets have recently pulled back amid uncertainty over Federal Reserve tightening and disappointing corporate earnings. The markets ended the year mostly down, with the S&P 500 posting a decline in 2015 of 0.7%. But in light of the year's tumultuous events -- China's surprising currency devaluation, Greece's intractable debt woes, terrorist attacks in Europe, and plummeting energy prices - the real story is that the markets were able to hold their own as well as they did.
As 2015 ended, so did the fourth quarter. Consequently, in coming weeks, corporate America will report the financial results of their final quarter of their fiscal year. According to FactSet, earnings for the S&P 500 are projected to have fallen 4.7% during the final three months of 2015.
But let's look at a few sanguine facts that belie the handwringing.
The 17-nation euro zone has finally broken free of recession; the U.S. federal deficit is coming down (yes, it's coming down); U.S. unemployment continues to ease; corporate balance sheets are strong, with low debt and huge cash hoards; and the U.S. housing market has definitively turned the corner. Bet on growth and you'll be rewarded.
Stocks to Watch in 2016
Cisco Systems (CSCO) - Get Cisco Systems, Inc. Report , Intel (INTC) - Get Intel Corporation (INTC) Reportand Qualcomm (QCOM) - Get QUALCOMM Incorporated Report may be on the conservative side, but they're sitting on big cash reserves and control proprietary technology that's increasingly coveted around the world. Cisco and Intel shares sagged on the down day -- Cisco by nearly 2%, Intel by more than 1.3%, but Qualcomm gained 0.27%. 
Cisco is part of the Action Alerts Plus charitable trust portfolio run by TheStreet's Jim Cramer. "Cisco is struggling with a worldwide slowdown but it remains a favorite with a big dividend and we came close to pulling the trigger on more stock today," Cramer said.
data by
data by
data by
Cash is a pretty good defense against unexpected setbacks, but it also allows these companies to make the consistently strong research and development (R&D) spending that's required to maintain a competitive edge. All are leaders in their respective niches: Cisco in networking technologies, Intel in semiconductors and Qualcomm in chips for smartphones. These stocks are also values. I particularly like Intel after the recent beating its stock has taken amid the worldwide downturn in PC demand.
You also need to consider Apple (AAPL) - Get Apple Inc. (AAPL) Report , which eked out a small gain on Monday. This zero debt icon has come under pressure because of reports last week that it agreed to pay Italy about $350 million over a dispute about how much tax it owes. Analysts fear this bodes poorly for the company's future; they're also increasingly worried about Apple's lack of product diversity. But these concerns will prove ephemeral as global demand for consumer technology picks up over the next several years, especially in emerging markets.
Like Cisco, Apple is a holding in the Action Alerts Plus portfolio. "Apple rallied today because it simply isn't expensive even if cell phone sales lag," noted portfolio manager Jim Cramer.
data by
In addition to technology, another sector to watch in 2016 is defense. Based on the numbers I've seen bandied about by the White House and Pentagon officials, defense spending starts on an upward path this year, reaching $585 billion, representing an 11% increase over 2013.
Investor concern about draconian defense cuts is overwrought and unwarranted; they won't happen. The Pentagon firmly maintains its grips on the purse strings and it always gets a huge chunk of the budgetary pie, regardless of geopolitical or political vicissitudes. That's why I think this is a rare buying opportunity for investors to pick up inherently strong defense companies on the cheap.
The biggest demand for American-made weapons systems emanates from emerging markets, particularly for sophisticated fighter aircraft. That makes Honeywell International (HON) - Get Honeywell International Inc. (HON) Report attractive, because it supplies the ultra-complex avionics and electronic components that military manufacturers need. Honeywell shares closed down nearly 1% in the rout.
data by
Among the largest defense stocks, I like best Boeing (BA) - Get Boeing Company Report , Lockheed Martin (LMT) - Get Lockheed Martin Corporation (LMT) Report , and Raytheon (RTN) - Get Raytheon Company Report . All three trade at attractive valuations compared to their peers and in light of their growth prospects. Their share prices have been talked down by the budgetary wrangling on Capitol Hill, which means you should grab shares now. All three lost ground in Monday's selloff, with Boeing falling nearly 3% and Raytheon slipping by just over 1.5%. Lockheed fell nearly 2%, surely not helped by a downgrade from Goldman Sachs, which maintains a Buy rating on the stock but has soured slightly on its prospects. "Lockheed Martin was removed from the conviction buy list at Goldman Sachs this morning which is odd given the tension unfolding in the Middle East and the need for nations to re-arm now that the U.S. is no longer the world's policeman," Cramer said. Lockheed is another Action Alerts Plus holding.
data by
data by
RTN
data by
Raytheon is particularly interesting because it is a leading maker of unmanned aerial vehicles (UAVs), a weapon much in demand and operationally vital in places such as Afghanistan and Iraq.
I've just highlighted eight promising large-cap stocks for the new year. But are you also looking for small-cap rockets with revolutionary technology? DARPA, the Pentagon's famous research arm that helped develope the Internet and GPS, is at it again. They've developed an innovation so groundbreaking it's been called "the greatest game changer in Army history since the machine gun." Click here now to learn more about this program development, and how you can invest in its future today.
John Persinos is editorial manager and investment analyst at Investing Daily. At the time of publication, the author held no positions in the stocks mentioned.