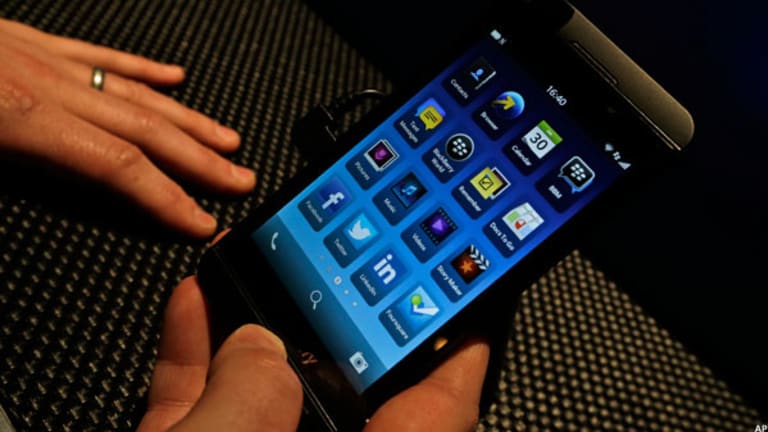 Ignore BlackBerry Earnings; They Mean Nothing
BlackBerry doesn't need to look out for No. 1 or worry about stepping in No. 2. It must focus on being a strong No. 3.
NEW YORK (TheStreet) -- The artist formerly know as RIM reports earnings Thursday morning. And the report -- good, bad or somewhere in between -- means absolutely nothing.
It should not surprise you that the media and Wall Street types do not understand
BlackBerry
undefined
. Most Americans have a difficult time wrapping their heads around anything Canadian. Sure, Michele Bachmann can see Manitoba from her backyard, but even she doesn't get BlackBerry.
I won't pay attention to a BBRY earnings report until the second half of the year. And even then, unless we see repeats of 2011 and early 2012's disasters, anything better than bad is good.
As painful as it was, BlackBerry's implosion created the effect of setting the bar so low that above average ends up the equivalent of the Toronto Maple Leafs making the playoffs after something like an eight-year absence. In other words, just don't screw up so bad that
Microsoft
(MSFT) - Get Microsoft Corporation Report
beats you. That's the message I would tape on the dressing room wall at the Waterloo, Ontario headquarters if I'm Thorsten Heins.
>>>Read "BlackBerry: The End Game" on TheStreet
This talk about competition between BlackBerry and
Apple
(AAPL) - Get Apple Inc. Report
and/or
Google
(GOOG) - Get Alphabet Inc. Class C Report
-- it's just hopelessly absurd.
So
. It's your homeland. People will buy a BlackBerry north of the border as a show of national pride. That's just how Canadians are. Good, solid people. As an honorary Canadian (born and bred in Niagara Falls, New York, USA), I am toying with the idea of picking up a Z10. For as tough as I was on RIM, I still have a sweet spot left in my heart for BlackBerry.
Canada's ripe for the taking. Check out the comScore data cited in the above --linked article. There might not be a stronger market -- in terms of how fiercely it's emerging -- than Canada. This bodes well for BlackBerry.
From there, again,
just don't screw up!
>>>Read "BlackBerry Carves Out a Profitable Niche" on TheStreet
It shouldn't be all that hard, even for BlackBerry. Review comScore's January 2013 U.S. smartphone market share from
an article I wrote earlier this month
:
Google's Android remains the dominant platform at 52.3%; Apple's iOS pulls 37.8% at No. 2. After that, it gets interesting.
Blackberry ranks as the third most popular OS in the States at 5.9%. It lost 1.9% worth of market share quarter-over-quarter. Here's where Steve Ballmer comes in. And it's not good. Microsoft's share of the market, via its Windows Phone platform, dropped from 3.2 to 3.1% over the same period.
Get ahead of the trend here. Don't be like a Wall Street analyst and regurgitate it as if you know something after it clearly establishes itself.
That marketshare BlackBerry shed should have gone to Microsoft. Obviously it didn't. It should come as no shock that BlackBerry lost marketshare in January, but it should alarm you if you want to see Microsoft do well, that it didn't gain any.
Microsoft should be doing now what BlackBerry will do in the second half of the year/beginning of next -- slowly, but surely gaining marketshare and solidifying itself as a distant, yet relatively formidable number three to Google and Apple.
--
Written by Rocco Pendola in Santa Monica, Calif.
Rocco Pendola is
TheStreet's
Director of Social Media. Pendola's daily contributions to
TheStreet
frequently appear on
CNBC
and at various top online properties, such as
Forbes
.