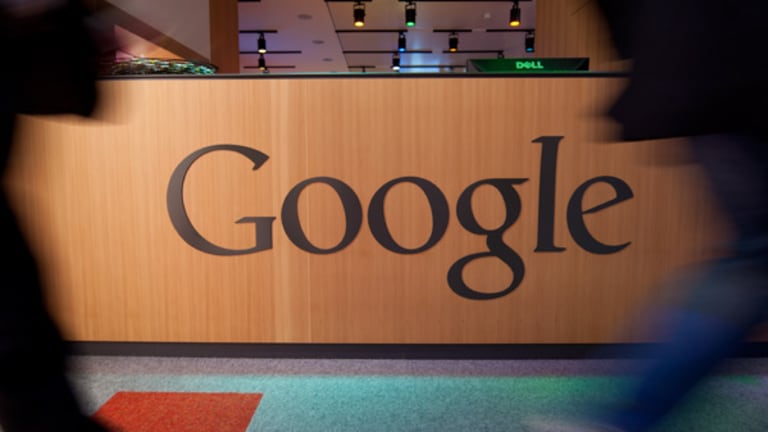 If You're Waiting for a Google Dip, Too Late
Google still has solid fundamentals and strong earnings and revenue projections, making this a buying opportunity.
Google still has solid fundamentals and strong earnings and revenue projections, making this a buying opportunity.
NEW YORK (TheStreet) -- Google (GOOG) - Get Report is a buying opportunity on this recent dip.
Recently, I told you that
Green Mountain Coffee Roasters
(GMCR)
looked cheap, and already it's up 10% for those who jumped in.
There is always opportunity for stocks that have solid projections of increases in revenue and earnings when the analysts overestimate a stock's potential and it temporarily disappoints them.
Google is having the same trouble all Internet stocks are having: How do you sell advertising on ever-shrinking mobile device screens? My thoughts are: If anyone can figure that out, Google will.
If you have been standing on the sidelines waiting for a dip in Google, it has dipped. If you bought at a recent high and want to lower your average costs, it has dipped. Look at this hourly trading chart for the past month provided by Barchart:
Google, a technology company, maintains an index of Web sites and other online content for users, advertisers, and Google network members and other content providers. It offers AdWords, an auction-based advertising program; AdSense program, which enables Web sites that are part of the Google Network to deliver ads from its AdWords advertisers; Google Display, a display advertising network that comprises the videos, text, images, and other interactive ads; DoubleClick Ad Exchange, a real-time auction marketplace for the trading of display ad space; and YouTube that provides video, interactive, and other ad formats for advertisers. Google Inc. was founded in 1998 and is headquartered in Mountain View, California. (Yahoo Finance profile)
Factors to consider
(Barchart technical indicators):Short-term technical sell signals in a stock that has long-term fundamental projections of increases in revenue and earnings can be a signal to buy for investors wanting to accumulate good stocks on a dip.
Both the 8% Barchart technical sell signal and the Trend Spotter sell signal are weakening. Although the stock is trading below its 20- and 50-day moving averages it is staying above its 100-day moving average. Right now the stock is 10.25% off its recent high and the very weak Relative Strength Index of 19.31% is climbing fast. As I'm writing the stock is trading at $688.16, which is below its 50-day moving average of $712.11.
Fundamental factors:
Thirty-six Wall Street brokerage firms have assigned 42 analysts to monitor the stock's numbers. They still think revenue will grow by 45.8% this year and another 26.6% next year. Earnings are estimated to grow by 18.5% this year, an additional 16.5% next year and continue to climb by 14.76% annual for at least five years.
The stock has a reasonable P/E ratio of 22.15 compared to the market's P/E of 15.20. The financial strength is A++.
Investor interest:
Those 42 Wall Street analysts have 15 strong buy, 20 buy and seven hold recommendations in place. No sell recommendations at all. The average investor over on
Motley Fool
still likes the stock, with 17,859 readers giving the stock an 86% vote of confidence that the stock will out perform the market. Even
TheStreet
rates this an A stock.
Peer competition:
This time I'm not spending a lot of time comparing its peers.
Amazon.com
(AMZN) - Get Report
,
Facebook
(FB) - Get Report
and
Baidu
(BIDU) - Get Report
all have forecasts of double-digit increases of revenue and earnings but AMZN has a 305.54 P/E ratio, BIDU has a 29.75 P/E and we are still not sure if Facebook can monetize its pages enough to offset their tremendous development costs.
My conclusion:
When I can find stocks with solid fundamentals for increases in revenue and earnings and that are having a temporary dip in price and have a reasonable P/E ratio, that signals a buying opportunity. Just look at this six-month chart of the price compared to the 20-, 50- and 100-day moving averages and the 14-day turtle channels and see if you don't agree:
At the time of publication the author had no position in any of the stocks mentioned.
This article was written by an independent contributor, separate from TheStreet's regular news coverage.