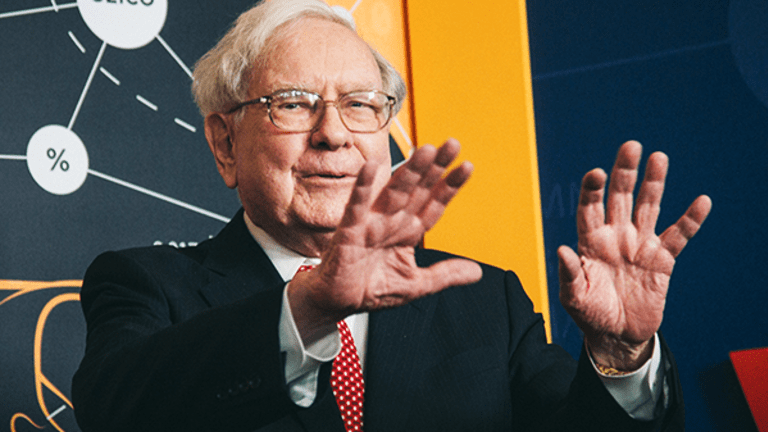 If You're Not Billionaire Warren Buffett, Don't Buy Bank of America
If you must own a big bank, own one that has better international exposure.
"Predicting rain doesn't count. Building arks does." -- Warren Buffett
The Oracle of Omaha
I find myself in both agreement and disagreement from time to time with the moves that I see taken by Warren Buffett's Berkshire Hathaway (BRK.A) . Among Berkshire's largest positions, many are indeed lower here in late August than they had been earlier. In fact, on Aug. 15, Liz Claman (on Fox Business TV) asked me which name of Berkshire's portfolio holdings would I sell next, after learning that the Oracle had sold his entire stake in General Electric (GE) . The question was quite pertinent, as I had just started to build a long position in GE due to the departure of Jeffrey Immelt as CEO. My answer to Liz was difficult. I had just, within the two weeks prior, gotten myself out of such Buffett names as Wells Fargo (WFC) , Coca Cola (KO) , and Delta Air Lines (DAL) . All are among Berkshire's larger holdings. My answer to Liz, if you are interested, was WFC, for a number of reasons. The point here is that while we are always going to think for ourselves, we who pride ourselves on our own market acumen ultimately always compare ourselves to the best there ever was, and that is Warren Buffett.
I am sure you have seen the headlines that started hitting the tape yesterday afternoon. "Buffett to be Bank of America's Top Shareholder". Maybe the headline did or did not interest you. It should have. It is deals like the one made by Buffett in the wake of the financial crisis that earned him the nickname "the Oracle of Omaha". You and I could never cut such a deal for ourselves. We do not have the capital, nor the clout. We can, however, invest in Berkshire Hathaway.
On Tuesday, we learned that Warren Buffett's firm had become Bank of America's BAC largest shareholder by virtue of its exercising of the right to acquire more than 700 million shares of common stock at a price of $7.14. The stock closed last night at $23.58. Read that line again. I'll wait here. The execution of this transaction gives Buffett's firm an approximate 7% stake in BAC. The stock rallied throughout the day yesterday, still closing down on the session. This transaction will not show up in the price discovery mechanism, except for the obvious impact that something like this has on trader sentiment.
How Did Buffett Pull This Off?
Good question. The Oracle cut a deal with BAC back in 2011 in the wake of the financial crisis. The bank was stumbling badly, facing fines, legal issues, and public image problems. Enter Warren Buffett with a $5 billion investment in preferred stock that paid a 6% dividend. The investment also came with warrants attached that would allow for the conversion of those preferred shares into 700 million shares of common stock at the already mentioned price of $7.14.
Though shares of BAC had already been up more than 85% since the U.S. national election last November, that 6% dividend was a sticking point for Buffett. The dividend paid Berkshire a whopping $300 million a year. Let that sink in. In last February's letter to shareholders, Buffett stated that the conversion of these shares only made sense to him if the common shares were to ever pay at least a $0.44 dividend. At the time, the dividend paid $0.30. Now, enter the Fed's stress tests this past June. Just about everyone passed, and just about everyone received permission to increase their payouts to shareholders. You can include Bank of America in that victorious group. In response, the bank raised the dividend on those common shares to $0.48 cents. Poof.
Making Money
Since the original deal between Bank of America and Berkshire Hathaway was sealed, BAC has paid Berkshire a cool $1.7 billion in dividends. On top of that, the conversion places a paper profit of nearly $12 billion directly in Buffett's lap. In addition to that, he has maybe not a controlling stake, but the largest stake in the firm by plurality. I bet they'll listen to him. Does this mean that the random home-gamer should go out and buy BAC today? No. Based on BAC's heavy reliance upon the trajectory of domestic interest rates, which are uncertain, I am long and continue to like Citigroup C. If you must own a big bank, why not own one that has a similar forward-looking PE ratio, but better international exposure?
Defending Yourself
I am sure by now that you have noticed the possible pursuit of Rockwell Collins (COL) by United Technologies (UTX) . The crown jewel of this potential $30 billion deal would be, in my opinion, Pratt & Whitney jet engines, a supplier to the likes of Boeing (BA) . I am sure that you have also noticed North Korea's launch of a ballistic missile over the Japanese island of Hokkaido, which was a stunt not tried by North Korea since before the time of current dictator Kim Jong-Un.
In response, Japanese Prime Minister Abe said "The government has lodged a firm protest against North Korea. We ask the United Nations Security Council to convene an emergency meeting." That meeting will be held in New York City on Tuesday at the request not only of Japan, but the United Sates and South Korea as well. The problem here is that this action taken by North Korea comes perilously close to an act of war. They gave no warning, as they have done in the past when launching missiles. They also did not go through the charade of describing this launch as the launch of a satellite, which is something they have also done in the past. This launch was clearly an attempt to rattle a few cages.
We know, through the DIA's report last month, that North Korea has been able to produce a miniaturized nuclear warhead that can fit on such a missile as the one fired yesterday. If you're already in Defense and Aerospace names, then this is beneficial to you, at least financially. Never mind the expected pop in military spending that will be included in any U.S. budget likely to be passed within the next month.
On Tuesday we saw Raytheon (RTN) run 2.17%. Lockheed Martin (LMT) , maker of the now much sought-after Aegis anti-missile system, popped 1.49%. That system, by the way, runs about $80 billion, if you're wondering. In fact, they all popped -- Boeing (BA) , Northrup Grumman (NOC) , General Dynamics (GD) , and the already mentioned UTX and COL all ran more than a full percent in yesterday's trading. Oh, and Sarge fave Kratos Defense (KTOS) , aka "the drone guys", soared 6.17% on the day.
Too Late?
The question now becomes: Is it too late to get in on the defense and aerospace craze? My answer is yes only if you think that the world is about to become a much safer place and everyone will start taking long walks together on Sunday afternoons. But if you think bad actors like North Korea will continue to make trouble, and if you think that radical terrorism will continue to hamper the ability to live peaceful in every corner of the planet, then is there ever really a bad time to initiate in this space? The end of the Cold War was a long time ago. You start out with a sliver of a position, like you're supposed to do whenever you initiate, and take it from there.
Don't know one defense stock from another? I prefer to do my own stock picking, but maybe that's not you. In that case, it may be helpful to consider ETFs such as PowerShares Aerospace & Defense PPA, SPDR S&P Aerospace & Defense (XAR) , and iShares US Aerospace & Defense (ITA) . I have no favorites among these. Good luck hunting.
Macro
08:15 - ADP Employment Report (August):Expecting 185,000, July 178,000.
08:30 - GDP (Q2-rev):Expecting 2.7%, advance 2.6% q/q SAAR.
09:45 - Fed Speaker.Federal Reserve Gov. Jerome Powell.
10:30 - Oil Inventories (Weekly): API -5.78 million , Last Week -3.3 million barrels.
10;30 - Gasoline Stocks (Weekly): API +480,000 , Last Week -1.2 million barrels.
Sarge's Trading Levels
These are my levels to watch today for where I think that the S&P 500, and the Russell 2000 might either pause or turn.
SPX: 2469, 2463, 2455, 2447, 2439, 2431
RUT: 1400, 1393, 1387, 1382, 1376, 1370
Today's Earnings Highlights (Consensus EPS Expectations)
Before the Open: (ADI) ($1.15), (BNED) (-$0.59), (BOBE) ($0.37), (DY) ($1.44)
After the Close: (BOX) (-$0.13), (FIVE) ($0.26), (SMTC) ($0.46)
Get Morning Recon delivered directly to your inbox each market day. Click here to sign up for e-mail delivery of Stephen "Sarge" Guilfoyle's Morning Recon, Jim Cramer's Daily Booyah! or other great free newsletters from TheStreet.
More of What's Trending on TheStreet:
At the time of publication, Stephen Guilfoyle was long C, GE, RTN, LMT, KTOS, although positions may change at any time.