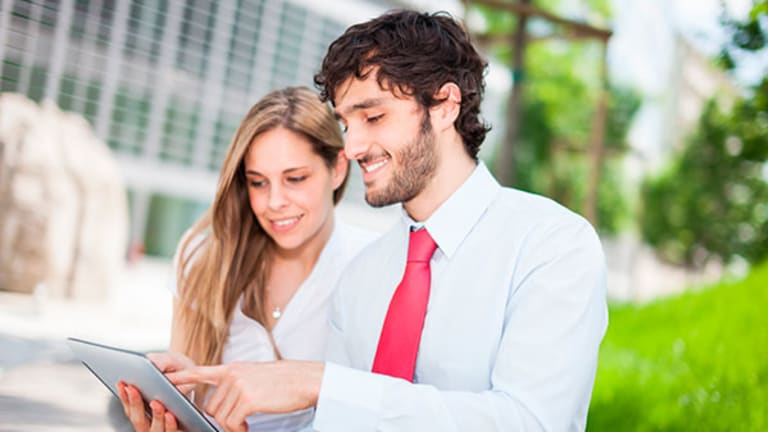 If You Must Judge, Make Good Judgments
Here is how corporate leaders can make better hiring and promotion decisions.
NEW YORK (
) -- Gary Crittenden, the former CFO of
Citigroup
(C) - Get Citigroup Inc. Report
, is a person I greatly respect.
One day, I was griping to him about indifferent colleagues. He said, "You make a good case. But I've learned to never make a judgment until I hear both sides."
As leaders, we must make judgments every day. But how good are we at making judgments, and how can we improve?
The primary lever for making good judgments is simple: information. We must know
what
the person did and
why
he did it.
David likes to golf. That's the "what." But why does David like to golf? Maybe it's because outperforming others strokes his ego. Or, maybe he uses golf as a tool to build relationships. We cannot make a good judgment about David until we understand what he did and why he did it.
It is a natural human tendency to attribute behavior to the person and ignore the context. We focus on the "what" and ignore the "why." Psychologists call this the fundamental attribution error.
Here's an example. A car speeds past your house. You judge the driver to be reckless, but in fact, she was carrying an injured neighbor to the hospital. You missed the "why" and made an inaccurate judgment.
In my life I've learned that the great majority of people are logical. The source of our conflicts is typically below the surface: deep down in the "why."
For example, the human resources department at
McDonald's
(MCD) - Get McDonald's Corporation Report
is world-class today. But when I joined in 1995 as director of organization effectiveness, I assumed my role would be to make 1 million employees more productive.
All of my decisions were based on that assumption. But the operating assumption of that HR department in the 1990s was to minimize lawsuits.
Because my assumption was different from the department, my colleagues viewed me as irrational. I felt the same way about them. In reality, we all made appropriate decisions, but they were based on very different assumptions.
To make good judgments, we must understand the "what" and the "why."
Judging External Job Candidates
Psychology can help us to predict behavior. A core principle in psychology is that future behavior can be predicted by past behavior.
But when we consider job candidates from outside our organization, we haven't been able to observe their past behavior. We are not certain about what they did or why they did it. That leads to hiring mistakes.
Google
(GOOG) - Get Alphabet Inc. Report
is regarded as one of the best companies at hiring.
In a recent interview, however, Laszlo Bock, Google's HR chief, criticized the company's hiring methods. He said that "brainteasers are a complete waste of time." They have no predictive validity for success at Google. As for grade point averages and test scores, Bock said, "We found that they don't predict anything." Additionally, there are almost no interviewers at Google who are consistently successful at predicting future performance.
Google's research indicated that the only thing that works is behavioral interviews in which candidates are asked, "What did you do?" and "Why did you do it?" To make accurate predictions, interviewers must understand both.
Judging Managers
Frank Kern, the former head of global sales at
IBM
(IBM) - Get International Business Machines Corporation Report
, has said that choosing the right sales executives was his most important responsibility. When filling positions, Kern spent a large amount of time acquiring information on current IBM executives. This allowed him to make consistently outstanding judgments about people and eventually rise to the top sales job at the company.
In his first task as CEO at
Aricent
, Frank hired an external assessment company to evaluate every person who reported directly to him.
Kern had a clear vision of the talents he needed and confidence in his ability to judge how each executives' capabilities would meet his requirements.
But he wanted additional information about which skills had been demonstrated in various contexts. With clearer information on the "what" and the "why," he became comfortable that he could make the best judgment possible about how each executive would fit into his plan.
Judging Performance
Judging performance is an important management task. A Corporate Leadership Council study of 19,000 participants in 37 countries found that 88% of respondents felt that "most people in my organization do not get the ratings they deserve." That's almost nine out of 10 employees.
Recognizing the problems with appraisals, I spent years pushing the idea of using more quantitatively based assessments. But, my colleague, Dean Walsh of Sullivan Walsh Associates, disagreed. Dean said that data should inform a judgment, but data do not make decisions; leaders make decisions.
Several years ago, I realized that Dean was right, when the quarterback at my favorite college team became the top quarterback in the school's history -- at least according to the statistics. This team has a history of great quarterbacks.
But I thought this particular player was terrible, because he choked in big game after big game. Should we blindly accept statistics when judging his legacy? Similarly, should we blindly accept financial or operational results when offering rewards or promotions?
You probably earned your leadership role by demonstrating good judgment. In early management roles, you had "line-of-sight" visibility to people and activities in your organization and could make most judgments by yourself. You knew what was done and why.
As executives move up the ladder, however, "line-of-sight" diminishes. Other people may have more complete information than you. If you cannot spend the time to truly understand the "what" and the "why," then delegate that task.
Be careful about making decisions yourself because it is faster, you enjoy it or you want control. Directive leaders often decide, then learn more about the context, and then change their decision. This creates whiplash in the organization.
It is human to use emotions to judge others. But, in important situations, it is better to react in a principled way. Stephen R. Covey's Habit 5 for effective leaders is "Seek first to understand ..." Truly understanding is proper on a practical level, but it is also proper on a moral level as it is aligns our behavior with the Golden Rule.
"Judge not, that ye be not judged," but if you have to judge, make good judgments.
This article is commentary by an independent contributor, separate from TheStreet's regular news coverage.
Hall is managing director of Human Capital Systems (www.humancapitalsystems.com), a firm that designs systems for improving workforce performance. He is also an instructor in Duke Corporate Education's teaching network and author of The New Human Capital Strategy. Hall was formerly a senior vice president at ABN AMRO Bank in Amsterdam and IBM Asia-Pacific's executive in charge of executive leadership and organization effectiveness. During his tenure, IBM was twice ranked No. 1 in the world in Hewitt/Chief Executive magazine's "Top Company for Leaders." Hall completed his Ph.D in industrial-organizational psychology at Tulane University, with a dissertation on people management practices of Japanese corporations.