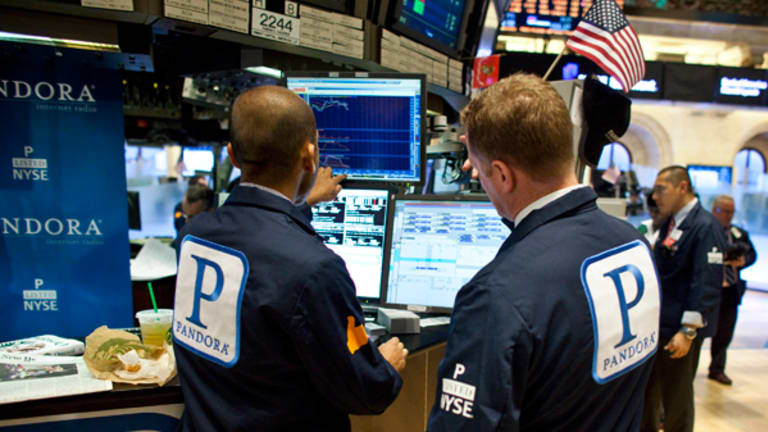 If You Didn't Buy Pandora at $8, You'd Be Nuts to Buy It at $38
Pandora talks the Amazon way, but it's not walking the Amazon way.
NEW YORK (TheStreet) -- A quick glance at my recent article history here at TheStreet leads you to explanations of recent Pandora (P) -related bearishness.
The psychology around this stock, and stocks in general, baffles me.
If you were unwilling to buy P at $8 and in the teens when I was hyper-bullish, why would you even entertain the thought up near $38?
As I argue in articles such as Sell Pandora: Stock Could Crash on Bad Strategic Investments and Haters Have Reason to Trash Pandora, the company says it has embraced the Amazon.com (AMZN) - Get Free Report way (and I initially bought it), but, on second (and third) thought it's not talking the talk.
The AMZN way posits that you seize the massive opportunity that lies ahead of you -- that you created for yourself -- by all means necessary and possible. That's not what Pandora's doing right now.
It's reinvesting primarily in its advertising sales business, leaving the opportunity in data and the live concert business largely on the table. If Pandora was truly following the AMZN way it would be leveraging these other areas to create new lines of revenue that can help serve its core. It's simply not doing that, to my knowledge, at any meaningful scale.
It's one thing to reinvest aggressively back into the business. But you have to reinvest into the right areas at the proper proportions. I don't see that happening at Pandora.
As it stands, don't expect future growth to run commensurate with reinvestment. Put another way, by continuing to focus on advertising, at the expense of data and, to a lesser extent, the live concert space, Pandora will take one step forward (growth) and two steps back (reinvestment). It will chase its tail for a while, making it difficult to justify the risk association with capturing further, tenuous upside in an already maxed-out stock.
That's part of the reason why I worry.
I'm also a bit concerned about news out Monday morning.
Pandora put out a press release announcing "C-Suite Expansion" to help fuel the "Next Phase of Growth."
Fine. Standard PR happy talk. 
However, in the announcement, where Sara Clemens gets the nod as Chief Strategy Officer, there's no mention of Pandora co-founder and, up to this point Chief Strategy Officer, Tim Westergren. It just strikes me as odd to not see Westergren's name in the PR.
Is there a backstory here? Why the need for an outsider to take charge of "strategy" when, presumably, Westergren has been doing a strong and harmonious job in that role to this point. It's not like he's relinquishing a CEO post (that he never had) or something, which would have made more sense. And, most likely, would have come alongside an explanation.
I emailed Pandora for the explanation not provided in the release and, after a bit of obvious annoyance with me over my recent bearishness (as if I have some obligation to be loyal), the company chucked this boilerplate at me:
The substance of Tim's role is not changing at all, and he's just shifting his title to Founder. He'll continue to provide leadership on a broad array of important topics for Pandora.  This was simply an opportunity to add additional strength to Pandora's leadership team to plan for the next phase of growth.
Luckily for us all, he remains as passionate as ever about this business.
Pandora told me, in no uncertain terms, that "there's no smoke here."
I'm not sure I buy that. Because if there's really nothing else to this story, Westergren would have been mentioned and, in an ideal world, quoted about the apparent need for somebody to enter the building and take his title.
--Written by Rocco Pendola in Santa Monica, Calif.
Disclosure: TheStreet's editorial policy prohibits staff editors, reporters and analysts from holding positions in any individual stocks. Rocco Pendola is a columnist for
TheStreet
. Whenever possible, Pendola uses hockey, Springsteen or Southern California references in his work. He lives in Santa Monica.