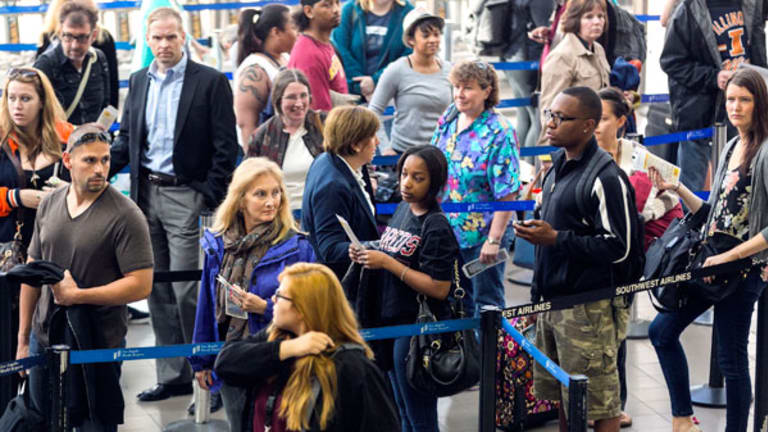 If We Could Protect Airlines from Government, We Would Be Fine
Note to the FAA: You have discretion in making budget cuts. Use it.
CHARLOTTE, N.C. (
) -- Three weeks ago, trying to be imaginative, I wrote about how avian flu was the next potential threat to the airline industry's apparent transformation into a reliably profitable industry.
Silly me. I did not realize then that the next potential threat to the U.S. airline industry was the U.S. government.
Also see: Cramer Greets the 21st Century: Airbnb
On Monday, the flight delays mounted because the Federal Aviation Administration was cutting back on air traffic control, furloughing controllers one out of every 10 days. This caused delays at several major airports including Newark, La Guardia, Kennedy and LAX.
In this way a dysfunctional FAA responded to a move by a dysfunctional Congress to cut $85 billion in federal spending in a process with a dysfunctional name, "sequestration."
We all realize that the federal government spends more than it takes in and that the solution is to reduce spending and to raise revenue. But is there a way to reduce spending that does not cause delays in a delicately balanced air traffic system that transported 815 million passengers last year?
The problem with the airline industry has always been its sensitivity to what John Heimlich, economist for Airlines for America, the industry trade group, has called "exogenous shocks." Oil prices jump. Bad weather slows departures. Terrorists attack. Flu bugs curtail travel. Should we add "government postures?"
In reports issued Monday, Buckingham Research analyst Dan McKenzie reduced estimates for
JetBlue
(JBLU) - Get Report
,
Southwest
(LUV) - Get Report
and
United
(UAL) - Get Report
.
"Threatened delays from FAA furloughs that rolled out this weekend likely result in demand destruction," McKenzie wrote in notes regarding all three carriers. On Monday, shares in every major airline fell 1% to 3%.
In an email to passengers on Monday, JetBlue wrote: The FAA has cut staffing at Air Traffic Control facilities as a result of the government budget sequester, and the first round of these cuts went into effect on Sunday. With fewer employees to manage traffic in and around airports, delays are possible, even on perfectly sunny, blue sky days.
"We regret any inconvenience as a result of sequestration," the carrier said.
In
Delta's
(DAL) - Get Report
view, the mess results from a legal misinterpretation by the FAA. In a letter sent Friday to the FAA's chief operating officer, Delta Senior Vice President and General Counsel Ben Hirst disputes the agency's argument that it does not have the discretion to meet its spending reduction target by deciding how to allocate the cuts. The FAA has a $7.4 billion annual budget.
Also see: 10 Ways to Cut the Cost of Airfare
"The FAA does not need to resort to furloughs to meet the requirements of sequestration," Hirst wrote. "In making the budget cuts required by sequestration, the FAA must minimize the effect of the cuts on its core statutory mission of efficiently managing the national airspace."
Hirst cited supporting memos from solicitors general in both the Clinton and Bush administrations. "After consideration of their analyses, I hope the FAA will reconsider its position," he wrote.
Don't we all?
-- Written by Ted Reed in Charlotte, N.C.
>To contact the writer of this article, click here:
Ted Reed