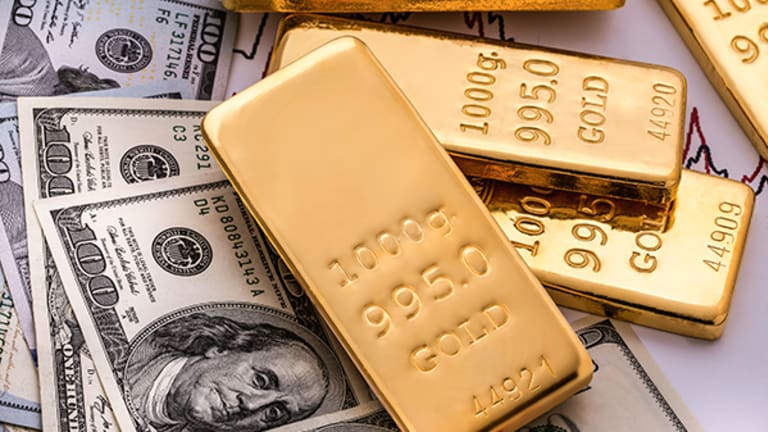 If the Fed Raises Rates, Gold Will Go Up Says 30 Years of Data
Fed rate hikes have on average seen much stronger gold gains than a cut, and more frequently, too.
Will gold prices tumble if the U.S. Fed raises its key interest rate on Wednesday week?
Friday's stronger-than-expected inflation data saw gold drop near three-month lows, and consensus says this week's U.S. Fed decision on interest rates has become D-Day for 2016's previous gains. But history says otherwise.
Gold has since 1986 been more likely to rise if rates go up than if they stay the same, and by a greater percentage as well.
Longer-term, a rate rise has also been followed by much stronger gold gains than a cut, and more frequently too.

In contrast to the actual data, intuition says gold should rise or fall in opposition to interest rates, because gold pays no income.
Owners face an opportunity cost in the lost interest they would otherwise earn holding risk-free cash, and that cost rises if rates go up.
Of course, the wider market also believes this, but traders and professional investors can't wait for the Fed to announce a rate change before acting. Bulls need to buy in advance, and bears need to sell.
So if consensus says that the Fed will hike, then intuition says gold will fall -- and the market moves in advance.

Going into a Fed rate hike, gold has on average been a little more likely to fall than rise during the preceding month.
That pulls the metal's average one-month change in advance of a rate hike down to just 0.07%, well below the last 30 years' overall average monthly rise of 0.48% and just one-tenth the average monthly rise ahead of a rate cut.
In other words, gold price moves around a Fed rate hike offer a classic case of "buy the rumor, sell the fact." Traders sell gold when they anticipate a Fed rate rise, depressing prices. Prices then rise ahead of the typical average once the hike is announced.
Of course, these data show you the mean average pattern over the last 30 years, and you can't trade the averages, only the specific situation you're in.
But looking at what the aggregate pattern tells us, it's notable that, over the last 30 years, the Fed has tended to cut rates when gold has been falling, and raised rates when gold rose. Gold on average gained 0.6% per month over the two years sandwiching each rise. It gained only 0.3% per month for the two years around a rate cut.
Again, this sounds counter-intuitive at first. But the simplest explanation is, in a word, inflation -- or rather, inflation expectations.
Gold appeals most when the cost of living is rising sharply, and your currency is losing real value. Its next best appeal comes when you sense this risk ahead, and buy before it happens. Central banking 101 meantime says to raise interest rates when it looks like inflation will rise above the target level, typically (but arbitrarily) set at 2.0% per year.
Hence gold's slump, you might say -- and the Fed's delay to a rate hike -- in 2015. Hence the sudden upturn in prices from new six-year lows as U.S. inflation jumped at the start of 2016.
Thing is, the Fed's preferred inflation -- the PCE deflator -- still hasn't risen to its 2.0% annual target for more than four years. Excluding the global financial crisis, inflation on this measure hasn't been this low since at least the 1950s, and other measures, like the Dallas Fed's trimmed mean PCE index, are little stronger.
So raising now, even with official jobs data strong and stocks just shy of new all-time highs on low volatility, would fly in the face of the U.S. central bank's price stability mandate. Bond prices seem to concur, with Treasury yields on five-year maturities and longer all shifting half-a-point down since the first Fed hike of December last year. Betting on interest-rate futures has also retreated, now suggesting a one-in-six shot of a rise on Wednesday, rather than the two-in-three reached when a September hike looked a sure thing as recently as May.
Gold prices, in contrast, have slipped as the September meeting draws near, with gold ETF shareholdings -- such as the SPDR Gold Trust (GLD) - Get SPDR Gold Shares Report  -- also down as Comex gold futures and options speculative betting drops.
Seen against the last 30 years of data, gold is anticipating a major shock from Wednesday's announcement. If the bond and futures markets prove right instead, and the Fed delays again, the turnaround in bullion could be swift.
This article is commentary by an independent contributor. At the time of publication, the author held no positions in the stocks mentioned.