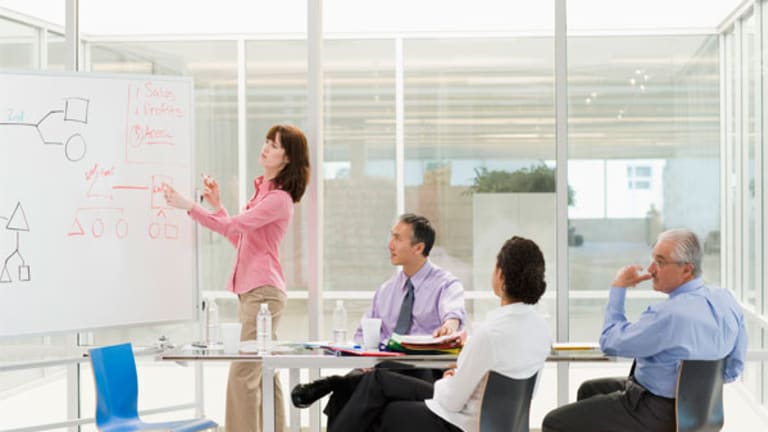 If Steve Jobs Were Alive, He Would Fire Tim Cook
Beyond MappleGate, Apple is mired in impossible situation.
NEW YORK (TheStreet) -- The level of delusion among Apple (AAPL) - Get Apple Inc. Report bulls reached unprecedented levels Friday morning.
Of course, Apple CEO Tim Cook apologized for MappleGate, just days after the company referred to the application as possibly "the most beautiful, powerful mapping service ever." (Apple has since changed the language on
to read:
All in a beautiful vector-based interface that scales and zooms with ease
).
I have been using Apple's Maps app on my iPhone 5. While it was certainly a mistake to release an unrefined product to replace the solid
Google
(GOOG) - Get Alphabet Inc. Class C Report
Maps, it's not
that
bad.
Everything works fine, particularly the turn-by-turn directions. No doubt, it's an absolute joke to launch without public transit, with incomplete location data and a design that leaves quite a bit, relatively speaking, to be desired.
If, for whatever reason, he felt the need to release something inferior, all Cook needed to do was slap a "Beta" tag on the product, just like Apple did with Siri. Beta simply lowers the customer's expectations.
Apple probably did not "Beta" Maps because, unlike Siri, many users expect a reliable and fully-functioning mapping application. So, you can't say it's not there yet, which, as Cook learned the hard way, only supports not releasing it in the first place.
The prudent choice would have been to release a Beta version
and
keep Google Maps around.
But, hindsight is 20/20. For better or worse, it's out there.
I view Apple the same way I do pizza and sex. There's no such thing as a bad Apple product.
Steve Jobs set the bar so ridiculously high that it's almost unfair to criticize what happens on Cook's watch. It's like ridiculing David Lee Roth for not being able to successfully replace Howard Stern in morning drive radio. Roth was out of his league.
The real issue here -- as usual -- does not deal with the short-term noise the media likes to focus on. Sure, relatively speaking, Apple's Maps app stinks.
But, so what? It will not have a material impact on Apple's quarterly results. They set opening weekend records with iPhone 5. Apple will sell tens of millions of easily the best smartphone on the market. Nobody or nothing else even comes close.
As I have riffed since Jobs's death, Apple's future, not the present, is what should worry people who care one way or another about this stuff.
I observe Apple fanboys and fangirls with pity as they defend Tim Cook. He is the kind of guy Jobs would have fired.
And, yes, I know that Jobs hired him. Cook was a good solider. He's a master of the supply chain. On his death bed, Steve Jobs apparently told Tim Cook something like
Don't ask what I would do, just do what's right
. I know all of this.
I believe every bit of it.
But, you ride an incredibly slippery slope when you use these facts to argue that (A) Jobs would not be furious right now; (B) The above-mentioned details exonerate Cook from real consequences for the types of horrendous missteps Jobs never would have made; and (C) There's no difference between how Cook errs and responds to mistakes and how Jobs did.
As I explained on Friday in
Apple Bull Case Laced With Sloppy, Bearish Holes
, there's a difference between errors made during a time of revolutionary innovation and errors made while you're merely bringing along somebody else's inventions.
Not to mention what I thought were obvious distinctions exist between how Jobs reacted and how Cook reacts.
Jobs did not "apologize" for iPhone 4 antenna issues as much as he chided the complainers.
Avoid holding it that way
. Now, run along with a free case for your phone.
And just think about how beside himself Jobs would be if he was around to see Cook offer Google and
Nokia
Maps as alternatives while Apple gets its act together. Tim Cook actually told people that they might be better off with what freaking Nokia produces than something
Designed by Apple in California
.
I think I have a decent way with words, however, I cannot find any even close to appropriate to illustrate how flabbergasted I am right now. If Jobs was alive and just slid into a Chairman or Director role, Cook would have been writing his resignation letter, not a sappy apology on Friday.
It all comes down to talking the talk and walking the walk. Cook simply does not have the ability to do the latter, therefore, if he does anything to remake Apple in his own image, he should throttle back on the former.
It's not just that he cannot walk the walk, he cannot clean up mistakes like Jobs could. Everybody makes mistakes. Jobs even made him. The recovery process is what matters. Cook butchered this one.
Just like he has no clue how to move forward with old guard media firms vis-a-vis Apple TV, Cook pokes in the dark on
MappleGate
. If Tim Cook was Barack Obama, Rush Limbaugh would say he's in over his head in the Oval Office.
Together, Cook and Ron Johnson at
JC Penney
(JCP) - Get J. C. Penney Company, Inc. Report
prove that it's much easier to do great work when you're taking orders from and riding shotgun with Steve Jobs. Leave them to their own devices and you see what happens.
There's no sign of anything resembling a turnaround happening at JCP. And, while Apple continues to dominate, the not-so-slow erosion of its culture under Tim Cook rolls on.
As competent as they might be as executives, Johnson and Cook are both classic characters out of an MBA textbook. They have no business leading companies like Apple or orchestrating wholesale transformations that require otherworldly vision.
Ultimately, this is an incredibly sad story.
Most of all, Steve Jobs left his family and friends (and the rest of us) way too soon. Secondary to that, Apple's supreme reign will end prematurely. I'm not sure it's possible for it to have gone any other way, no matter who got the gig.
At the time of publication, the author held no positions in any of the stocks mentioned in this article
.
Rocco Pendola is a private investor with nearly 20 years experience in various forms of media, ranging from radio to print. His work has appeared in academic journals as well as dozens of online and offline publications. He uses his broad experience to help inform his coverage of the stock market, primarily in the technology, Internet and new media spaces. He has taken a long-term approach to investing, focusing on dividend-paying stocks, since he opened his first account as a teenager. Pendola, 37, is based in Santa Monica, Calif., where he lives with his wife and child.