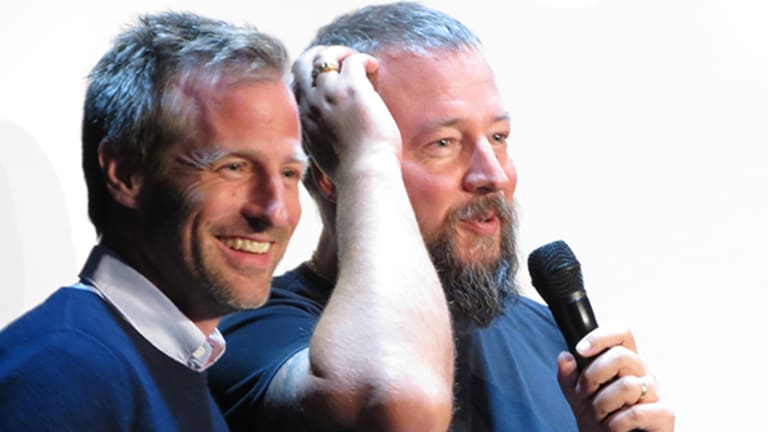 Raw, unfiltered and politically-charged perspectives lie at the center of Vice's heart, but can the magazine-turned-millennial brand become more than a niche player if CEO Shane Smith finally gets his own television network?
Based on the somewhat vague plans revealed by the Brooklyn-based media company, the next few months may determine the shape of Vice's future. Smith's company will soon air new shows that include Gaycation, a documentary featuring actress Ellen Page and interviews on Vice Portraits conducted by stand-up comedian Marc Maron. Those will be added to a lineup that includes colorful programming such as F-ck, That's Delicious, hosted by hip-hop artist and former chef Action Bronson.
After growing first as a magazine, then with online digital video channels, Vice got a big win on television first with a documentary series on Time Warner's (TWX) HBO. Recent speculation points to Vice getting its own channel via A+E Networks, jointly owned by Disney DIS and Hearst, which acquired a 10% stake in the company last year for a reported $250 million. The rumored channel would reportedly take over what is now A+E's H2 history channel, but Vice officials wouldn't comment on the subject.
By buying a slice of Vice Media last August, A+E clearly want to go after younger audiences. HBO wanted a piece of the action too, airing a weekly Vice documentary series that was renewed recently through 2018. The deal also added a daily Vice newscast to HBO. "We're the largest buy in the history of HBO for episodes, which is freaky," Shane Smith, CEO of Vice said at Friday's "newfront" event to show off what his company is working on.
While Vice put on a lot of flash about shows it is creating, the company never came right out and said it would have a cable channel to itself. If it were to happen, it begs questions, such as how that might determine its presence on HBO, and how Vice would please its backers at both A+E Networks and Time Warner.
Life outside subscription-based television could pose a challenge for Vice's style. "We can do news [on HBO] . . . whatever story we want to do, no advertising," Smith said.
But there is an even bigger media strategy at play at Vice, according to movie director Spike Jonze, who is also a creative director with the company. "Over the last six months, we've created 20 shows and started shooting eight of them," he said.
So, if Vice were to run a channel on basic cable, would it kowtow to advertisers? How could it survive if it did not take ad revenue into consideration?
It seems to have plenty of content to fill the pipeline, but meshing that with needs of advertisers could be tricky. Can Smith's hair-on-fire approach endure the mainstream demands of the broadcast industry? "We did news with HBO, that changed our lives, that changed the company," he said. "Then we said, 'Hold on, we make a bunch of other stuff.'"