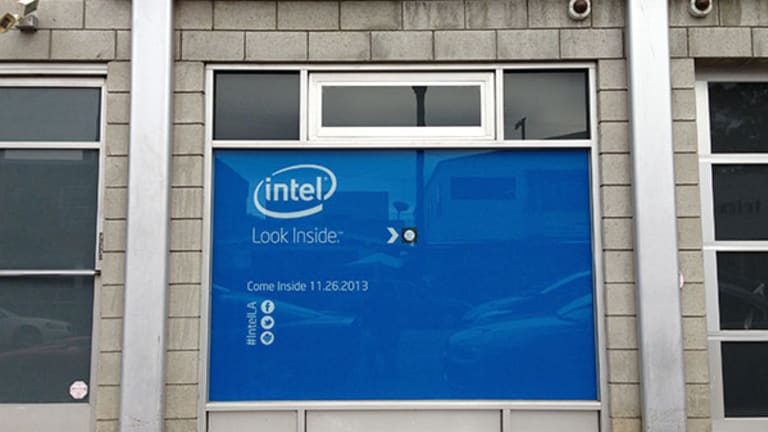 If Only Intel Didn't Date Losers
Intel Experience Stores can reinvent physical retail, but they're not going to sell inferior products.
Intel Experience Stores can reinvent physical retail, but they're not going to sell inferior products.
A walk-through (in pictures) of the Intel Experience Store in Venice, California begins on Page Three of this article. 

NEW YORK (TheStreet) -- It's difficult for me to write this article, which ultimately questions the efficacy of the Intel (INTC) - Get Report Experience holiday pop-up stories in New York City, Los Angeles and Chicago.
Why?
Because ...
The people at Intel were nice enough to set me up with a tour of the LA store, located on Abbot Kinney in Venice. They appear genuinely excited about what they're doing. And, on some level, they have every right to be. As a writer, you want to like what people who are so nice, genuine and accommodating are selling.
But, you also have to call it as you see it.
As I wrote before I even saw an Intel Experience store in person, physical retailers such as Best Buy (BBY) - Get Report could learn how to reinvent themselves by observing what Intel is doing. After seeing the stores, I believe that times one-hundred-and-ten.
As the pictures I took in the store illustrate, Intel really does put together a nice retail-ish "experience." And, as I have been hammering home for a while now, experience a retailer can monetize for itself, not somebody else, is what will save physical retail from its current fast track to death.
If Best Buy executives are not only touring, but painstakingly observing every last detail of the Intel Experience Stores they're more delusional than I had originally thought.
Walk through an Intel pop-up and you'll quite possibly have dual, conflicting thoughts.
On one hand, yes, Intel crafts an ideal retail experience. It's different. It's not the Apple (AAPL) - Get Report knock-off we get from Microsoft (MSFT) - Get Report or Sony (SNE) - Get Report.
As a not-so-aside, Intel, from what I could see, doesn't put the Apple products it's a part of on display. There must be an agreement between Intel and its partners to exclude Apple. These pop-up stores are just as much Windows Experience stores as they are Intel.
That matters for the second, opposing part of the dual conflict, but completing the first part ...
My pictures speak more vividly than my words, but, as best as I can say it, yes, Intel creates a hip and cool environment that feels like, to some extent, it has become part of the surrounding community. They're hosting kids' and adults' yoga, showing sports on television, offering Santa's lap and allowing local businesses to be part of the process, sampling, not selling their items. Local school and community groups come in to tinker with tech inventors. You can not only play with Intel-powered devices for as long as you like, you can even take any one home to test for 24-48 hours.
Intel doesn't push the sale. If you want to buy something, they facilitate it via an Intel-branded Best Buy e-commerce site located on a monitor in-store. These stores exist so consumers can touch and feel the products Intel has put its weight behind -- ultrabooks, two-in-one tablet/laptops, all-in-one experiences.
Herein is where the conflict lies.

Relatively speaking, "nobody" wants these products. Intel runs with the companies that populate the "other" category I wrote about last week on TheStreet. I guess that's a strategy. To put your chips in everything Samsung (the one company you really can't include in "other"), Toshiba, Dell, Microsoft and Sony make. This approach gets you dibs on a meaningful bit of marketshare.
But that's not something consumers will get excited about, particularly the ones Intel appears to be targeting in three of the nation's trendiest and most affluent, tech-minded urban neighborhoods. And if consumers don't get excited, it's all the more difficult to get investors fired up.
The ultrabook and detachable tablet push didn't work last year; what makes anybody, including Intel, think it's going to work this year? When you pick up a Surface tablet or an anyplace, USA, ultrabook, it still sits in your hand like brick compared to Apple's iPad Air or MacBook Air. Consumers in places like the Westside of LA or Manhattan's NoLita district aren't going for that.
Part of me thinks Intel would be better off putting these stores in less affluent, even somewhat distressed or up-and-coming neighborhoods.
In Los Angeles, for example, I bet Intel stores would see more traffic, generate more buzz and trigger a larger sales volume in one of the many upwardly mobile Latino neighborhoods in the county. Go after the Android market with Windows-based laptops, two-in-ones, all-in-ones.
Simply put, even a refreshingly different and innovative -- absolutely not an Apple copycat -- retail environment cannot sell inferior products. At least not to the level where you even approach an Apple-like level of excitement, mass appeal and rave consumer reception.
Because, let's face it, I saw quite a few people walk right by the Intel Store on Abbot Kinney, rebuffing solicitations to come inside by beautiful and friendly Intel hostesses. If an Apple Store existed on Abbot Kinney, it would be perpetually flooded with an overflow of warm, eager and excited bodies. I live next door to Venice. This is Apple territory; Intel's not encroaching. Not even a little, despite their best efforts.
Images from the Venice (Los Angeles) Intel Experience Store on the proceeding pages (since you might not get around to visiting one in person). 

Sparse crowd on a Sunday afternoon in Venice, California. Imagine if this was an Apple Store.
View from the streetscape (Image taken on a weekday afternoon during prior to Thanksgiving).
Big screen. Intel chalkboard upon entrance to a store that changes three times daily, facilitated by a very cool moving wall.
A community bulletin board
Santa Claus was set up Sunday in the back room, where an Intel rep told me "40 people" gathered Friday night to watch a movie.
Tech geeks from a local inventors club making "things."
Yes. Dell is still pushing whatever this thing is.
And, yes, Toshiba Makes Tablets!
--Written by Rocco Pendola in Santa Monica, Calif.
Rocco Pendola is a columnist for
TheStreet
. Pendola makes frequent appearances on national television networks such as
CNN
and
CNBC
as well as
TheStreet TV
. Whenever possible, Pendola uses hockey, Springsteen or Southern California references in his work. He lives in Santa Monica.