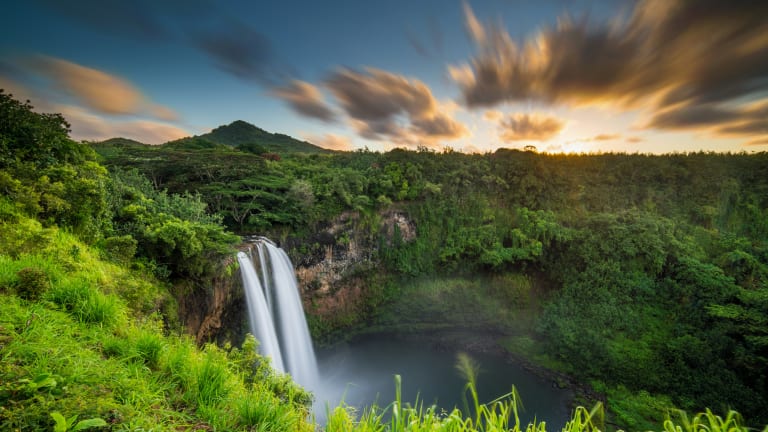 The Bottom Could Quickly Drop Out of the Stock Market: Market Recon
The extent of a stock market pop in that case could go as high as the 2575 level for the S&P 500.
Get Morning Recon delivered directly to your inbox each market day. Click here to sign up for e-mail delivery.
"Our greatest glory is not in never falling, but in rising every time we fall." -- Confucius
Pressure
We did expect to see some profit taking across the equity space on Friday. That would have made sense in the wake of the re-balancing seen across financial markets as August came to a close on Thursday. The fact that there was no real broad taking of said profits at that point was seen as a sentimental positive for the net long crowd. Over the weekend, geopolitical concerns courtesy of North Korea's rogue leadership resurfaced. Futures were heavy, and once the bell rang at 11 Wall Street, stocks were even heavier. This movement coincided with a dramatic spike in the VIX, further strength in gold, and a compression in Treasury yields that left the 10-year at levels not seen since the election last November. By the way, the spread between the yields of two-year and 10-year paper was pressed to a mere 0.78%, and it is trading even flatter, at 0.775% this morning. In other words, not what those long the banks were looking for.
The flattening of that yield curve was more than a function of safe-haven seekers. There were also dovish comments by both Lael Brainard and Neel Kashkari to deal with. Both of them were already doves coming in. Their comments should not have surprised anyone. Still, the banks took this one square on the nose. Goldman Sachs (GS) and Bank of America (BAC) gave up more than 3%, while Citigroup (C) and JP Morgan (JPM) surrendered more than 2% on the day. I think weakness in this group has been long telegraphed, and if you are still wearing them at this point that you may have to wait for an upwardly moving day for yields. Problem is that on that day, you won't want to sell them.
Seeing Treasuries at levels not seen since November, and trying to gain an edge (like any aggressive kid from the neighborhood might), I threw an Andrews' Pitchfork model on a chart of the S&P 500 that started with the lows of election night. Wow. The chart was telling. The model clearly accommodated the sideways action seen most of the summer, and the extremely recent move higher for the index. That was not all; the model also displayed the need for 2446 to hold if indeed tested. Do you know what Tuesday's low of the day was for the S&P 500? That's right, 2446. The level held, for now. The 50-day simple moving average was indeed in the area, now standing at 2453, but that was not where the index held. So, what now?
Coiled Spring
I believe that there could be further movement to the downside, but that the northerly trend will prevail. Let me explain. The immediate threats posed to your portfolio come from our legislature: the budget and the debt ceiling. These should be short-term threats that come to a satisfactory conclusion after causing some volatility through headline risk. I want you to think of this as a coiled spring. What happens when you compress a spring all the way? It either breaks, or pops, right? Let's just assume that North Korea continues to behave irresponsibly. I think it's apparent that the leadership there fancy themselves as the successor to the Soviet Union as the world's evil super power. That has to be priced in, and that is actually underway. One caveat: not all can be priced in, either way, regarding tax reform. The finer points of tax reform, or, should we say, the quality of said tax cuts, are impossible to price in at this point. That means that you are going to see a likely 100-plus point move for the S&P 500 at some point, probably within weeks to months.
Let's go back to our chart of the S&P 500. A 38.2% Fibonacci re-tracement from the lows of election night through the highs of this summer would leave the index at 2333. That is how far you can compress this spring before it breaks. A failure to cut taxes will cause dismay in the marketplace, as well as erosion in all of our confidence surveys. If, however, the close of September brings us the removal of the federal budget and the debt ceiling as possible negatives for headline risk, and markets find reason to believe in tax cuts, there will be a euphoric response. The extent of that pop could go as high as the 2575 level for the S&P 500. That is where the central trend line of the already discussed Pitchfork lies. The index is not even close to technically overbought. Keep that in mind. I don't care about your historical valuations argument. I do get it, but honestly, I only care about that space where the rubber meets the road, or where demand and supply collide at any given second in time. That is called price discovery. That is the only thing that is real.
How to Defend Yourself
Defense stocks seem to be the smart play right now, at least to me. I have been long, and intend to stay long, Lockheed Martin (LMT) and Raytheon (RTN) , as well as Kratos Defense & Security Solutions (KTOS) . Now, I know that I have been pounding the table on KTOS for some time. I want you to tread carefully there. Last night, the firm announced its intention to issue an additional 12.5 million shares for sale in a deal underwritten by JP Morgan and Goldman Sachs. This, at least to my math, amounts a 14.3% dilution event that will likely impact the market price of the equity Wednesday morning.
You have probably also noticed sudden strength in both retail and energy stocks amid Tuesday's retreat for equities. Across the energy space, I find it unlikely that WTI crude prices can move beyond $50 a barrel, not to mention $52, which is where they need to be. For that reason, I will probably use this pop to lighten my energy names. As for multi-line retail, you all know that Walmart (WMT) is my favorite by now. Keep an eye on today's Redbook number. That series has been showing real strength of late on a year-over-year basis.
DACA, Congress, and Leadership
I am not going to argue the ethical merits (or lack thereof) of the administration's agenda on DACA. Do I think that legislative support would be preferable to what there is now? Of course. I don't think that this point is even debatable. What I think, as a markets guy, is that the timing of such a move is just terrible.
We already have a legislature where both bodies only plan to work 12 days (now 11) in September. That legislature is already under the gun to get important objectives accomplished quickly. Give the congress six months to legalize DACA, when they have under a month to pass some kind of budget deal and raise the debt ceiling? Give the congress six months to legalize DACA, when most of the nation is eagerly awaiting progress on tax reform? Really? I mean, really? C'mon. With the glacial pace of the way these legislators actually get cracking, does it seem wise to split their focus?
This is where leadership is required. This is where you must understand the abilities, as well as the tendencies, of your people. This is where you do what you can to better the chances that your people succeed.
I don't know. Maybe give congress five months to make this into law after they actually knocking a couple of key items off of their collective "to do" list. Just saying.
Hurricane Irma is shaping up to be a beast.
Macro
08:30 - Trade Balance (July):Expecting $-44.6 billion, June $-43.6 billion. Unfortunately, the goods trade balance for July missed last week. The service sector, where the U.S. actually runs a surplus, can only do so much. Hence, the expectation for an increase in Wednesday's headline number correlates rather closely to the size of the expansion in the deficit seen last week. This number will not impact trading on Wednesday, but will greatly impact GDP expectations. You will hear from the Atlanta Fed later on Wednesday. Currently their GDP expectations for the third quarter are running at a cool 3.2% q/q seasonally adjusted and annualized.
08:55 - Redbook (Weekly):Last Week 4.3% y/y. This measure of retail chain store sales has been strengthening now for months. Two weeks ago, we finally saw year-over-year growth of more than 3%, and then, poof ... more than 4% last week. I would be more than OK with a 3.5%-ish print today.
09:45 - Markit Services PMI (August-rev):Flashed 56.9. We are expecting to see confirmation of another strong month at the headline for this series. The real focus on service sector strength is on the ISM print due in 15 minutes. That will steal any market impact that this release might have had. Next.
10:00 - ISM Non-Manufacturing Index (August): Expecting 55.4, July 53.9. This series showed a real slowing of growth at the headline level in July. Most concerning in that report was the slowing of growth in key components, such as new orders and employment. From all appearances, most economists are expecting, or maybe hoping to see the series rebound a bit with this report. At last check, there was at least a healthy backlog of orders remaining. This item has the ability to impact the marketplace.
1400 - Beige Book. When you see the Beige Book, then you know that we are about two weeks out from an FOMC policy decision. Here is where we'll learn of economic conditions anecdotally from across the Fed's 12 districts. Does this matter? It sure can impact expectations for monetary policy, so in short, yes.
Sarge's Trading Levels
These are my levels to watch today for where I think that the S&P 500, and the Russell 2000 might either pause or turn.
SPX: 2481, 2473, 2463, 2456, 2446, 2439
RUT: 1415, 1407, 1401, 1394, 1387, 1376
Today's Earnings Highlights (Consensus EPS Expectations)
Before the Open: (HDS) ($0.64), (NAV) ($0.27)
After the Close: (ABM) ($0.54), (KFY) ($0.53), (RH) ($0.47), (VRNT) ($0.47)
More of What's Trending on TheStreet:
At the time of publication, Stephen Guilfoyle was long C, LMT, KTOS, RTN, WMT, although positions may change at any time.