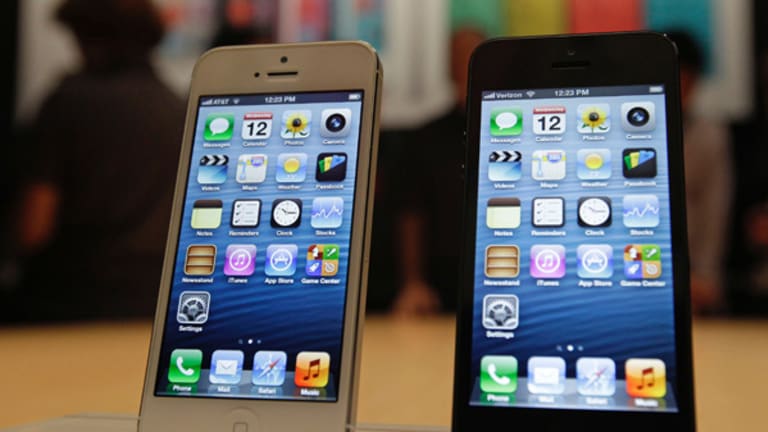 If the WSJ Is Wrong About 'Weak' iPhone 5 Demand, Will It Apologize to Apple?
The newspaper cites sources that Apple cut iPhone component orders for the current quarter, but will this impact the company's results?
NEW YORK (TheStreet) -- So, late Sunday night, as I was sipping a Saranac Big Moose Ale before bed, The Wall Street Journal broke what we, for better or worse, call news. Please, by all means, don't give TheStreet credit for the "scoop." In fact, speaking for myself, please allow me to distance myself from the WSJ report that Apple cut iPhone 5 component orders because of "weaker-than-expected" January-March quarter demand.
The first thing I did after seeing the news was get in touch with
TheStreet's
tech geek and
Apple
(AAPL) - Get Apple Inc. Report
authority
Chris Ciaccia
, who is headed to the San Francisco Bay area for
Tuesday's big Facebook (FB) - Get Meta Platforms Inc. Class A Report announcement
, for his reaction:
After re-reading The Wall Street Journal article on iPhone demand, Apple cutting parts orders is the likely course of action, as the source (perhaps a Japanese parts supplier) is talking about the January to March quarter. It's likely the parts supplier (whoever it is), is seeing cuts in the January to March quarter because Apple's biggest quarter is the holiday quarter, its fiscal first quarter.
The source indicates Apple notified suppliers last month of the cuts, but unless demand just slowed to a halt, this doesn't make sense. Apple reports fiscal first-quarter earnings on Jan. 23, and we'll find out how many iPhones were sold in the holiday quarter, but one would expect that given the robust demand for the phone after it was released, demand is likely to slow from the holiday quarter. This is expected, as Apple sells more iPhones during the holiday quarter than any other time; this is a normal course of business, and likely not a sign of customer weakness.
Unless the WSJ is talking to Apple directly (and that seems highly dubious given the author does not have a track record for it), this seems like pure speculation at best.
Logical.
What irks me more than anything is the
Journal's
whole "people familiar with the situation" line. How thin and vague. But, because it's the
Journal
, practically every other media outlet rushed to get the story up.
That's what the financial and tech media does these days. They're all largely cut-and-paste operations. One outlet "breaks news" and the mindless regurgitation begins. We give crappy reporting the opportunity to take on a life of its own and, quite possibly, move markets and impact perceptions.
And that's exactly what it is -- crappy reporting. Even if this particular story turns out to be "correct," it will be the exception. Now more than ever, the media, particularly when it comes to Apple, throws out this type of tripe. It rarely sticks. And, when it doesn't, nothing happens. It's not like
The Wall Street Journal
will need to issue a public apology to Apple.
So, if you have a hunch or a random "source," why not go with it? By the time you're wrong the world will have long forgotten your original report. If the stars align and you're right, you can take credit for being the ultimate newshound.
What a business!
And what do
you
get out of it? Not much beyond a Twitter feed that repeats, from different organizations, the exact same story, incessantly, for a solid 45 minutes.
So, yeah, I think the story is trash. Complete crap.
As
CNBC
Technology Correspondent Jon Fortt
appropriately tweeted last night
:
The
WSJ
better have intimate knowledge of the ENTIRE iPhone supply chain, or it's easy to misinterpret things."
As Chris Ciaccia proves, if you stop and think for a second, rather than rush to parrot what somebody else said, you might actually say something worth paying attention to.
Sometimes it's not sexy. It doesn't sell papers (or get people to plunk down their credit cards to bypass pay walls), but it's sane and it's logical.
Simply put, Ciaccia's explanation makes a ton more sense than an abrupt halt to iPhone 5 demand coming off of
a quarter where Apple clearly dominated retail and online sales
with the holiday season's most sought-after gifts.
--Written by Rocco Pendola in Santa Monica, Calif.
Rocco Pendola is
TheStreet's
Director of Social Media. Pendola's daily contributions to
TheStreet
frequently appear on
CNBC
and at various top online properties, such as
Forbes
.