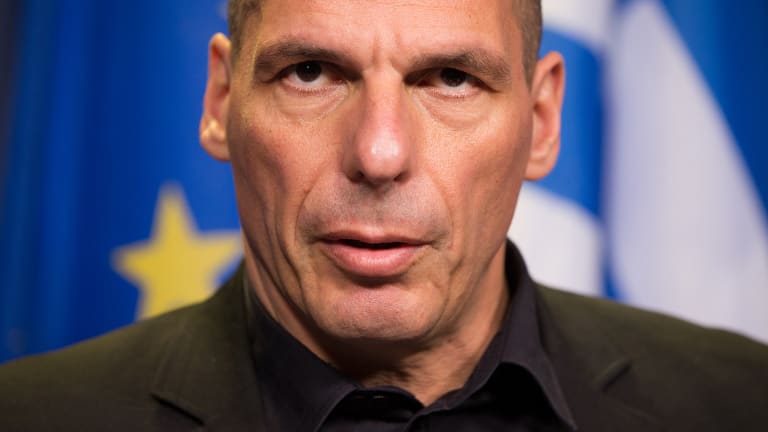 Publish date:
If Greeks Vote to Leave the Eurozone, Which Country Will Be Next?
Next week, Greeks will go to the polls to determine their eurozone future. Regardless of what they do, other Europeans will be watching closely.
Next week, Greeks will go to the polls to determine their eurozone future. Regardless of what they do, other Europeans will be watching closely.
NEW YORK (TheStreet) -- If Greece leaves the eurozone, which countries might follow? The move -- a Greek default on debt and abandoning of the euro -- could have a ripple effect that sees Portugal and even Spain, the fourth-largest European Union economy, exit the currency. 
On July 5 Greece will vote in a referendum on whether or not to accept a set of domestic austerity measures demanded by its international creditors in return for a bailout package. Effectively, the Greek nation will be voting on whether or not stay in the eurozone.
Prime Minster Alexis Tsipras's views on whether the austerity measures should be accepted is clear, as he has termed them an "extortionate ultimatum that calls for strict and humiliating austerity." Given this and the level of populist anti-austerity feeling in Greece, a "no" vote and an ensuing "Grexit" seems the most likely outcome.
So if Greece goes, who will go next? Italy has been mentioned, but the shorter odds lie with Spain and Portugal. It seems a long way off at the moment, but the biggest fear for the eurozone is not just that Greece tumbles out of the euro but that it then, after a period of adjustment, begins to thrive once released from a common monetary policy with the countries of Northern Europe. After all, these countries have completely different economies, and outside the euro, Greece would once again be able to use its exchange rate as an extra source of economic adjustment.
At that point, other debt-laden eurozone members will start wondering why they don't just do the same. For sure, the short-term pain will be terrible for the Greek economy and its people; inflation and unemployment are bound to rocket, it would be locked out of international money markets for years, business will go to the wall and further cuts to wages would be inevitable as it transfers to the drachma, which would be passed around like a hot potato that nobody wants to hold in the international currency markets.
But a weak drachma will attract plenty of holidaymakers, and tourism, already the country's biggest industry, would boom. The country needs reforms in many areas to rid itself of corruption, a huge informal economy and rampant tax avoidance, but Grexit might just be the jolt it needs to do that. Then it can start repositioning itself, instead of having to follow the path of the eurozone. After all, since joining the euro, it has been overtaken by Germany in the amount of olive oil it exports, for instance. A weak drachma could help fix that.
Greece could, with a strong Government, start to thrive and then the pressure in Spain and Portugal to leave the eurozone would grow. Confidence in the eurozone project would be sapped by Greece's exit; the financial markets would get very jittery about investing in the euro. The smart money has already pulled out of Greece, but if it defaults, investors will start fleeing other debt-ridden members like Spain and Portugal, fearing something similar, perhaps pushing their fragile economies back towards recession.
After the International Monetary Fund and the European Central Bank, foreign banks have about $46 billion of exposure to Greece, with Spain and Portugal two of Greece's bigger creditors, so they will feel the hard landing if Greece crashed out of the euro.
Spain in particular has a sizeable left-wing populist party, Podemos -- similar to Greece's Syriza -- which has been garnering support after stinging austerity policies were implemented to meet its bailout conditions. It may gather further public support if the Spanish public see Greece defying the IMF and the ECB and they do eventually turn out to be better off outside the euro. Though, this could be many years away.
Anti-European Union sentiment has been growing across the continent ever since the financial crisis, with the United Kingdom, which has been standing smugly on the sidelines watching the eurozone sputter along, about to vote on whether to leave the EU altogether. Plus, the euro was always more of a politician's dream than an economist's idea of a heavenly device, with some economists now thinking ending it would be a good idea rather than more integration. Greece's exit will give more fuel to the anti-European Union brigade, especially in Spain, which endured riots and spiraling unemployment while it made cuts to go with its own bailout package. Unemployment hit almost 27% in 2013 and is still a very unhealthy 24% and rising again. Its banks are still paying back the €41 billion -- plus interest -- it borrowed to stave off collapse in 2012 and if contagion spreads from a Greek exit into a capital flight from Spain it might need more financial aid. A great deal of resentment still lies in Spain, and a Grexit would see the eurozone's fourth biggest economy come under serious pressure to pull out as well.
This is why the game of chicken going on with Greece's debt is so dangerous for Europe. Greece leaving would, on the face of it, not be disastrous for the eurozone -- it only makes up about two per cent of the euro zone economy, roughly the same as the city of Milan. But the domino effect that a Grexit could start could be fatal for the euro, and see it collapse completely.
This article is commentary by an independent contributor. At the time of publication, the author held no positions in the stocks mentioned.