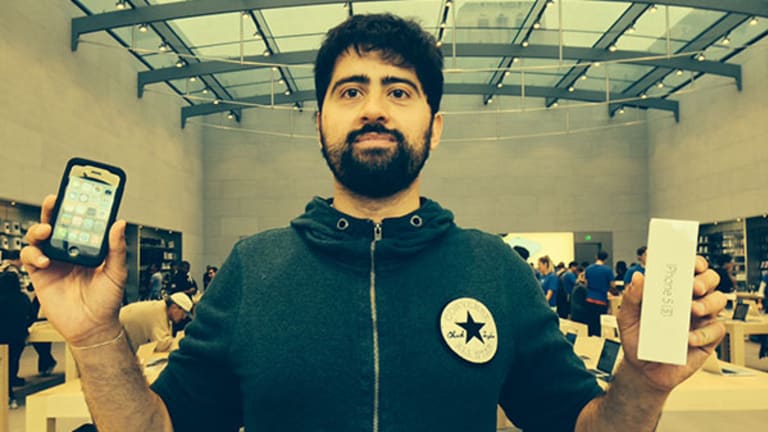 If Apple Needs Netflix, Tim Cook Needs a Clue
Too deep a dive into expensive content could signal trouble with Apple's bread and butter -- hardware.
NEW YORK (TheStreet) -- Either The Wall Street Journal stinks or there's veracity to their reporting that Apple (AAPL) - Get Apple Inc. (AAPL) Report is in talks with Comcast (CMSA) - Get CMS Energy Corp 5.625 % Notes 2018-15.03.78 Global Report to do something that involves "content."
TheStreet's Richard Saintvilus lays out what's apparently happening between Apple and Comcast in our number one article from Wednesday. Saintvilus also argues -- with the most inanity I have seen from him to date -- that Apple should buy Netflix (NFLX) - Get Netflix, Inc. (NFLX) Report.
Here's another link to his article. If you can figure out his rationale for an Apple takeover of Netflix, please clue me in because I just don't get it.
But there's something that would be far more troublesome than The Saint's apparent cluelessness here. Could Tim Cook be dense enough to believe that Apple needs a relationship with Comcast or lame access to some mysterious content to maintain and further its dominance?
You can say it every which way to the weekend, but it doesn't get through people's heads ...
There's no good reason for Apple to get involved in the content game. It's complicated. It's expensive. It's a pain in the butt. And there's not enough of a payoff, relative to what Apple's used to, to make all the time and aggravation worthwhile.
If Apple makes a serious move into content -- beyond what it already does in the iTunes and App Stores -- there must be something seriously wrong with the company's core hardware business.
Hardware -- Apple's bread and butter. Apple's software and services ecosystem certainly contributes to hardware sales, however the hardware sells itself. The beauty, the utility, the superiority of iPhone, iPad and Mac.
While Apple owns some key components of its ecosystem, it doesn't need to own everything.
Why own Netflix's bungled and debt-ridden business or dive too deep into Pandora's (P) or pay Comcast a king's ransom for "preferential access" (to and for exactly what I don't know!) when you assume minimal risk doing what you're doing now?
With otherworldly success.
Why ... that's the question. It's also the concern.
If Apple throws itself into a mix that includes loads of dime a dozen characters, there must be trouble. As in nothing compelling in the hardware pipeline. Because, again, why else would Apple feel compelled to bother with that noise? 
It has already injected itself into the streaming radio mess. If it feels the need to do likewise with streaming video, I'm going to worry and wonder about Tim Cook's ability to maintain and nurture Apple's greatness.
I think Tim Cook understands this. I don't think he's set to do anything radical with content, regardless of what The Wall Street Journal (or The Saint) says. But I can't write these guys (The Journal or The Saint) off. If there's smoke to their fire, I could wind up back on the fire Tim Cook bandwagon faster than Reed Hastings can explain away off-balance sheet obligations.
--Written by Rocco Pendola in Santa Monica, Calif.
Disclosure: TheStreet's editorial policy prohibits staff editors, reporters and analysts from holding positions in any individual stocks. Rocco Pendola is a columnist for
TheStreet
. Whenever possible, Pendola uses hockey, Springsteen or Southern California references in his work. He lives in Santa Monica.