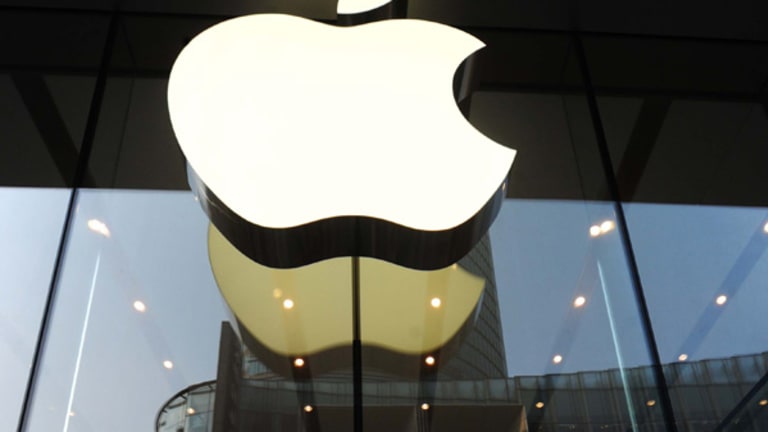 If Apple Misses Earnings: The Ultimate Bear Trap?
If Apple somehow disappoints next week, the right kind of long-term investor could be set with the buying opportunity of a lifetime.
NEW YORK (TheStreet) -- We're past the point of absurdity with Apple (AAPL) - Get Apple Inc. Report. It's nonsensical.
Nonsensical that you cannot buy this stock and feel relatively comfortable with your decision. It's been this way since April of last year, however, in recent weeks, it's gotten worse.
Dan Pallotta wrote one of the better pieces you'll find on Apple for the
Harvard Business Review Blog Network
.
Early on, Pallotta agreed with the sentiment I expressed in
Like Steve Jobs, Tim Cook Doesn't Care About Apple Stock
: "If you want a brilliant lesson in focus and discipline, watch Tim Cook right now."
Excellent way to open an AAPL article during these times.
Because there's no doubt in my mind -- if you walked into Tim Cook's office and complained about the stock price, he would send you out on your ear:
I've got a damn company to run!
.
Cook has tunnel vision. The stock price, over the short term, means absolutely nothing to him. He knows what's up, not
some cub reporter at a far-flung Wall Street Journal Asia outpost
.
Read this twice because Pallotta absolutely nails it here:
The critics that are screaming right now are intellectually lazy. They're throwing temper tantrums instead of looking at the big picture. Like two-year-olds, they don't really know what they want. And they're not happy when they get it, anyway. Apple could unveil a new car and they'd say Apple's days are over because it's just bet its future on an industry it knows nothing about. Not unlike, say, Apple's entrance into the mobile phone industry. I bet that if Apple did unveil a time machine, they'd claim it wasn't fast enough.
Tim Cook is taking exactly the right approach, staying the course, despite distracting expectations swirling around him. Apple is a marvel of human achievement. Why waste the beautiful sight of it by casting your gaze on a group of misbehaving children who have never accomplished anything remotely close to it in concept or scale and don't have the faintest understanding of how something this remarkable operates and grows in the first place?
Brilliant.
I don't agree with everything Pallotta wrote. Speaking of "intellectually lazy," he made the standard Apple vs.
Amazon.com
(AMZN) - Get Amazon.com, Inc. Report
valuation argument and rehashed the old, context-lacking
Steve Jobs committed the same errors Tim Cook is
line. But, it's all good, because I see where he was going with it. I refuse to allow sideline gripes to take away from his thoughtful, bigger picture argument.
This whole mess has investors in an almost impossible position.
Very few people should be trading AAPL. Dig
Robert Weinstein's excellent trading-focused AAPL articles
and
, but be careful; few people are as nimble as Robert and Tom DeMark, Market Studies founder and CEO highlighted in Robert's piece.
Even if AAPL goes up in a straight line from here,
I'm not sure it's suitable for most long-term investors any longer
. You need to be able to sleep at night; not worry that your future could come under fire thanks to an errant headline on a shaky iPhone 5 source report.
That said, you need to assess the situation for yourself on the basis of your personal financial situation and psychological makeup. Don't take this conversation with yourself lightly. AAPL has become serious business; it's no longer a moving party on the way to $1,111.
But, if Apple misses earnings, it might be the ultimate bear trap.
Apple's Cook and Peter Oppenheimer report next week. We say this before every Apple release, but this one probably is
the
most important in the company's history.
If Apple misses, or otherwise disappoints, the stock could make the recent collapse look tame. That might just present an opportunity of epic proportion for certain, thick-skinned, well-off and experienced long-term investors. Somebody who can take the heat and afford -- in the literal sense -- the inherent risk associated with buying AAPL in the doldrums.
Through all of this noise and hysteria, we're not only forgetting that Cook -- not
The Wall Street Journal
-- knows the score. We're not only ignoring the case that's actually logical --
AAPL reasserting itself and making a run for $1,000 after all
. We are forgetting about that period between Apple products I often call "the bridge."
Apple could crush holiday-period numbers, but guide soft for the January-March period and the stock dives. It goes back to the unrealistic expectations Pallotta discussed.
In the past, Apple has been able to bridge the gap between big launches, largely because of the presence of Steve Jobs and the "newness" of iPad and iPhone. We no longer have these crucial factors, but, chances are, we have "the next big thing." We have
.
An earnings miss might actually work in the patient bull's favor. Remember, we're not talking about an overvalued company struggling to grow revenue and earnings and take control of mindshare and market share. We have the exact opposite. That should be the lead story; not misguided noise, smoke and mirrors.
--Written by Rocco Pendola in Santa Monica, Calif.
Rocco Pendola is
TheStreet's
Director of Social Media. Pendola's daily contributions to
TheStreet
frequently appear on
CNBC
and at various top online properties, such as
Forbes
.