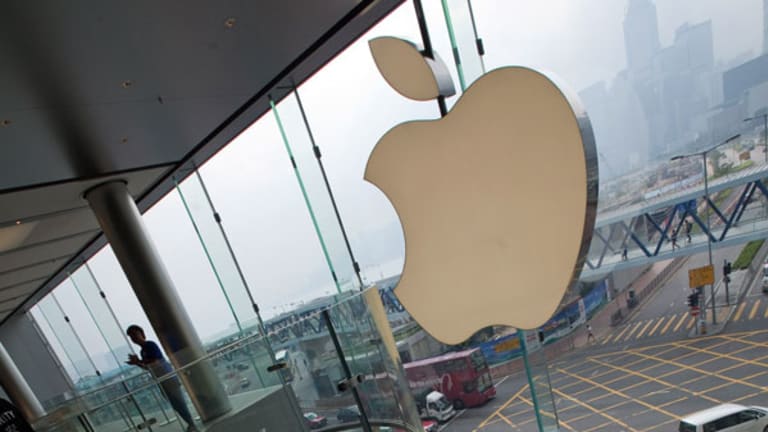 If Apple Breaks $419, the Stock Market Will Break
How Apple goes will have a strong bearing on which way the stock market moves.
NEW YORK (TheStreet) -- Apple (AAPL) - Get Apple Inc. (AAPL) Report is the most valuable and influential stock in global stock markets based on its market capitalization and its trading volume.
$419 is Apple's recent low and represents a clear technical line in the sand that stretches all the way back to two ascending peaks in late 2011.
A violation of the $419 level suggests that Apple will may move down to approximately $350 before it finds any substantial support; $400 may provide a first level of psychological support.
Until now, Apple has been falling due to factors that are specific to the stock. However, I believe most of these idiosyncratic and non-diversifiable factors have already largely been priced into Apple's stock price based on the current state of information.
Therefore, at this point, AAPL becomes a leading tell for the entire stock market. It is important to understand that mutual funds, ETFs that and index futures managers that need to liquidate positions will first liquidate the largest and most liquid holdings in order to reduce equity exposure. This means, that in a general market decline, AAPL's stock will tend to be a leading indicator that will act with a high beta to a fast-moving market.
>>Also see: Apple Still Thinks Like a Start-Up >>
Based on highly negative developments in Europe and Asia in the past few weeks, as well as in global commodities markets, I believe that the US stock market is ripe for a significant correction that would take the
S&P 500
down to the 1475-1500 region. This implies a correction of about 5%-7% in major index ETFs such as
SPDR S&P 500
(SPY) - Get SPDR S&P 500 ETF Trust Report
and
SPDR Dow Jones Industrial Average
(DIA) - Get SPDR Dow Jones Industrial Average ETF Trust Report
.
Even greater downside is likely technology and small-cap focused ETFs such as
PowerShares QQQ Trust
(QQQ) - Get Invesco QQQ Trust Report
and
iShares S&P 600 Small Cap Index Fund
(IJR) - Get iShares Core S&P Small Cap ETF Report
. The downside target for Apple in this correction scenario would probably be in the $385-$390 range.
All things being equal, I would consider such a decline in the broader market to constitute a garden-variety pullback within an ongoing cyclical bull market. Damage beyond that would probably have to be triggered by a major exogenous shock such as extremely bad news out of Europe, China, the Korean peninsula or the Middle East.
At the time of publication the author had no position in any of the stocks mentioned.
This article was written by an independent contributor, separate from TheStreet's regular news coverage.
James Kostohryz has accumulated over twenty years of experience investing and trading virtually every asset class across the globe.
Kostohryz started his investment career as an analyst at one of the US's largest asset management firms covering sectors as diverse as emerging markets, banking, energy, construction, real estate, metals and mining. Later, Kostohryz became Chief Global Strategist and Head of International investments for a major investment bank. Kostohryz currently manages his own investment firm, specializing in proprietary trading and institutional portfolio management advisory.
Born in Mexico, Kostohryz grew up between south Texas and Colombia, has lived and worked in nine different countries, and has traveled extensively in more than 50 others. Kostohryz actively pursues various intellectual interests and is currently writing a book on the impact of culture on economic development. He is a former NCAA and world-class decathlete and has stayed active in a variety of sports.
Kostohryz graduated with honors from both Stanford University and Harvard Law School.
View Kostohryz's LinkedIn profile and connect with him
; follow him on Twitter
and Google+
. When connecting, be sure to identify yourself as a reader from
TheStreet
.