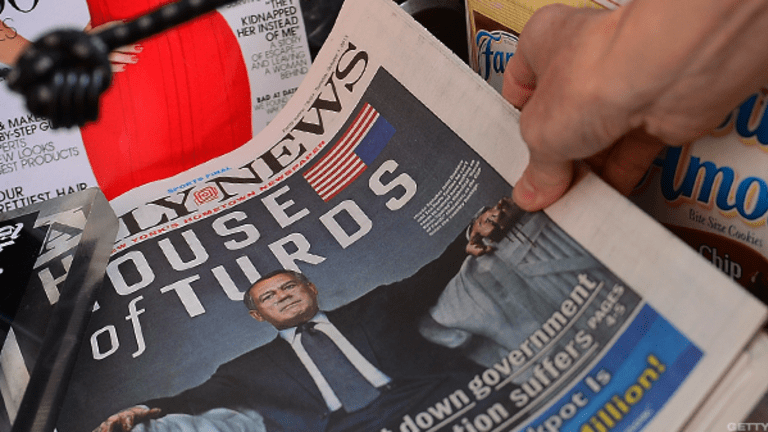 Publish date:
Identifying Investment Opportunities; Tronc Seals a Deal -- ICYMI
Here's what you need to know now for Tuesday, September 5.
Here's what you need to know now for Tuesday, September 5.
The first day of trading after Labor Day and the markets returned with a bit of a hangover from the long weekend.
Threat of conflict with North Korea coupled with a decline in one major Dow component, United Technologies  , led the index 234.38 points lower on the first day back from summer vacation.
But while conflict brewed in the South Pacific and Washington another conflict, a much more tame one at that, was brewing on the West Coast of the United States.
As Seattle-based Amazon.com Inc. (AMZN) - Get Report  sees surging demand for its Echo speaker line and strikes as many deals as it can with OEMs to extend the reach of the Alexa assistant powering the Echo, Mountain View, Calif.-based Alphabet Inc. (GOOGL) - Get Report  is suddenly eager to return fire.
The search engine company has announced deals with a host of manufacturers to be the software that powers their in-home devices. Will it be enough to topple Amazon, the current leader in in-home speakers? If it is, it could be a rare defeat for Jeff Bezos' empire.
And then there is that big freakin' deal. UTX's intention to shell out about $30 billion for aerospace parts Rockwell Collins Inc. (COL)  didn't please investors, the stock slid 5.7% by market close Tuesday, the deal may not have been music to at least one activist funds' ears as Dan Loeb's Third Point LLP was reportedly pushing for a breakup of UTX as opposed to an acquisition. Still, the deal could set up a larger spin-off some day, as evidenced by the happenings that are unfolding at DowDupont Inc. post merger.
If you are down and out on the markets today, it's understandable, TheStreet was busy helping identify areas that could pose potential buying opportunities. One that sticks out is perennial consolidator Crown Castle International Corp. (CCI) - Get Report  , which operates and owns cell towers. According to our technical analyst Bruce Kamich, the teleco, which has scooped up LTS Group Holdings LLC from Berkshire Partners LLC, Pamlico Capital and other investors for over $7.1 billion in cash in July, has recently broken out from a consolidation pattern and remains in an uptrend.
 Not sold on Crown Castle? Well, TheStreet is out with its monthly "Trading Strategies" package for September that has plenty of other ideas for the fall.
Oh, and there's another potentially catastrophic hurricane brewing in the Atlantic -- yes, it's already stronger than Harvey. Hurricane Irma is hurtling toward the U.S. but before it makes landfall in the states, Puerto Rico stands in its way. The Deal looks at how the bankrupt U.S. territory is preparing for the impact of this category 5 storm.
This is an excerpt from "In Case You Missed It," a daily newsletter brought to you by TheStreet. Sign up here.

Photo of the day: A storied history
Tronc Inc. (TRNC) , the nation's third-largest newspaper chain, has announced a deal to buy the longtime financially ailing New York Daily News from investor Mort Zuckerman and assume about $30 million in pension liabilities from the paper. The Daily News has a storied history in the New York metropolitan area. Founded in 1919 as the Illustrated Daily News by Joseph Medill Patterson, the paper reached peak circulation of about 2 million during the 1940s. More recently the paper has suffered along with other dailies as the internet eats into its readership and pithy headlines -- a staple of the Daily News -- which now come a mile a minute via Twitter (TWTR) and other social media companies. It is no wonder then that Tronc's $1 bid (yes, one dollar) also includes a 49.9% stake in a 25-acre plot of real estate in Jersey City where the paper's printing press sits. So Tronc and Chairman Michael Ferro will get at least one tangible, monetizable asset with the deal.
Read more from "In Case You Missed It." Sign up here.
More of What's Trending on TheStreet: