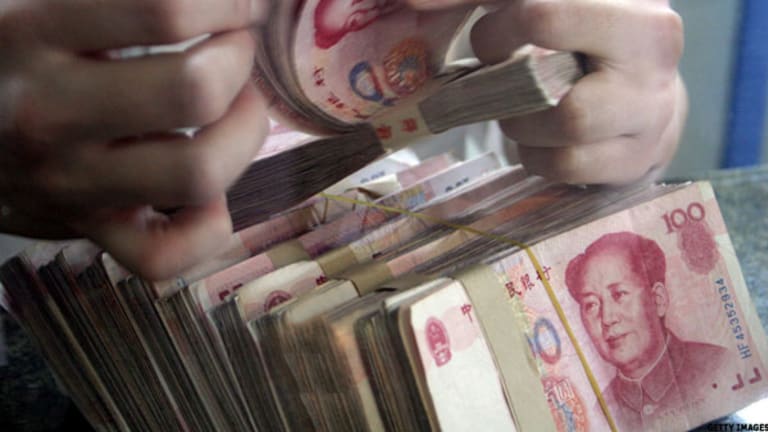 ICBC Chief: China's Shadow Banking Overblown
ICBC Chairman Jiang Jianqing says shadow banking is worse in Japan and the United States than in China. Meanwhile, default looms for a trust product sold at his bank.
BEIJING (TheStreet) -- Viewers of China's state-run television Saturday heard the head of the Industrial and Commercial Bank of China say shadow-banking problems in the country have been overblown and "distorted."
ICBC Chairman Jiang Jianqing, interviewed by CCTV television at the World Economic Forum in Davos, Switzerland, said "society has over-exaggerated and completely distorted the severity of shadow banking" in China.
In fact, Jiang claimed, the problem is worse in other countries.
"Compared to the United States, Japan, and so on, the scale of shadow banking in China is much lower," he said.
The comments, designed for a domestic audience by the highly regarded chief of the state-run bank, which is the country's biggest bank and the world's largest by market capitalization, came as default loomed for a huge wealth product sold three years ago -- China Credit Trust  -- through ICBC branches in Shanxi Province.
About 700 investors could lose their money on the 3 billion yuan product, which raised money for a now-defunct coal mine and matures Jan. 31. China Credit Trust, whose fate is unclear, warned investors of the possible default but said it was trying to restart the coal mine.
Investors were teased into buying the product in 2011 with promises of at least 10% yields. Funds were loaned to a Shanxi coal mining company that lost its business license in 2012 after its owners were arrested for illegal fund-raising.
"Shadow banking" in China generally refers to non-bank or off-the-books lending to local governments, companies run by local governments, or private entities that can't get standard loans because of regulatory restrictions on bank lending. Trusts and funds often write these loans with money raised from securities, bonds and wealth-management-product investors.
Some of these wealth management products pledging high interest rates are sold by banks. But many are sponsored by non-bank entities such as China Credit Trust and sold at the branch offices of banks through marketing agreements, sometimes giving buyers the false impression that the product is actually backed by the bank.
To finance infrastructure and factory-building projects designed to boost China's economy after the 2008 global financial crisis, local governments used quasi-public financing platforms to raise trillions of yuan though trusts, wealth management products, securities and bonds. This activity on top of China's array of private lending networks, which finance all kinds of commercial activity outside the banking system, has long raised concerns about unsupervised banking.
Some experts say if the non-bank credit system collapsed, the impact on China would rival the fallout from the subprime mortgage crisis four years ago in the United States that hammered borrowers and financiers.

- Written by Eric Johnson in Beijing
At the time of publication the author had no position in the companies mentioned.