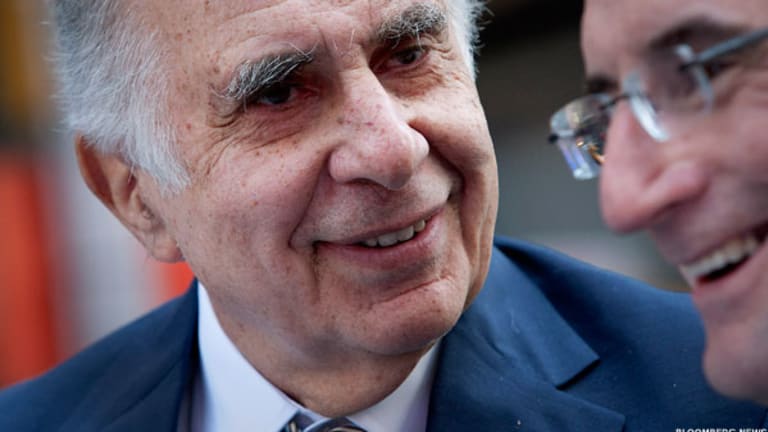 Icahn's PayPal 'Concession' Is Nothing of the Sort
The activist still gets what he wants if eBay spins off 20% of its PayPal unit.
NEW YORK (TheStreet) -- Carl Icahn dropped what at first may have seemed like a mini-bombshell Thursday in his continuing tussle with eBay (EBAY) - Get Report when he "backed down" from earlier demands the ecommerce giant spin off its PayPal unit.
Now he says he only wants 20% spun off via an initial public offering.
However, what may have seemed like a "concession" by Icahn would still achieve the same goal, getting PayPal into the publicly traded equity markets and potentially creating value. Whether or not eBay retains some ownership or not is irrelevant. A PayPal IPO would allow the company to trade as its own entity, offering more disclosure and greater transparency to investors.
Icahn has harshly criticized eBay management and even nominated two of his own employees for election to the board of directors since his public battle with eBay began earlier this year. But the spin-off idea is not about management. It's about separating two widely known and wildly profitable businesses that, in Icahn's eyes, are currently lumped together in a manner that obscures their true value.
[Read: Starbucks Recasts Its Stores, With Help From Oprah]
This situation is nothing new. Activist investors are always on the hunt for business separation opportunities they believe will create value. Sometimes these make sense. When two or more highly unrelated businesses are owned by the same publicly traded company, there can be synergies in separating the businesses.
When Hawaiian real estate giant Alexander and Baldwin (ALEX) - Get Report spun-off its unrelated shipping business, Matson (MATX) - Get Report, in 2012, the Bill Ackman-influenced deal made sense. Shareholders have also been well rewarded and the companies are worth more separated then they were together.
The spin-off also gave shareholders more options. Those who owned the original Alexander and Baldwin because of the exposure to Hawaiian land could sell their position in Matson, and vice versa.

In eBay and PayPal's case, however, the businesses are linked. If you've ever bought or sold anything on eBay, you know exactly what I mean. From the view of the consumer they work together seamlessly.
[Read: Deducting Non-Cash Contributions]
While the idea of a PayPal IPO is exciting and might create a buzz during a time when the markets could use some excitement, don't count on it -- or at least not yet.
eBay, so far, is not willing to play ball with Icahn.
But don't confuse his latest proposal with weakness. IPO or full spin-off, he'd still get exactly what he's really after.
At the time of publication the author had a position in MATX.
This article represents the opinion of a contributor and not necessarily that of TheStreet or its editorial staff.