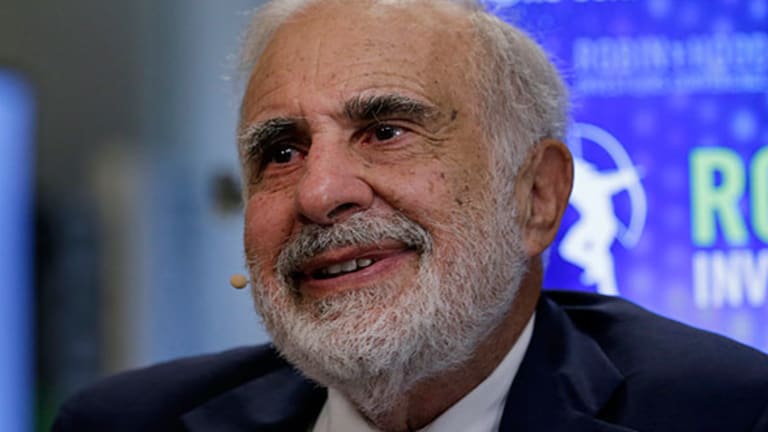 Icahn Letter to Tim Cook: Apple Shares to $240, First Trillion-Dollar Company
In an open letter to Tim Cook, billionaire investor Carl Icahn has told the world what he really thinks of Apple -- that it's vastly undervalued.
In an open letter to Tim Cook, billionaire investor Carl Icahn has told the world what he really thinks of Apple -- that it's vastly undervalued.
NEW YORK (TheStreet) -- Billionaire investor and Apple (AAPL) - Get Report shareholder Carl Icahn believes the company to be vastly undervalued, he wrote in an open letter to CEO Tim Cook today.
"After reflecting upon Apple's tremendous success, we now believe Apple shares are worth $240 today," he wrote.
Apple shares are currently trading around $130, making the company worth nearly $750 billion. Should the company's shares climb to $240, as Icahn says they should, Apple would be worth nearly $1.5 trillion. Already the most valuable company in the world, this growth would put Apple in a league of its own, multiples ahead of Microsoft (MSFT) - Get Report and ExxonMobil (XOM) - Get Report, which are each worth around $400 billion today. 
JimCramer's charitable trustAction Alerts PLUS owns Apple and says this is a stock to own, not trade. Read his analysishere.
Apple is to Icahn as Kim Kardashian is to Kanye West: Both titans view the objects of their affection as vastly undervalued and misunderstood -- and spend enormous amounts of time trying to convince the rest of the world that their view is right.
More than 18 months after first disclosing a stake in Apple via Twitter (TWTR) - Get Report, Icahn continues to sing the company's praises.
"Every 50 years, you get a company like this, that's got everything going for it," he said in a recent interview with Wall Street Week.
Since Icahn announced his position in 2013, the stock has climbed more than 90%. And the billionaire isn't cashing in yet -- in fact, quite the opposite. This latest in-depth report on the company shows he still believes the technology giant is undervalued.
Icahn's push began in August 2013, when he took to Twitter to disclose his stake. "We currently have a large position in APPLE," he wrote. "We believe the company to be extremely undervalued. Spoke to Tim Cook today. More to come."
Nine days later, the billionaire tweeted about the company again and said he had planned a dinner with Cook in September. While both agreed on a stock buyback, they were on different pages in terms of its magnitude. (Icahn wanted something much bigger.)
Icahn's Apple campaign intensified after his meeting with Cook in the fourth quarter of 2013.
In October, he vocalized a push for a $150 buyback and published a letter to Tim Cook on his recently launched website, Shareholders' Square Table. "From our perspective, Apple is the world's greatest consumer product innovator and has one of the strongest and most respected brand names in history," he wrote. "We consider Apple to be our most compelling investment."
By December, the relationship had become a bit more hostile. In an interview with TIME, Icahn revealed he had filed a shareholder proposal with Apple calling for an increased buyback program. He again complemented Tim Cook, saying he was doing a "great job" with the business, but also took a swing at the company's growing cash stockpile. "Apple is not a bank," he said.
After attacking, Icahn got to buying. From Jan. 22 to 28, he tweeted on three separate occasions that he had purchased an additional $500 million of Apple. He also filed a seven-page letter outlining his case for a bigger stock buyback.
"Indeed, we believe that by choosing not to increase the size of the repurchase program, the directors are actually performing a great disservice to the owners, especially smaller shareholders who may not be in a position to buy more stock themselves," he wrote. "Meanwhile, we are in a position to continue buying shares in the market at today's price, so perhaps we should thank the Board for not being more aggressive, and thus allowing us to accumulate an even larger investment position at a price that reflects the aforementioned value disconnect."
In February 2014, it looked as though the tides were turning against Icahn on Apple -- or at the very least, appeared that the object of his affection and its supporters were starting to push back.
Cook told the Wall Street Journal that Apple had bought back more than $40 billion of its shares over the previous 12 months, including $14 billion in two weeks alone. "It means we are betting on Apple," he said. He also promised new product categories.
With the shareholder meeting approaching, research firm Institutional Shareholder Services joined the company's board in recommending investors vote against Icahn's buyback proposal for Apple. "While the board has failed to articulate a strategy for addressing its long-term capital needs, it has returned the bulk of its U.S. generated cash to shareholders," ISS wrote.
Not one to be left out, Icahn responded with a letter of his own. He admitted that he was "disappointed" with ISS's recommendation; however, he also clarified he did not altogether disagree. He gave up his fight to push the $50 billion program on Feb. 10.
So, was Icahn out? Not exactly. SEC filings revealed that in the first months of 2014, the billionaire had increased his stake to over $4 billion. And post-proxy withdrawal, his patience paid off.
On April 23, 2014, Apple announced plans to make a "significant increase" in its program to return capital to shareholders. The tech giant said it would use over $130 billion of cash under an expanded buyback program and would also increase its quarterly dividend by 8%. Moreover, the firm's board agreed to a seven-for-one stock split, set to take place on June 9.
Icahn applauded the move and said he was "extremely pleased" with the results. At the same time, he indicated he wasn't done with Apple yet and clarified he believed the stock was still "meaningfully undervalued."
Since the announcement of the buyback program and stock split, Apple's stock has continued to climb -- and Carl Icahn's faith in it remains unshaken.
When Apple shares hit $100 mark on August 19,2014, Icahn pointed out that anyone who had invested in the company when he first tweeted about the investment would be up 53%, including dividends. By all indications, he expects it to go much higher.
In an October letter to Cook titled "Sale: Apple Shares at Half Price," the billionaire put a $203 price target on the company.
And in January 2015, he continued his pro-Apple campaign. He told CNN he believes the company "is in a category almost by itself" and said in a CNBCinterview a short squeeze is driving the stock higher.
Cook addressed the issue of Apple's cash stash at the Goldman Sachs Technology and Internet Conference in February and made clear that his company isn't a hoarder. "By and large, my view is for cash that we don't need -- with some level of buffer -- we want to give back," he said. "It may come across that we are, but we're not hoarders.
Icahn's response: another letter (this time, addressed to his Twitter followers) calling Cook's comments "great news" and a new share price for Apple of $216. He told CNBC's Scott Wapner a buyback has always been a "no-brainer."
And today, the love story continues. On April 28, Icahn tweeted Apple is "still undervalued and misunderstood" and promised another report in the days to come. And according to his Wall Street Week interview, he still hasn't sold a share.
This article is commentary by an independent contributor. At the time of publication, the author held no positions in the stocks mentioned.