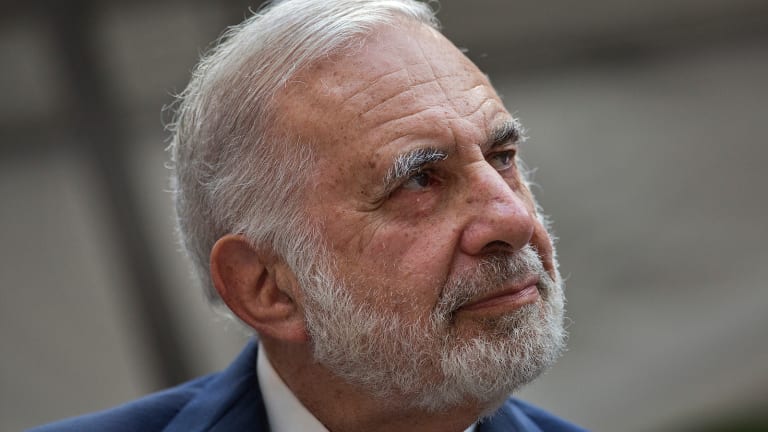 Publish date:
Icahn Enterprises Stock Is About to Embark on Rally That Will Double Its Price
Comprehensive technical analysis shows that shares of Icahn Enterprises (IEP) have finished their correction lower and are poised for a huge rally.
Comprehensive technical analysis shows that shares of Icahn Enterprises (IEP) have finished their correction lower and are poised for a huge rally.
On Nov. 21, with Icahn Enterprises (IEP) - Get Report trading around $70, our objective decision support engine flashed a strong warning that the rise in the stock's price off the August low near $60 had formed a corrective pattern that would soon reverse. The decision support engine also predicted that the stock would break quickly into the $54 +/-$8 zone. That sharp decline would complete the entire correction from the 2013 high, setting the stage for an enormous rally.  
At that time, the decision support engine's analysis led us to recommend that investors exit long exposure and establish short exposure between $68 and $77, using a protective buy stop at $81. We also recommended exiting that short position on a close above $81 and then going long to profit from the ensuing rally: "So the current sell signal must be reversed to buying, either on a close above $81 or into the green oval, as this is only a finishing move lower. The next move of significance should be upward, at least challenging $95 +/-$5, with more bullish potential thereafter."
Following is the monthly bar chart, which shows how the stock's price rose to peak around $76 in the days that followed our forecast, reversed without ever breaching $81 and then tanked into the green oval.  
Click here to see the following chart in a new window
In fact, so dynamic was the move that the stock's price actually fell a few points lower than $46 (the low end of the target zone). After closing under $46 for two days, shares returned back into the green oval's supportive arms, where they remain today. But they won't remain there for long. That's because the conditions that were anticipated when the price was in the $70s have arrived, and the stock likely has begun the upward move.
One indicator that is easy to see is the stochastics, shown in the lower pane of the graph. While prices made lower lows last month, compared with their August low, the stochastics are not confirming. This sets up a bullish divergence buy signal and is a strong harbinger that the selling enthusiasm has ended. Icahn Enterprises is now more oversold than at any time since late 2008/early 2009. This same condition, back then, resulted in a 156% increase in price in the following 12 months. We highlighted this in our November analysis, and warned that the green oval in price, as well as the green box in stochastics, would form an echo condition. The updated chart here shows the forecast for a similar 156% increase in the coming 12 months, which would take shares from their recent low, near $43, toward the pink box in the upper right-hand corner of the yellow box, around $110.
Adding to the strength of this forecast, the lows this year have just tested and held the lower three-standard-deviation band (now shown in this monthly chart) below the 200-day moving average. This statistical extreme contains 99.7% of normality and is rarely penetrated. Since the recent test, on Feb. 11, the price has reversed strongly up and away from that three-standard-deviation band, and has already risen back above the lower two-standard-deviation band. Now, the worst-case scenario should be only for a test of the $47 +/-$3 zone, which is likely to be the best buying opportunity of the year, before some news arrives to justify the decision support engine's forecast. Again, the stock eventually will move toward $110, but it will move initially toward $77 +/-$5.  
Therefore, if you have a short position in this stock, $60 must be your protective buy stop, or you could find yourself in trouble as Icahn Enterprises shares thrust higher for months to come. If you are flat, use these two parameters to establish long exposure, buying either a test of $47 or break above $60. If you already have a long position in this stock, you should hold it right now and consider adding to it using the parameters above. The message is clear: Selling actions are not indicated right now. 
Interested in this kind of market analysis? Sign up today for a FREE 7-day trial of our Decision Support Engine Premium Service at no obligation. Inquire about special pricing for TheStreet.com readers after your complimentary trial.
This article is commentary by an independent contributor. At the time of publication, the author held no positions in the stocks mentioned.