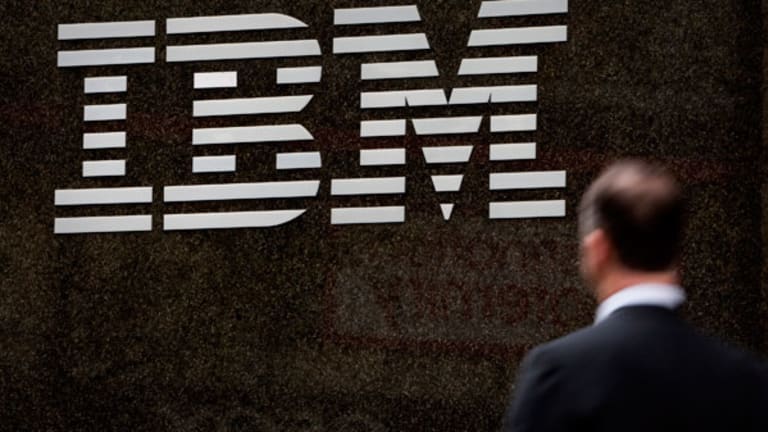 IBM's Loss Isn't Amazon's Gain
IBM stock is a bargain buy at the current discount. Amazon not so much.
NEW YORK (TheStreet) -- Last week IBM (IBM) was taken to the woodshed for failing to deliver the earnings results investors were expecting.
That was last week --now I am looking at IBM as a discounted ticker ready to perform for those willing to buy when there is blood on the streets. IBM makes a excellent example of how options can improve our likelihood of success when fear has entered the hearts of shareholders.
Let's examine what happened and how to use that information to your advantage.
IBM is a victim of cloud computing. In the world of cloud computing
Amazon.com
(AMZN)
,
Rackspace Hosting
(RAX)
,
F5 Networks
(FFIV)
and
Microsoft
(MSFT)
are the leading players.
Google
(GOOG)
, late to the game, does appear on the radar in the distance. However, for now it is just a twinkle in the eye of the world of cloud computing.
Amazon, F5 and, to a lesser extent, Rackspace have moved higher since IBM reported earnings. It's not hard to figure out why F5 and Rackspace moved higher. But Amazon? Please. Unless you hate money, there is no reason to bid up Amazon in the wake of IBM losing market share to the cloud.
Yes, I get the connection that growth in the cloud computing space is a benefit for Amazon, but margins in the cloud are overcast with a chance for showers. Amazon's margins fall far short of a Buzz Lightyear (To infinity and beyond!) earnings multiple, and if investors are anticipating growing profits for Amazon from the cloud space they should brace for disappointment.
Growth in cloud computing doesn't solve Amazon's dilemma of finding the elusive return on investment that sooner or later shareholders will demand. IBM, on the other hand offers a better risk versus reward ratio than Amazon. Actually, just about every other company in the
paying a dividend offers a better risk to reward ratio.
>>Also see: 3 Bank Stock Picks From Deutsche Bank >>
After researching, you can find better opportunities such as Microsoft, a company I recently wrote about in
"Microsoft Is a Buy Before Earnings Release."
Another company is shown in
"Surviving Oracle in an Amazon World,"
a stock that missed on earnings but is now trending higher.
IBM falls into the same category as Oracle. IBM is a technology titan that is now a value buy as a result of a minor speed bump on the path to profits. If you can look past the inability of analysts to accurately forecast earnings, you can own Big Blue with its 1.8% yield at a forward estimated payout ratio of under 30%.
The relatively small dividend yield doesn't initially appear incredibly attractive, but when viewed from the lens of history it becomes intriguing. Every year for the last six years (as far back as I believe is relevant) IBM has raised the dividend amount. What begins as a modest yield grows with time. For long-term investors, this is exactly what you want from a dividend-paying stock.
Investing in IBM also places you in good company. Warren Buffett's
Berkshire Hathaway
(BRK.B)
owns over 6% of IBM's outstanding shares. Buffett has made a name for himself buying and holding companies that others passed by.
Buying a company Buffett likes is good. Buying the company at a discount is really good, and buying at an even larger discount is exceptional. Let me show you how to get IBM at an even larger discount.
>>Also see: Tag Team Options Trade: DOW >>
The goal is to profit from IBM. Instead of buying the shares directly, another choice is taking on someone else's risk as a method of getting your foot in the door. By selling June $200 puts for about $10.50, you may end up owning IBM at a cost basis of $189.50. The current price of IBM as I write this is about $192. After adjusting for a dividend payment between now and June, the difference is about $2 a share savings by selling the $200 put instead of buying the stock outright.
If the shares continue to rise above $210.50, you miss out on further gains but you also have time working for you and a lower risk in case the stock takes another turn lower. Selling options isn't for everyone, and you need to know what you're doing. But if it does make sense, selling puts is more conservative than owning the stock outright.
At the time of publication the author had no position in any of the stocks mentioned.
This article was written by an independent contributor, separate from TheStreet's regular news coverage.