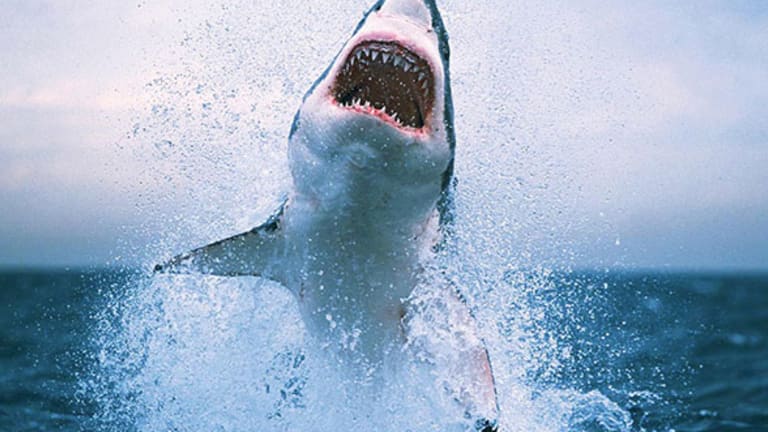 IBM Is One of 18 Companies That Could Soon Be Attacked by an Activist Investor
Be ready.
Activist investors have come out swinging this year.
From Nelson Peltz's fresh attack on sleepy consumer products giant Procter & Gamble (PG) , to Jana Partners' big win against Whole Foods (WFM) , activists continue to set their sites on shaking up Corporate America.
TheStreet's sister publication The Deal recently published a new watch list of 20 companies that could be ripe for headline-making activist campaigns. We felt it would be good you see the list so you aren't behind the curve.
Adient Inc. - Adient (ADNT) was one of the stocks appearing most frequently within the top 10 holdings among leading hedge funds across the country, according to a Goldman, Sachs & Co. report earlier this month, including funds rated highly or very highly activist holding a stake of just under 9%. Paul Singer's Elliott Management owns a 2.18% stake it acquired in December 2016.
Bioverativ Inc. - ValueAct Capital Partners LP now holds a 7.9% in Biovertiv (BIVV) , up from a previous 7.1% holding, while healthcare specialist activist Sarissa Capital Management LP has picked up a 0.1% stake.
Chevron Corp. - Chevron (CVX) joined the list in June after Investor Voice, a shareholder rights group that describes itself as a "social purpose corporation that develops and implements robust shareholder engagement strategies," urged shareholders to vote for a proposal that would allow a special meeting to be called when 10% of shareholders call for one, instead of the current 15% threshold.
Conagra Inc. - Conagra (CAG) is another possible Jana Partners target. In the past, Jana Partners targeted the international agricultural company to split into two businesses. Jana Partners later sold its stake in one of those businesses, Lamb Weston Inc, which remains a target. Jana Partners could push for ConAgra's sale or a merger with another firm. Jana Partners has a 1.4% stake in Conagra.
Consol Energy Inc. - Consol (CNX) filed Securities and Exchange Commission documents outlining its plan to spin off into two firms, a coal company, and a natural gas business. Two activist firms, Southeastern Asset Management Inc. and Greenlight Capital Inc., collectively own more than 30% of the company's shares.
General Mills Inc. - On May 4, General Mills (GIS) said its longtime CEO Ken Powell would leave the company, a move that has Wall Street wondering about a long-expected change of strategy, including the possibility of a takeover. Investors have been eyeing General Mills and Powell's role since it said in December 2016 that it would reorganize it into four segments.
Hewlett-Packard Enterprises Co. - We just added Hewlett-Packard Enterprises Co. (HPE) to the list. According to a recent securities filing, Jana Partners recently acquired a 0.3% stake in the firm, a company that already has investments from three other activists, Third Point Capital, Starboard Value LP, and FrontFour Capital Group LLC. The congregation of activists suggests that a campaign could emerge soon
IBM Corp. - International Business Machines Corp. (IBM)  reported its twenty-first consecutive quarter of year-over-year sales declines on July 19. IBM joined our list in May after reporting in April its 20th consecutive annual revenue decline and accelerated margin deterioration. It also reportedly recently began working with two investment banks to formulate an activist defense plan.
Laureate Education Inc - With Jana Partners cashing in at Whole Foods Market Inc., look for the company to find a new target. With that in mind in June, we just added Laureate Education (LAUR) , where Jana Partners recently acquired a 0.8% stake, a $4 million position. The world's largest operator of for-profit colleges went public at $14 a share in February and now trades at $17.62.
Leucadia National Corp. - We have also added Leucadia (LUK) after news it's considering strategic options as it continues to shift its focus toward investment banking. For analyst Chris Kotowski, at Oppenheimer & Co., that means the mostly financial firm could soon sell its second largest subsidiary, National Beef Packing Co. LLC. However, if a sale isn't forthcoming an activist hedge fund could target the company, which has a $10 billion market capitalization, to push it into striking a deal.
MBIA Inc. - If MBIA (MBI)  doesn't find a buyer for itself soon, it could become a target of an activist investor pushing for a deal. We have added the bond insurer to the list because ratings agency Standard & Poor's on June 26 downgraded its municipal bond insurance unit, National Public Finance Guarantee Corp.
Michael Kors Holdings Inc. - Last week, upscale handbag and accessories retailer Michael Kors (KORS) saw its stock dropped 7.3%. Analysts at MKM Partners initiated coverage on it with a "sell" rating and pegged it with a $26 price target, representing a potential downside of 27%. The rating could spur heat from a group of eight activism-inclined investors who own a combined 8% stake in the company.
Potbelly Corp. - With small restaurant M&A swirling about and an activist investor hovering, it may not be long before Sandwich chain PotBelly Corp. (PBPB) finds itself on the block. Cleveland-based activist investor Ancora Advisors LLC on June 22 sent a letter to Potbelly urging the Chicago-based sandwich maker to "immediately" change its strategy or explore the sale of the company. Ancora Advisors outlined steps it wants Potbelly to take to improve its share price, including franchising more of its restaurants.
RoadRunner Transportation Services Inc. - More than 20% of RoadRunner's (RRTS) outstanding shares are owned by known activists, with more than a quarter of those shares belonging to investors ranked as having a "very high" likelihood of activism, according to FactSet Research Systems. Elliot Management controls about 6% of the company. Roadrunner's also been underperforming the S&P 500 lately, down 28.3% year-to-date, compared to a 9.85% gain for the index.
Sarepta Therapeutics Inc. - TheStreet has suggested that Sanofi could be interested in buying Sarepta (SRPT) . If not, an activist could try to pressure that into happening. Activist Carlson Capital LP's Clint Carlson recently reported accumulating a 4% stake.
UPS Inc. - UPS (UPS) joined in June after options activity, and market chatter suggested that an activist investor may be stalking the iconic U.S. shipping company and longtime Warren Buffett favorite. Bloomberg reported in June that UPS did not return a call or respond to an email about the rumors.
Visteon Inc. - On March 17 we added Visteon (VC) , the auto parts and equipment subsidiary spun off from Ford Motor Co. (F) in 2000. The sales of Harman International Industries Inc. to Samsung Electronics Co. and Mobileye NV to Intel Corp. (INTC) have focused attention on Visteon as a possible target. Visteon tangled with activist Alden Global Capital LLC several years ago, and it has divested some assets and invested in smart car tech, making it a pretty digestible target.
Zayo Holdings Group Inc. - In addition to Jana Partners, Zayo (ZAYO) features investments from two other activists, Corvex Management LP's Keith Meister and Third Point Capital's Daniel Loeb, who own 1% and 2.5% respectively.
Don't miss these top stories on TheStreet:
GM May Slash Six Car Models to Combat Slumping Sales, Avoid Plant Layoffs
Brutal Reactions to Alphabet and Hasbro Results Show You Need to Be a Trading Mercenary