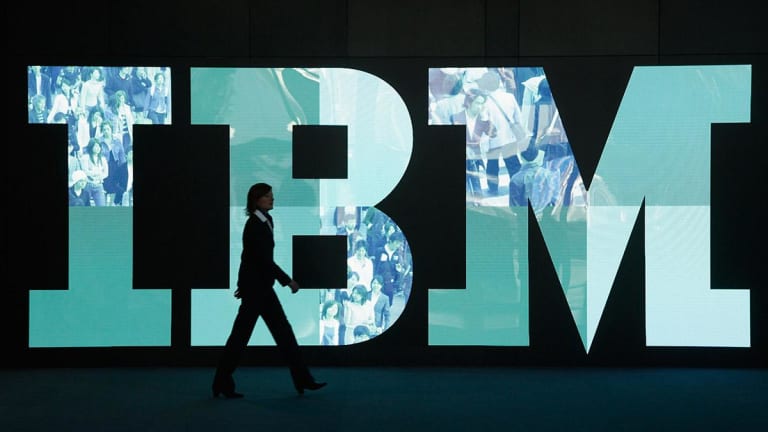 IBM Gains After Beating Estimates: 6 Key Takeaways
Big Blue is rallying after topping estimates and issuing slightly better-than-expected earnings guidance. However, cash flow pressures continue.
Though far from perfect, IBM's (IBM) - Get Report latest earnings report contained enough good news to give the IT giant's battered stock a lift.
Results and Guidance
After the bell on Tuesday, Big Blue reported Q4 revenue of $21.76 billion and non-GAAP EPS of $4.87, slightly topping consensus analysts estimates of $21.73 billion and $4.82. Revenue fell about 3.5% in dollars and 1% in constant currency (CC).
IBM also guided for 2019 EPS of "at least" $13.90, which is slightly above reported 2018 EPS of $13.81 and favorable to a $13.80 consensus. On the other hand, the company is guiding for 2019 free cash flow (FCF) of roughly $12 billion, which is below a $13 billion consensus. An IBM spokesperson notes the FCF consensus is skewed by one analyst estimate of around $16 billion and might not account for recent deals to sell seven software businesses and IBM's Seterus mortgage servicing unit, which are expected to close in the coming months.
While IBM's guidance accounts for the asset sales, it doesn't account for the company's recent $34 billion deal to buy open-source software giant Red Hat (RHT) - Get Report , which will be paid for with cash and is expected to close in the second half of 2019.
With IBM's shares down 25% during the 12 months prior to its Q4 report and over 40% from their 2013 highs, Wall Street is responding positively to the company's latest numbers. In pre-market trading on Wednesday, IBM was up 7.4% to $131.50.
IBM is the Stock of the Day on Real Money, our premium site for active investors. For Stephen Guilfoyle's take on IBM's earnings, please click here.
Here are some notable takeaways from IBM's earnings report and call.
1. Software Sales Were Better Than Expected
Going over well with investors: IBM's highly profitable Cognitive Solutions (CS) segment, which covers a large portion of its software operations, posted Q4 revenue of $5.46 billion, topping a $5.27 billion consensus. CS revenue was flat annually and up 2% in CC, after having dropped 6% in Q3.
Improved deal closings for IBM's age-old transaction processing software business help out: After having dropped 10% in Q3, transaction processing revenue fell just 1% in Q4. CS also benefited from higher sales for IBM's DB2 database software family, and from a 4% increase in cloud revenue.
However, IBM's software growth still trails that of a broader enterprise software market forecast in October by research firm Gartner to grow 9.9% in 2018 and 8.3% in 2019. And when asked whether CS would hit a long-term target of mid-single digit revenue growth in 2019, Kavanaugh declined to say whether it would, instead noting (though IBM has often backed out the impact of divestitures when reporting growth rates) that IBM's pending software asset sales will act as "a four to five-point headwind" to the segment's 2019 revenue growth.
2. Mainframe Sales Fell Sharply
IBM's Systems segment, which covers sales of hardware and operating system software, saw revenue drop 21% to $2.62 billion, below a $2.77 billion consensus. Driving most of the decline: IBM's Z mainframe revenue fell 44%, after having risen 75% a year earlier thanks to the Sep. 2017 rollout of IBM's z14 mainframe.
Though mainframe revenue was expected to fall thanks to cyclicality, the magnitude of the drop appears to have been bigger than expected. Systems revenue was also hurt by an 8% drop in IBM's storage sales, which have been hurt by competitive pressures. On the bright side, sales of IBM's Power servers, which are benefiting from healthy uptake for systems using IBM's giant Power9 CPUs, rose 9%.
3. Services Were a Mixed Bag
IBM's Global Business Services (GBS) segment saw revenue rise 4% to $4.32 billion, topping a $4.15 billion consensus. A 5% increase in consulting revenue offset small declines in business process and software outsourcing revenue.
On the other hand, IBM's Technology Services & Cloud Platforms (TS & CP) segment saw revenue drop 3% to $8.93 billion, missing a $9.04 billion consensus. Declines in some of the segment's older services businesses offset a 19% increase in its cloud revenue. On the call, CFO Jim Kavanaugh said IBM is choosing to walk away from some "lower-value" infrastructure services contracts.
IBM's total services signings -- they tend to fluctuate a lot from quarter to quarter -- grew 21% in CC to $15.8 billion, after having dropped 21% in CC in Q3. The company's services backlog rose by $3 billion sequentially to $116 billion, but was down 1% annually in CC and 4% in dollars.
4. Free Cash Flow Is Still Under Pressure
In 2018, IBM posted non-GAAP net income of $12.7 billion, but FCF of only $11.9 billion. And with IBM forecasting modest 2019 increases for both EPS and FCF, it looks like FCF will once more be less than non-GAAP net income, even after accounting for the boost that stock buybacks are likely to provide to EPS.
Both IBM's reported 2018 and expected 2019 FCF, it's worth noting, are below reported 2017 FCF of $13 billion, and well below a 2012 peak of $18.2 billion.
5. IBM's Tax Rate and Profit Margins Are Both Expected to Tick Higher
Kavanaugh forecast IBM will see an "all-in" tax rate of about 11% to 12% for 2019. That compares with non-GAAP tax rates of 8% and 7% for 2018 and 2017, respectively.
IBM expects the impact of a higher tax rate to be offset by moderate improvement in its pre-tax profit margin, which was slightly above 17% for continuing operations in both 2017 and 2018. Lower operating expenses -- the result of both spending cuts and the impact of a stronger dollar on non-U.S. expenses -- gave a lift to IBM's margins in Q4: The company's non-GAAP operating expenses fell 5% to $5.7 billion.
6. Buybacks and Dividend Hikes Are Expected to Continue
IBM spent $2.05 billion on stock buybacks in Q4 (that boosted EPS a bit), and $4.4 billion over the whole of 2018. On the call, Kavanaugh indicated IBM, which had $3.3 billion left on its buyback authorization at the end of 2018, will continue repurchasing shares.
He also reiterated that IBM, which will soon have to cut a massive check to pay for Red Hat, is still committed to growing its dividend each year. Based on its current after-hours trading price, IBM sports a forward dividend yield of 4.9%.