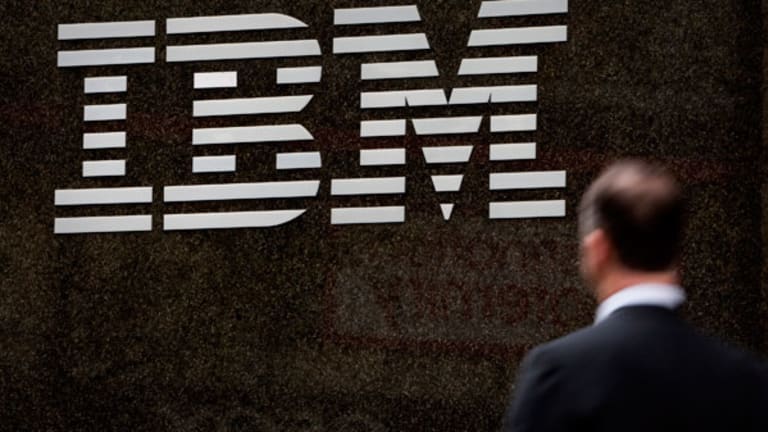 IBM Fights for Respect and Relevance on Rough Seas of Investor Confidence
Big Blue looks like a ship struggling to stay afloat.
NEW YORK (TheStreet) -- International Business Machines (IBM) - Get International Business Machines Corporation Report has lost its sheen since missing revenue estimates in the first quarter and reporting its lowest quarterly revenue since the first quarter of 2009.
Revenue has declined for eight consecutive quarters, and the struggling stalwart of big technology is beginning to look like the Titanic. If the company doesn't make some major changes in the second half of the year, investors will continue to "abandon ship" and the shorting sharks will begin circling.
CEO Ginni Rometty has her hands full. It's no easy task to reinvent a 103-year-old company while trying to stay afloat in shifting seas. Big Blue finished 2013 as a profitable company with about $18 billion in Ebitda earnings on revenue of $100 billion.
With a market cap of over $184 billion and a trailing return-on-equity of 88%, IBM has a lot to live up to. It faces enormous challenges, including competition in a crowded cloud computing space and an investment community that's losing patience with its stock.
Shares of IBM, at the $183.60 close Wednesday, are down 2% for the year to date and almost 16% from the March 2013 high of $216. As the chart below illustrates, IBM's stock appears to be experiencing what Apple (AAPL) - Get Apple Inc. Report did when it fell from grace in late 2012. That comparison may be good news for those waiting to board the S.S. IBM.
IBM isn't the same breed of company as Apple. Yet the hardships each company's stock have experienced are similar.
Few predicted after shares of Apple fell over 40% by mid-2013 that activist investors would pressure management and the stock would recover almost all the loses by June 2014.

Apple had Tim Cook to guide Apple's turnaround. IBM has Rometty, a 33-year IBM veteran who knows her company like no one else.
"We're a $100 billion ship that's going to turn" she said recently. She speaks to many business leaders and CEO clients, and she claims all are interested in IBM's emphasis on cloud computing, flash storage systems, and efforts to participate in the mobile communications tsunami.
The CEO said IBM's clients "are interested in cloud, to a certain degree. But what they are really interested in is the data and analytics piece. That's going to change how they operate and what they can do." She's determined to give those clients what they want the most.
Here's my take on what's ahead for IBM: If the company offers an upside surprise and positive guidance when it reports second quarter numbers on July 17, the stock may rally.
If it misses on revenue even by a penny, it wouldn't surprise me if shares test the 52-week low of $172 before an event-driven bounce off the bottom.
What events may cause a rebound?
A restructuring of IBM's $44 billion in long-term debt, an unexpected large government contract, or activist investors deciding shares are too cheap. The stock is currently priced with a forward PE ratio of only 9.2, and these kind of catalysts are a distinct possibility.
Or the company may pull an "Apple" and surprise with a stock split and a dividend increase.
The S.S. IBM won't sink, but it may face stormy seas and strong headwinds before smooth sailing for investors. I'm looking for "icebergs" and activist investors straight ahead.
At the time of publication the author had a position in APPL.
This article represents the opinion of a contributor and not necessarily that of TheStreet or its editorial staff.
>>On Fire Phone, Amazon Steals Its Own Feature From Apple's iPhone
Marc Courtenay is a financial research analyst and the founder of Advanced Investor Technologies LLC as well as the publisher and editor of www.ChecktheMarkets.com.