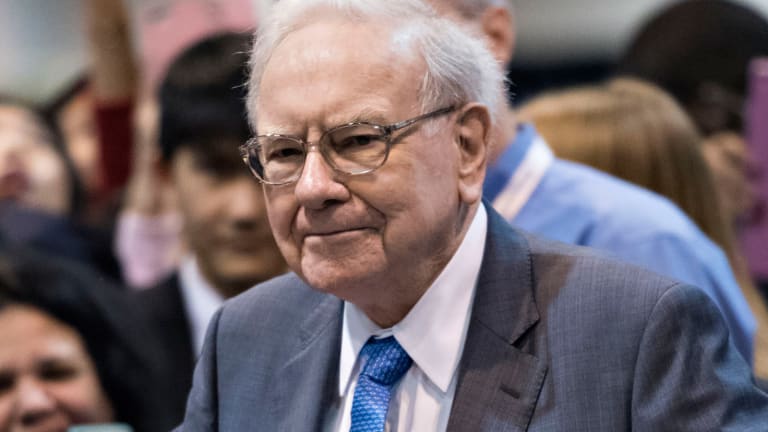 IBM and 9 Other Companies Giving Warren Buffett a Headache in 2015 -- Including One Jim Cramer Is Selling
Some of Warren Buffett's 'wonderful companies' haven't been treating him so wonderfully lately.
Updated with comments from Jim Cramer.
NEW YORK (TheStreet) -- Some of Warren Buffett's wonderful companies haven't been treating him so wonderfully lately.
In a 1989 letter to Berkshire Hathaway (BRK.A) - Get BRK.A Report (BRK.B) - Get Berkshire Hathaway Inc. Class B (BARK.B) Report shareholders, Buffett wrote, "It's far better to buy a wonderful company at a fair price than a fair company at a wonderful price." But with how some of those companies have been performing lately, the billionaire investor might be scratching his head.
IBM (IBM) - Get International Business Machines (IBM) Report released its second-quarter earnings last week, missing analysts' estimates and reporting a decline in revenue for the thirteenth consecutive quarter. Shares plunged, resulting in what CNBC estimated to be a $700 million loss for Buffett.
Despite its ongoing struggles, IBM continues to be a Buffett favorite. In both the fourth quarter of 2014 and first quarter of 2015, he bought more of the stock. It is now among his top holdings.
IBM has been rather flat this year, its price down 0.42% through market close Friday. But some of the Buffett's other holdings have performed much worse.
Here are nine stocks that are giving the Oracle of Omaha a headache this year.

National Oilwell Varco
Houston-based National Oilwell Varco (NOV) - Get National Oilwell Varco, Inc. (NOV) Report has been a thorn in Buffett's side for a while now. The oil and gas drilling equipment provider's stock has declined more than 50% in the past year and 35.57% in 2015 alone.
The firm has been hit hard by falling oil prices, though it did manage to exceed expectations with its first quarter results report in April. "National Oilwell Varco executed well during the first quarter of 2015, despite the significant downturn in oil price and oilfield activity we faced," said Chairman, President and CEO Clay C. Williams in a statement. He added that in the short run the company plans to continue cost reduction initiatives to mitigate the impact of declining revenues and drive efficiency.
Buffett hasn't been hit has hard as he could have been on National Oilwell Varco as he has been decreasing his position recently. He has reduced his holdings each of the past four quarters, and as of his latest public equity disclosure, corresponding to the end of the first quarter, he has just under 2 million NOV shares.
National Oilwell Varco will announce second-quarter earnings on July 28.
Now 
Now (DNOW) - Get NOW Inc. Report was spun off from National Oilwell Varco on May 30, 2014. Also based in Houston, the entity focuses on distribution.
Like its parent company, Now has had a tough go in 2015, its price declining 28.53% year-to-date. Since going public, its value has declined more than 40%.
The firm has made a number of acquisitions as of late. In its last earnings report, it reported seven recent buys, and in July, it announced plans to acquire Odessa Pumps and Equipment Inc., marking number eight.
Buffett acquired 1.8 million Now shares following its spinoff and has left the position untouched since.
The stock was featured last week in "5 Stocks Poised for Breakouts."
Precision Castparts

PCP data by YCharts
Metal components and products manufacturer Precision Castparts (PCP) has declined 21.67% year to date. At market close Friday, it was trading at $193.94, a far cry from its 52-week high of $257.10.
Buffett, who bought into the stock in the third quarter of 2012, appears to have taken advantage of its dip to buy. He increased his stake to 4.2 million shares in the first quarter of 2015 from 2.9 million shares the previous quarter.
Precision will next report earnings on July 28. In its last earnings report, the company acknowledged that business had been slow, in part as a result of falling oil prices.
"We faced sizable challenges in our oil and gas and pipe markets in the fourth quarter, which clearly had a negative impact on our financial results," said Mark Donegan, chairman and CEO of the company. "In response, we have taken decisive measures to adjust our operations to the realities of the demand environment as we see it today, by right sizing our operations, evaluating our inventory positions, and exiting underperforming investments. We believe we have taken the right steps to set the stage for improved results going forward."
Suncor Energy
Canada-based Suncor Energy (SU) - Get Suncor Energy Inc. Report hasn't been immune to declining oil prices. The integrated energy company's share price has fallen 20.19% in 2015 and 38.09% over the past year.
Despite headwinds, Buffett has been buying. He increased his stake in the fourth quarter of 2014 and maintained it in the fourth quarter of this year at 22.4 million shares. Suncor is now his top energy holding.
Suncor reported first-quarter earnings on April 29, and the picture it painted wasn't pretty. It experienced a net loss of $341 million in the quarter, or 24 cents per common share, compared with net earnings $1.5 billion, or $1.01 per common share, the same period the year prior. It will next report earnings on July 29.

American Express
This year hasn't been especially kind to American Express (AXP) - Get American Express Company Report. The credit card giant has declined 18.42% year to date through market close Friday.
As for Buffett, he isn't too concerned that AmEx. It is his fourth-largest holding, and he holds 151.6 million shares.
"American Express is still a very, very special company," he said at the annual Berkshire Hathaway meeting in May. He also praised CEO Ken Chenault, who he said "has done a sensational job" of anticipating trends and guiding into some markets.
American Express reported second-quarter earnings on Friday. It reported a profit of $1.47 billion, or $1.42 per share, down from $1.53 billion, or $1.43 per share, a year earlier. The strong U.S. dollar hurt international operations, though it still managed to exceed analysts' expectations of earnings of $1.32 per share.

General Motors
General Motors (GM) - Get General Motors Company (GM) Report has seen its stock price decline 11.02% in 2015 through market close Friday.
General Motors is a holding in Action Alerts PLUS Charitable Trust Portfolio, co-managed by TheStreet's Jim Cramer, but the portfolio has been unloading shares of GM recently. "We think that GM is simply too hard to own in this environment, which is why we have been selling," says Cramer. "There is too much China, not enough yield and a sense that the company isn't willing to create more value with its cash hoard then it should. It is a sub-optimal situation.
Exclusive Look Inside:
You see Jim Cramer on TV. Now, see where he invests his money and why. Learn more now.
The automaker reported earnings ahead of market open Thursday and delivered quite a surprise. Adjusted earnings per share were $1.29, compared with analyst estimates of $1.06. GM made $2.8 billion in North America and $300 million in its international operations, including China.
"The first two quarters of the year were strong as we fully capitalized on a robust North American industry and maintained our strength in China, despite the challenging conditions in that market," said CEO Mary Barra.
Buffett, who holds 41 million GM shares as of the end of the first quarter, is a major proponent of GM and of Barra. In 2014, he called the CEO "dynamite" and said he was "really impressed." And this year, he again voiced his support for her in an impending -- and ultimately averted -- proxy battle.
Wal-Mart
Retail powerhouse Wal-Mart (WMT) - Get Walmart Inc. Report hasn't been a breakout investment in 2015. In fact, quite the opposite. Its stock price has slid 16.64% this year.
Wal-Mart reported earnings in May, which evidenced the impact of the strong dollar. Consolidated operating income declined 8.3%, due to currency fluctuations and investments in associates wages and training as well as we-commerce. Currency also negatively impact earnings-per-share by approximately 3 cents.
Employee wages have put Wal-Mart in the headlines in 2015. The company agreed to raise the minimum pay of 500,000 of its employees in February, and in June, it announced a wage hike for another 100,000 workers, including department managers and deli workers.
Reuters reported in late June that in order to offset increased wage costs, Wal-Mart will begin to charge fees to vendors for stocking their items in new stores and fore warehousing inventory -- a move that will affect 10,000 suppliers.
Wal-Mart's maneuvers aside, Buffett appears to like the stock. He holds 60.4 million shares as of March 31.
United Parcel Service
United Parcel Service (UPS) - Get United Parcel Service, Inc. Class B Report has dipped 14.67% year to date. It closed the day Friday trading at $97.23 -- rather far from its 52-week high of $114.40 and a bit close to its low of $94.05.
The package delivery company last reported earnings on April 28. It recorded diluted earnings per share of $1.12, a 14% increase over the same period the prior year, and operating profit of $1.7 billion, an 11% jump. It will next report financial results on July 28.
UPS has also made headlines recently due to reports that it is in talks to buy Coyote Logistics, a provider of transportation and shipping services. The firm could pay $1.8 billion or more for the deal.
Buffett may be paying attention to how the deal plays out, but UPS isn't exactly one of his biggest positions. As of his most recent holdings disclosure, he holds just 59,400 UPS shares.
21st Century Fox
Buffett initiated a stake in 21st Century Fox (FOXA) - Get Fox Corporation Class A Report in the fourth quarter of 2014 and increased his position to 6.2 million shares in the first quarter of 2015. He is likely still waiting for the investment to pay off, as the company's share price has declined 12.35% year-to-date.
The global media and entertainment company has just undergone a management overhaul, as long-time CEO Rupert Murdoch stepped down as chief executive at the end of June and handed over the reigns to his sons. James Murdoch is now the firm's CEO, and Lachlan Murdoch is its executive co-chairman alongside his father.
"It has always been our priority to ensure stable, long term leadership for the Company, and these appointments achieve that goal," said Murdoch in a statement.
With Murdoch's exit, Buffett now holds the title of the oldest CEO in the S&P 500.
This article is commentary by an independent contributor. At the time of publication, the author held no positions in the stocks mentioned.