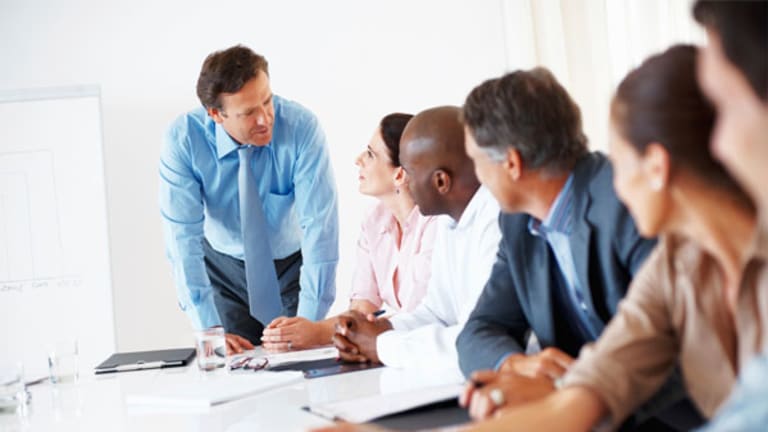 IBM: 100 Years of Fortitude
Tech companies can take a lesson from the history of leadership at Big Blue.
Tech companies can take a lesson from the history of leadership at Big Blue.
The following commentary comes from an independent investor or market observer as part of TheStreet's guest contributor program, which is separate from the company's news coverage.
NEW YORK (
) -- A small domestic-oriented company manufacturing low-tech office equipment -- that was
IBM
(IBM) - Get Report
100 years ago. Today it's a Fortune 100 high-tech product and services company with a presence in 170 countries.
The company's development wasn't always smooth. But entering and exiting markets and the ups and downs of economic cycles -- cycles of innovation and obsolescence -- never is. IBM has done it over and over again and lived to tell the tale.
Its recipe for longevity reads like a cookbook for 100-plus years of corporate endurance. It starts and ends with leadership. Not just people with management titles --real capable leaders. The type who drive market-oriented, continuous innovation and improvement in products and processes. People from customer service, to marketing, human resource development, global expansion and more. The type of leader who has the fortitude to move with the times while maintaining a dual focus: one on current operations, the other on future strategies. The type who can make bold decisions, but when mistakes are made will learn and move forward.
IBM's business may have begun with tabulating equipment but they are best known for the leading role they have played in the evolution of computing. This began 50 years ago when IBM made the riskiest private company investment of its time. The company bet the farm that there was a market among businesses for an affordable mainframe computer that could make new things possible, or at least expedite their occurrence. The bet paid off.
IBM may not have invented the computer but it showed the world how to make and grow a market. The market was computing. This the company did with continuous innovations in core and complementary products, services and operations, geographic expansion and market-oriented packaging including the liberal application of product-savvy employees trained in the craft of customer relations.
Market-orientation and marketing have been two important ingredients for IBM's growth and longevity. I've worked at a dozen high-tech companies where these ingredients were absent. Ideas for new products were conjured up in private executive offices or by secluded R&D teams, rather than through consultation with potential customers. These were real-life enactments of "if they build it customers will come" -- no marketing-reach required. But the few prospective customers who came were disappointed with products that may have been technically impressive but didn't meet their needs. These companies had a tendency to decline rather than grow and none made it to their 10th anniversary.
Maintaining a highly skilled and motivated workforce has been another important ingredient for growth and longevity. At many companies training is the first thing to go when things get tight. Not so at IBM. This is because training is not viewed as an expense. It is an investment in future growth. Rightfully so. Highly skilled and satisfied employees are effective and productive, and for IBM their people have always been a significant source of competitive advantage.
Throughout IBM's history their leaders have demonstrated that they knew the importance of keeping one eye on current operations and the other on developing innovations and markets to support future operations. However, in the early '90s, successive cycles of Moore's Law along with continuous innovations in every aspect of computing delivered so much power in miniature forms that the market for mainframes was diminished. This should have been OK but IBM's leaders seemed to be working with one eye partially open and the other nearly closed.
A brand known for being nimble and innovative was gaining a reputation for being insular, old and lethargic. The outcome was bloated operations and a future in jeopardy, needing radical transformation to get both eyes refocused on their targets.
In one respect IBM wasn't alone. This was a time when the manufacture of computers and peripherals was moving to low-cost off-shore locations, which caused a squeeze in domestic manufacturing margins. Many U.S. businesses couldn't compete. To stay relevant company leaders had to think about innovative services, a particularly difficult feat for any company, like IBM, that focused on products.
When the IBM board selected a CEO with a background in services and consumer products to lead IBM out of its current malaise, it was a bold move. Many thought that the worst was yet to come. They were wrong. Under Lou Gerstner's leadership IBM restored their brand, transformed the company into an information technology product and services company and proved that elephants could be nimble enough to dance.
Today business leaders know that product/service requirements are not global but that businesses looking forward to a long life must be. Still, many leaders fail to capitalize on opportunities in new geographic markets because products, services, operations and marketing can be relatively complicated. IBM was international before it was required. They entered Mexico in 1927 and China in 1937.
The IBM brand has been respected globally for decades and it's on course to stay that way. This truly global enterprise is administering innovative training programs that are preparing its workforce and future leaders for continued success in developed and developing countries.
Lou Gerstner was IBM's 8th CEO, Sam Palmisano its ninth. Nine CEOs in 100 years. In 2001 Spencer Stuart said the average tenure for a CEO was five years, but in high tech it was about two. Chalk up the short tenure for high-tech execs to leaders who struggle with the demands of compressed technology lifecycles and contractions in the business cycle.
Short-term CEOs create a deadly spiral of executives and employees rotating through a revolving door. This is one reason so many high-tech companies die so young. With each new CEO, there are new ideas and wide-scale disruptions. Continuous anything, much less innovation, isn't possible without management and employee stability.
I've worked in high-tech my whole life. Often in companies who competed against IBM with superior products. Competing on customer relations was next to impossible, but it was the IBM brand that caused the greatest problems. Experienced tech buyers always value purchase security over product superiority because many high-tech companies, unlike IBM, have a tendency to come and go long before its time to celebrate a significant anniversary. Cycles have often caught their leaders by surprise. Company leaders seemed capable when the economy and product revenue was growing, but contractions and product maturity produced denials that encouraged the continuation of growth strategies when times called for caution. The outcomes were predictably bad and did not give customers a warm, fuzzy, secure feeling.
In high-tech there never seems to be enough time to do the right thing -- things move too fast. That's the adage that IBM's 100 years of experience is officially nullifying. The learning made possible by the experiences of dozens of business cycles, hundreds of technology and market lifecycles, and one macro change from manufacturing to services is amazing. Two lessons stand out: Leaders must think innovation and improvement, and they must have the fortitude to do the right thing for their organizations at any point in time. IBM has demonstrated that these qualities can separate a centennial celebrant from being a high-tech has been.
More of the same should continue to serve IBM's stakeholders well.