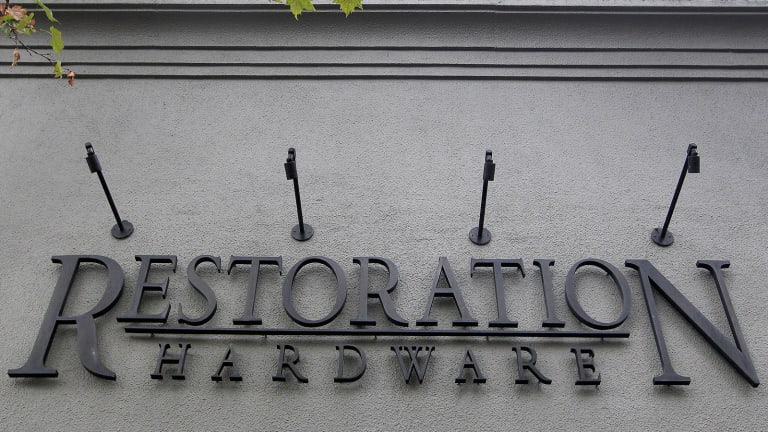 Publish date:
I'm Not Buying Restoration Hardware and Neither Should You
The company reports first-quarter earnings June 9. Don't expect a rebound anytime soon.
The company reports first-quarter earnings June 9. Don't expect a rebound anytime soon.
Shares of Restoration Hardware (RH) - Get Reporthave been destroyed. With the stock down 69% from its 52-week high, is there any restoration ahead? We'll find out when the company reports first-quarter earnings on June 9.
I have little confidence the stock can rebound anytime soon.
At the end of March, Restoration Hardware reported fiscal fourth-quarter results that were in line with previously lowered guidance. The company preannounced sharply lower results on Feb. 24 and blamed the slowdown on weakness in the oil patch, higher expenses, shipping delays and a pull back in purchases by high-end consumers.
In my opinion, those excuses don't hold water.
First, I doubt weakness in the oil patch was much of a factor. CEO Gary Friedman told investors that weakness in the South American oil markets has affected Florida and specifically hurt the Miami furniture market. According to Friedman, energy-related pressures accounted for a 6% reduction in company revenue by March 2016.
Out of 86 stores the company only has six stores in Florida. It has one in Louisiana and six in Texas. Even if you add the two stores in oil-rich Canada, that's only 15 stores, or 17% of the store base.
Second, the company has been closing smaller stores and opening larger flagship locations. I think that strategy has been a failure. You would think same-store sales would be growing faster than sales, because all those new large stores would drive lots of customer traffic. That's not the case. Total retail sales growth has been either in line with or below comp-store sales for the last couple of quarters. It seems customer don't care how big the stores are.
Third, margins are a mess. In fiscal 2015, sales were up 13% and gross margins were 36.5%. But when sales slowed to mid-single digits in fiscal 2016, gross margins fell 177 basis points and operating margins declined 44 basis points. Expenses rose 134 points as the company lost operating leverage.
Management blames supply chain issues for the margin mess, since its new "Modern" furniture collection hasn't shipped on time. The delay in getting the Modern assortment into the stores has weighed on sales growth, too. But, management admitted approximately 70% of the collection is in stock.
Fourth, the company blamed the sales slowdown on the lack of high-end buyers. It doesn't look like competitor Ethan Allen (ETH) - Get Report  has had any problems selling furniture. Back on April 25, ETH reported same-store sales of 18.6% and a 10% increase in revenue. The stock took off. Ethan Allen is probably taking market share from RH.
Fifth, the first half could continue to be under pressure. On the last conference call, management said it was spending $22 million to accommodate customers who have been inconvenienced by the delivery delays of the Modern collection. That adds up to over 22 cents per share in earnings.
The company said earnings would be under pressure all the first quarter. That means second-quarter numbers are probably too high as well.
For the first quarter, the consensus is looking for earnings per share of 5 cents and revenue of $452.87 million. Analyst models assume the first quarter will be the bottom and business will steadily improve each quarter. But wouldn't that be hard because sales are under pressure from the oil patch?
I don't think Restoration Hardware is a broken company; it's just a broken stock. Management has to get growth back on track before the stock can move higher.
This article is commentary by an independent contributor. At the time of publication, the author held no positions in the stocks mentioned.