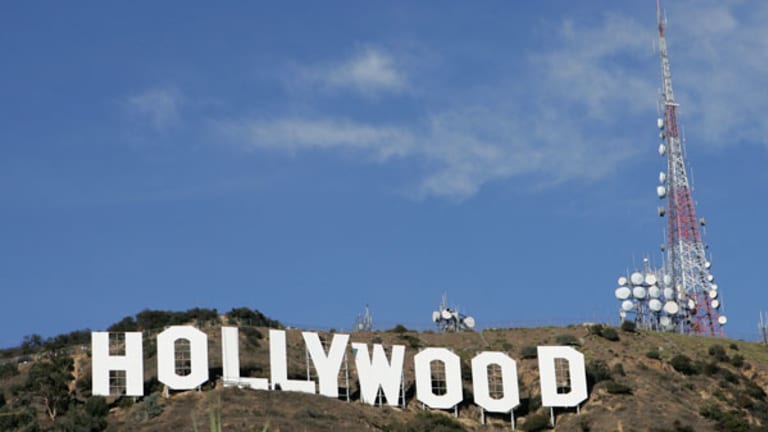 I Can't Find Pandora's Name Anywhere in Hollywood
It's time for Pandora to saturate itself in local music scenes, starting in Hollywood.
NEW YORK (TheStreet) -- For the last several weeks, I have spent a few mornings each week driving and walking around Hollywood searching for inspiration.
There's something about Los Angeles. Most people approach it with a mix of hate and sick curiosity. However, once you get to know it, it's an incredible place that absolutely does inspire.
It helps to navigate the core of massive LA County using various modes of transportation. Your feet, a bicycle or a car. I have used all three extensively over the last several years. These different perspectives help make LA feel surprisingly small and logically situated.
(For the record, I consider Wilshire Boulevard, which extends from Downtown Los Angeles to Hollywood to West Hollywood to Beverly Hills to West Los Angeles, ending in Santa Monica, the street that bisects the sprawling city).
Throughout West Hollywood, Hollywood, Silverlake and Echo Park in particular, you discover something new on every visit. I'm convinced somebody could drop me in the middle of the Sunset Strip, in front of the Palladium on Hollywood Boulevard or on the curb of the Elliott Smith Wall on Sunset Boulevard blindfolded and I would know, instantly, that I was in the music capital of the world. Situated between Dodger Stadium and Beverly Hills, there's just a vibe you can't help but feel, especially if you love live music.
Also see: Google Music Service a Non-Event for Pandora >>
But something's missing. A champion to harness this vibe and tie it all together. To keep the chaos, but make some sense of this smattering of venues, bars and landmarks. Pursuant to Tuesday's
Does Pandora Do Enough to Promote Local Music
, it's clear that
Pandora
(P)
can and should fill that role.
However, Pandora has virtually no visible presence across this musical landscape. And it's not like you feel its presence in the clubs on a nightly or even weekly basis. But there's no question, as you traverse this scene, folks battling LA traffic and, yes,
walking in LA
with their headphones on, are listening to Pandora.
It's the number one radio station in the freaking market after all
.
Also see: Apple's iPhone Will Become Legal Tender >>
While I don't expect the company to unleash an expensive marketing campaign with billboards (it's relatively easy for
Clear Channel
to erect signage given that it, for all intents and purposes, owns the advertising company,
Clear Channel Outdoor Holdings
(CCO) - Get Clear Channel Outdoor Holdings Inc Report
), I anticipate partnerships.
As I noted in Tuesday's article, it's time to strike while the iron is hot. Pandora has the scale. It has the ability to target based on location and listening preferences. It needs to build goodwill with the artist community as it attempts to secure an equitable royalty structure. It's in Pandora's DNA to support local music to the greatest extent it possibly can. It has nothing to lose and everything to gain by going all-in before somebody else does.
At this stage, nobody, not
Google
(GOOG) - Get Alphabet Inc. Class C Report
and not even
Apple
(AAPL) - Get Apple Inc. Report
, can make a mark on the Hollywood (and Austin and Nashville and New York music scenes) like Pandora can. But the longer Pandora waits, the more ground it gives up to large players and upstart Internet radio outlets ranging from
Spotify
to the aggressive and growing
Slacker
.
Also see: The Miscalculation of Lauryn Hill >>
It would take one call to a big name artist such as Eddie Vedder (or somebody like him) to create a Pandora-sponsored indie music series in the clubs of Hollywood. These guys absolutely love ditching the entrenched establishment of the concert industry's promotional machine (e.g., Clear Channel,
Live Nation
(LYV) - Get Live Nation Entertainment, Inc. Report
) whenever they have the chance. To that end, why isn't Pandora on the phone with
Another Planet
? Another Planet operates right in Pandora's backyard, the San Francisco Bay Area.
Or why doesn't Pandora consider launching it's own concert promotion group?
Granted, I'm scribbling on the back of an envelope, but I'm introducing an important strategic step Pandora needs to take. One that requires minimal investment and can generate both quantitative and qualitative impact.
While I understand that Pandora succeeds, in large part, because
, building a stronger bond with an already loyal audience as well as aspiring, emerging and established musicians does nothing but sharpen that focus.
--
Written by Rocco Pendola in Santa Monica, Calif.
Rocco Pendola is
TheStreet's
Director of Social Media. Pendola's daily contributions to
TheStreet
frequently appear on
CNBC
and at various top online properties, such as
Forbes
.